30 of the Best Cursive Fonts in 2023 for Your Logo and Brand
If you're designing a logo and want to stand out, cursive fonts are a fantastic way to differentiate your brand. From ornate calligraphy to cute lil' wiggles, we've hand-picked 24 of the best cursive fonts to use in 2023, plus examples from famous brands, and tips on designing your own script logos.
Let's take a look!
What is a cursive or script font?
Cursive is a style of handwriting that dates back to the 16th Century, designed to make writing quicker by hand, and more pleasing to look at. In today's context, cursive or script fonts are basically fonts that look like they were hand-drawn.
Note: Generally, most fonts are designed by hand, but cursive fonts – whether they're hand lettering, calligraphic, or brush-based – actually still look like a human being wrote them out.
Here are a few famous examples to get you started.
Famous brands with cursive logos






In today's digital landscape, using a script font for your logo is a unique way to add some much-needed humanity and flair. It could be subtle, like a gentle handwritten style font, or more decorative. It totally depends on the statement you want to make!
How to use a cursive font
On the face of it, it might not seem like there are any strict rules on when to use a script font, but as the above examples show, they suit some industries better than others. You're more likely to find script fonts associated with the following business industries:
Food and drink
Hospitality
Health and wellness
Beauty
Tattoo & piercing
Retro brands (e.g. barbershops)
Trades and equipment (e.g. auto-repair shops, instruments, or removals companies)
If you're thinking of using a cursive font for your logo, there are a few things to keep in mind. Ultimately, it comes down to what you want to achieve with your visual identity—how you want it to look, and feel, and how you want your customers to respond to it. Here are a few do's and don'ts:
Do use script fonts to add character, emphasis, and visual appeal
Do use a script font in display text, like logos, headlines, and billboards
Do use script fonts for easily legible, short words
Don't use script fonts in long-form text – it can be hard to read at length
Don't use script fonts to convey important guidelines, instructions, or lots of information
Don't use script fonts in small sizes
What are the best script fonts?
Now that you're a cursive genius, let's look at some of the most popular fonts for this year. We've grouped them loosely by style to help you out.
---
Retro cursive fonts
Retro fonts work well across a wide range of goods and services. They're versatile, visually stunning, and full of nostalgia – they're also some of the easiest script fonts for reading!
Thick and rustic, Dakota Motors is a demanding and clear retro font. Handcrafted by Mans Greback in February 2023.
Design a cursive logo for your brand!
A bold hand-drawn script with a touch of vintage, designed by Henry Juanda. 
A funky, energetic retro script released, designed by Terrance Weinzierl for Monotype.
A beautiful vintage-era script by Hartawan Studio.
A plump and playful script font with retro Indonesian flair.
Designed by Charles Nix for Monotype, Hope Sans is a 60's esque, modernized serif with beautiful script alternates.
---
Hand-written cursive fonts
Hand-written fonts work well with health & wellness, and lifestyle brands. But there are exceptions! Take a look at this logo from Wilbury Stratton, an executive search and intelligence firm based in the UK:
Here are a few of our favorite hand-written fonts from the last year or two:
Flowy yet geometric, Joyeux is a unique take on the script font style. Designed by Elyas Beria in 2023.
Like writing with a sharpie, this handbrush script font has a human touch. Designed by Allouse Studio in February 2023.
A casual script font released by Maulana Creative. It's a beautiful romantic font with versatile uses. 
Another dynamic script, this time by Henry Juanda for Letterhend.
Designer Rizal Khurasan's bold script font is one of the most popular in the last couple of years.
Billie Sight is another casual script font, perfect for health and wellness style brands. 
Another banger from Maulana Creative. Bilanthy is a curly, swirly script with beautifully sharp edges that give it an easy-going elegance.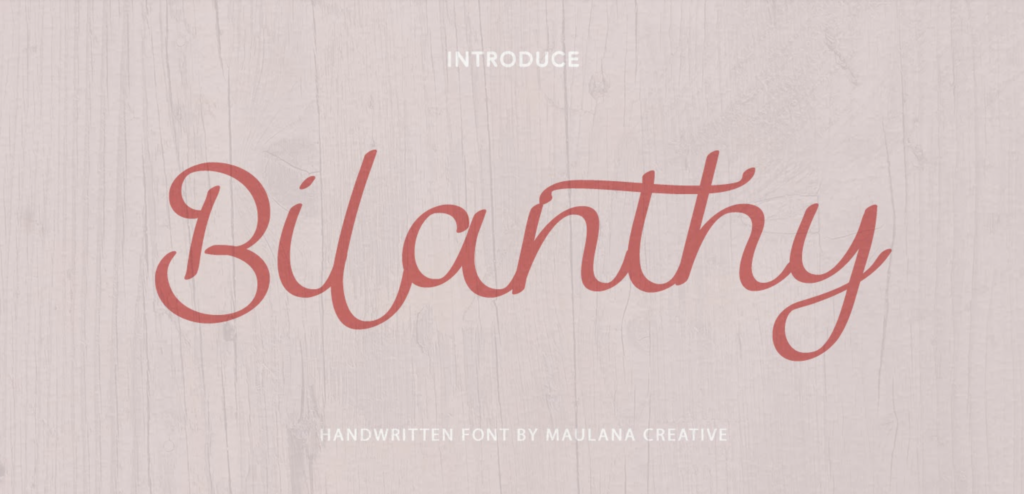 A simple, clean, casual, hand-written script font by the foundry Sakha Design and released this year.
A fun and child-like handwriting script by designer Jen Wagner
Gorgeously dynamic, with alternating baselines and sweeping terminals (the end bit of a letter), With You is one of our favorites for 2022.
---
Elegant cursive fonts
Elegant script fonts are what cursive is all about! Big swirly bits, huge visual appeal, and lots of variety. Use elegant fonts to make a statement, in logos, headlines, or other short pieces of text.
Modern and casual, this script font is striking and flexible in its usage. Great for logos and basic designs alike! Designed by Fikryal in February 2023. 
Elegant and elevated – this font was designed by Essentials studio in February 2023. 
With crisp strokes and clear lettering – Gustav is a great personal branding font. Designed by Supfonts in February 2023.
Soft, visually rich, and elegant. Diary Angelique is a modern script font. Released March 2021. 
No fonts list is complete without something from the mighty Latinotype. Here's Estampa, a recent favorite.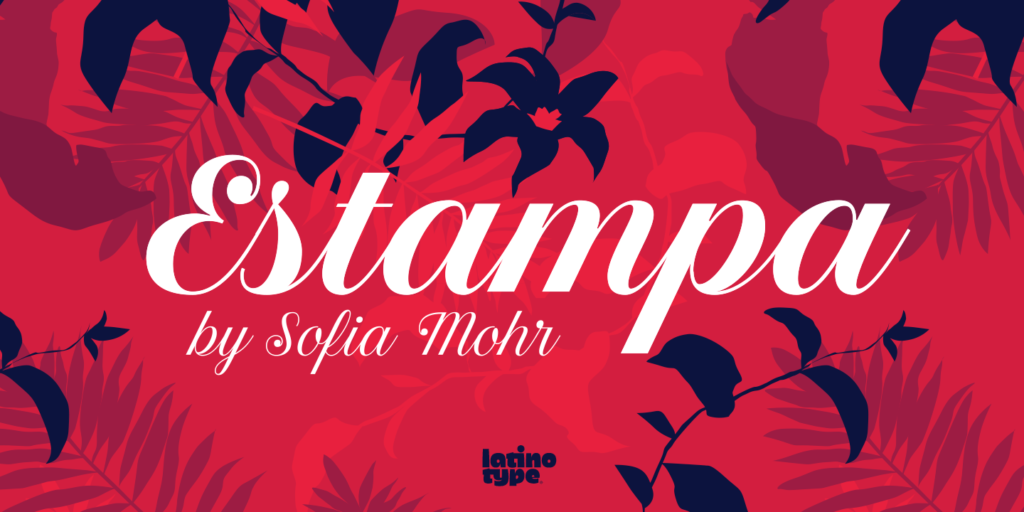 A font that oozes wanderlust and adventure.
As the name suggests, Buttermilk is a soft-flowing cursive font that reads like a dream.
---
Brush cursive fonts
Brush scripts are dynamic and full of movement. At one end of the spectrum, you'll find grunge-style fonts that would be great for urban brands or streetwear. On the other, expect to see a lot of cute swirls and loopy bits.
Hartawan's slapper, Maghody, is a raw brush font that reads like visual dynamite.
A modern brush font with a hint of classic Americana.
Maulana Creative has been on fire this year, with this excellent brush script, Challum.
Edgy, classic tattoo script by Mans Greback.
Edgy, subtle, clean – Typotopia's addition to the best brush script fonts is one of our absolute favorites. 
A font flowing with yogurty deliciousness. Guava Yogurt would be ideal for restaurants, music festival flyers, or food-related products.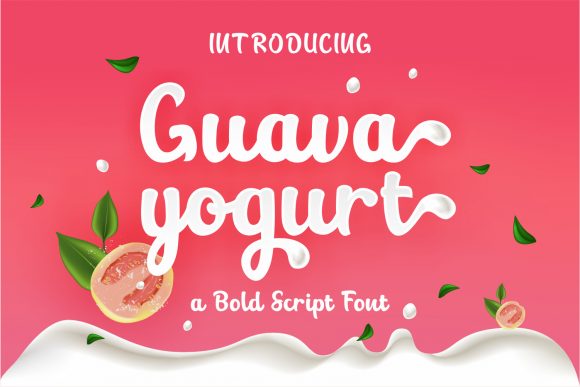 Finally, Little Bee is a brush-style font that adds just that bit of extra weight to the casual handwriting fonts we mentioned earlier.
---
How to make a cursive or script font logo
Now that you've got an idea of the diversity of script font styles out there, you can start thinking about creating your cursive logo.
Keep in mind that you don't have to use one style for a specific business category, although some cursive styles work better than others. Ultimately, ask yourself if your cursive logo suits the character of the brand you're trying to build.
Looka's logo maker offers a wide variety of cursive fonts to select from when building your logo. We'll give you a little taste with some examples of cursive logos made in Looka below.
Food and drinks
Food and drink is such a diverse business category because there are so many different products you can sell. As a result, almost any cursive style would fit.
Here, we've gone for a beautiful brush-style script font for a brewery (inspired by the Budweiser logo!) We've also added supporting text in a simple, unobtrusive sans-serif with some extra spacing between letters.
Takeaways:
Pairing fonts is a really cool way to tell a story and establish some authority. As a rule, combine cursive with low-visual information fonts, like sans-serifs. Looka's logo maker has a Suggested

tab that offers hundreds of font pairings for you to explore.

If you do add a supporting font to your logo, make sure you get the positioning right. Look for natural areas of space, like just below the 'A' in this logo. This maintains the visual direction of the font without taking away from the appeal of the cursive lettering. (Hence the phrase, 'supporting' text.)
Clothing
Clothing is also a super diverse field, so many fonts would work. Here, we took inspiration from the Champion logo, going with a modern script font, a symbol, and bold contrasting colors.
Takeaways:
Use symbols when they complement the text, but don't make your symbol too busy. See how we've gone for a really minimalist one here? Let the script do the talking!
Color can be a great way to emphasize the mood and visual appeal of the cursive text. If you're using complementary colors, keep them in the same color register (don't use really vibrant colors against muted pastels. It looks weird!)
Retro
Retro or vintage logo styles are often used in a large subset of businesses, like tattoo parlors, barbershops, old-school garages, instruments, food-trucks…and so on.
Here, we were inspired by the Fender logo to create a powerful retro-feel name and logo that could work for multiple different businesses. What sort of product do you think it would go with?
Takeaways:
Keep it simple. You don't necessarily have to add supporting information to your logo to tell people what you do. Here, the visual appeal lies solely in the text itself. Cursive fonts are great for this. Use the natural visual power of the script to standalone, before you add any new elements.
Look at the silhouette of the script on its own. There is already so much visual information in a cursive logo that you don't need to go mental adding a bunch of containers, symbols, and extraneous details.
Health and Wellness
You could easily see this logo as part of a lifestyle brand, or a getaway retreat or spa. It has a human quality to it, but also vivaciousness and energy – perfect for a health and wellness company.
Takeaway:
Play around with capitals to get alternates on some of the brush and script fonts. Capitalizing letters in script fonts often display their alternate glyphs, and you can really start to add character (the S on this logo is actually capitalized, but adds to the 'wildness' of the script and the character of the logo overall.)
Don't curse, have fun with cursive!
Ultimately, cursive fonts are great for logos because they offer a different kind of visual appeal in today's digitally dominant, sans-serif world. If you want to imbue your brand with style and character, a script font like one of the above is a great way to do it.
Just keep in mind the following core principles:
Script and cursive logos have a lot of information in them. Use short words and phrases, and make sure the lettering looks right
Start with black text and get a sense of your silhouette. Is your logo visually distinct, easy to read, and does it have a natural flow to it? This is what cursive fonts are all about
Let the raw visual energy of cursive speak for itself. If it needs supporting elements, add them sparingly, and only where they subtly complement your main logo text
Cursive fonts are all about expression. At the end of the day, you're trying to get the tone just right for your brand. Play around with different styles, and draw inspiration from brands you like. Beyond that, get as swirly as your heart desires. Good luck!
Want to learn more about choosing logo fonts? Watch our video!