These Are the Best Online Logo Maker Options in 2022
A logo is one of the first elements a brand needs to get started. But traditional ways of developing a logo, like working with a freelance designer or design agency, are often costly and time-consuming. Enter: the online logo maker.
Using an online logo maker to design your logo has so many benefits. For starters, it puts you in control of your design. You're able to design a logo how you want it to look, without the back and forth process of working with a designer. What are some other benefits of using a logo maker?
It keeps costs down: prices range from free to $100 depending on the quality you're looking for
It's faster than working with a designer: most logo makers allow you to design a logo in under 20 minutes
You don't need design skills: you can design a beautiful logo without needing any graphic design education
It's easy: some logo makers out there do the job of suggesting colors, fonts, and symbols for you, while others are more limited
Not all online logo makers offer the amount of flexibility and quality you might be looking for. Let's go through the best options on the market in 2022 and see which is best for you!
Choosing the best online logo maker
The specific features of online logo makers vary, but in general, they use information about your brand and industry to generate a logo and provide you the tools to edit that logo.
Ideally, this streamlines the logo design process and gives you an excellent result with little cost and effort. While unique features should catch your eye, you should also consider a few basic criteria when assessing online logo makers.
Here are some of the top things to keep in mind!
Efficient onboarding process: The initial steps of inputting data like your company name and industry should be easy and inspirational
Strong graphic design features: The best logo maker out there needs to be capable of producing beautiful logos that look customized to your brand. The more customization options the better. Look for things like:
A range of typography options
Hundreds of symbols to choose from
Ability to change the color, and size of all logo elements
Custom options like replacing a symbol with a letter, curved text, symbols between text, and multiple text colors
Ease of use: The best logo makers should make the process fun and easy! Look for the ability to save and select multiple options, undo changes you've made, and review revisions you've made.
The top online logo maker options
In this blog, we'll review and compare the top options for logo makers online, including:
Trustpilot ranking: 4.5/5 with 9,447 reviews
Pricing: $20 for a low-resolution PNG logo file; $65 for PNG, SVG, and EPS logo files with color variations; $80 for all logo files, social media kit, and business cards (note: you can also purchase a subscription to a Brand Kit with 300+ customizable marketing assets)
The process: Looka's AI-powered generator is easy to use — enter your company name and industry, pick a few sample logos, colors, and symbols, then browse generated designs without having to sign up for an account (just select the "Continue as Guest" option).
The real magic of Looka comes in the logo editor. Click a generated logo to see tons of different layouts, color palettes, symbols, and more, and make tweaks by clicking different logo elements to customize. The large selection of fonts and symbols is categorized by style and industry to make it easier to find what you want, and there's a wide range of creative layout options to choose from.
Once you have a logo you love, you can additionally buy a Brand Kit subscription, which includes access to 300+ branded designs, including business cards, social posts, flyers, and more.
Pros:
Provides better "out-of-the-box" generated logo options thanks to built-in design rules around color contrast, font pairings, and more
It's easy to edit logo elements and see dozens of variations if you need more ideas
You get unlimited revisions to your logo after purchase if you want to make changes
Cons:
No free sample to download (but it's easy to view designs on mockups in the "Preview" section of the editor)
No drag-and-drop editor (however, this makes it easier not to mess up your design!)
Limited payment options for Brand Kit subscriptions
Trustpilot ranking: 4/ 5 with 260 reviews
Pricing: $39.95 for the basic package of logo color variations, source file, and high-resolution files, $59.90 for the premium package which adds unlimited revisions for one year, and social media design.
The process: LogoMaker offers a rudimentary platform for designing your logo. Start by selecting your industry from a given dropdown list, input your company name and tagline. Then select the type of logo you prefer, and up to three font styles.
You will be directed to a page to sort through thousands of logo style examples, and once selected, you can customize your logo. Something worth noting is the dated look of most of these logo styles.
Pros:
It takes only a few short steps before you're able to customize your logo
A good option if you're looking for a very simple online logo maker without much customization
Cons:
Logo customization options are limited once you're in the editor
You can't add additional symbols or design elements, and there only seems to be around 150 fonts to choose from
Trustpilot ranking: 3.8/5 with 9 reviews
Pricing: Editing is free, but you won't be able to download low-resolution files without paying. For $19 you'll receive a full license and access to high-resolution file types.
The process: Logo Makr is a good choice for anyone who's willing to get their hands dirty, but it requires much more work than some other options on this list. You're immediately dropped into an open editor that allows you to drag and drop text, shapes, and symbols. Color, opacity, and size can all be changed.
Pros:
Drag-and-drop functionality makes it easy to build a logo yourself once you've got the hang of it
You can make multiple logos at a time beside each other until you've designed one you're satisfied with
Cons:
No templates, style choices, or color suggestions
The completely free-form editor makes it overwhelming (and perhaps difficult) to design if you don't have any experience
There aren't many unique customization options like curved text, symbols between text, etc.
Trustpilot ranking: 1.5/5  with 2,489 reviews
Pricing: $20 gives you high-resolution files for your logo, while $50 provides scalable images and a brand guide for the logo
The process: The process of using the Wix logo maker is fairly straightforward. Enter your business name, industry, select the look and feel you're going for and you're off to the races. You can select a template from a range of options and begin customizing a logo to your liking.
Pros:
Great and easy-to-use logo design editor with mockups that let you see how your logo will look on branded assets
A solid range of customization options that make your logo look unique
You can save your logo and revisit it later
Cons:
Some of the generated designs look outdated
It can take a lot of customization to achieve the look you're after
Given the range of customization options, it would be nice to have a version history feature, allowing you to view the many iterations of the logo you've designed
Trustpilot ranking: 2.3 / 5 with 7 reviews
Pricing: Low-resolution PNG files are free, high-res PNG, PDF, JPG, and SVG cost $59.
The process: Once you've input your company name and industry into the Free Logo Designs logo maker, you're shown a range of templates to select from. You can then edit your logo by adding text, shapes, colors, and icons.
Pros:
It takes under a minute to get into editing and customizing your logo
Cons:
The logo editing process is clunky and difficult to manage
Not all templates include your company name, so it's difficult to visualize what your logo will look like
The open editor makes it difficult to keep things aligned, centered, and proportionate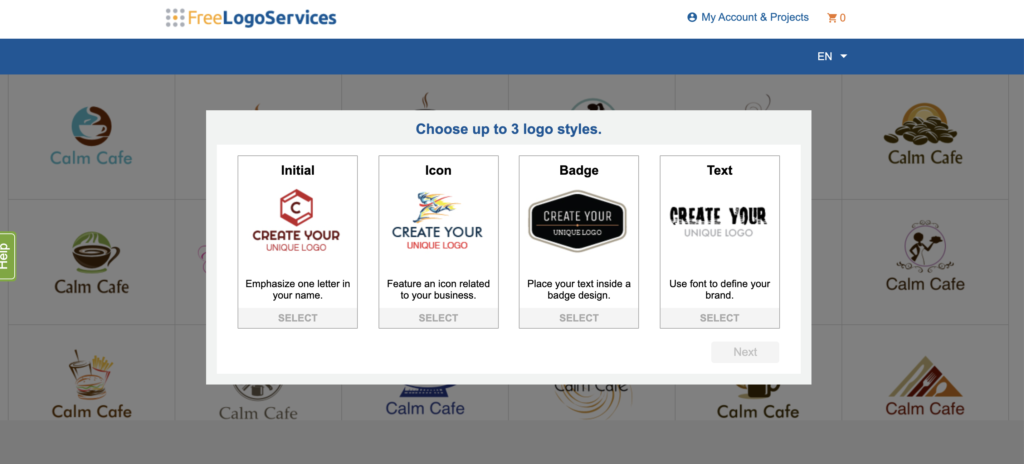 Trustpilot ranking: 3.7/5 with 2,265 reviews
Pricing: $39.95 basic package offers high-resolution files and logo source file, $59.90 premium package adds unlimited revisions and social media design
The process: FreeLogoServices seems to be an exact replica of the Logomaker.com logo generator. Given they are owned by the same company, Logomix, the logo editors are exactly the same.
Pros:
It takes only a few short steps before you're able to customize your logo
Cons:
Logo customization options are limited once you're in the editor
Templates and color palettes look outdated
You can't add logo shapes, frames, or background colors
Pricing: $60.00 for standard PNG and JPG logo files and social media assets; $84.00 for vector files and more brand assets (e.g. business cards, presentations); $192.00 for logo files, brand assets, plus a social media tool and full website builder
Trustpilot ranking: 4.1/5 with 1,269 reviews
The process: Tailor Brands kicks off the logo-making process by asking about your product/service offering, industry, and the type of logo you prefer (icon, text, or initial-based), followed by a couple of logo design questions ("choose 3 styles you love"). The AI-powered generator will then provide a selection of logos according to your preferences.
While the generated options aren't terrible, they're also not great — it can take some scrolling to find a design you want to work with. You can select any logo to make changes to fonts, icons, colors, and layouts, but the editing functionality is limited. You do have to sign up for an account to view and edit any of your generated logos.
Pros:
The onboarding process is simple and straightforward
You can see logo designs on different mockups (stationery, websites)
You can download a sample to try out, though it has a "Tailor Brands" watermark on it and is low-res
Cons:
The editor lacks functionality and logo variations (e.g. you can't click on a part of your design to edit it, you can't choose a colored background)
Text and icons can get cut off in the editor and in downloaded logos
If you want to purchase a logo, there's only the option to sign up for a subscription with brand assets (no one-time logo packages)
Trustpilot rating: 4.7/5 with 762 reviews
Pricing: Logaster's logo packages range from $19.99 for a single logo file, all the way up to $89.99 for multiple logo files, business cards, social branding, letterhead, email signatures, and a brand book.
The Process: Logaster's logo creation process starts by asking you for your brand name—and nothing else. Immediately after inputting your name, you'll be taken to a page featuring various logo templates.
You'll have to create an account to edit your logo.  You'll have the option to choose your logo's colors, fonts, and layout but that's about it.
Pros:
Streamlined design process leaves little room for error
Fewer design options mean a shorter logo creation time
Cons:
Very limited editing options — you can't do much customization
Template-based designs increase your risk of having the same logo as other brands
Trustpilot rating: 4.6/5 on 880 reviews
Pricing: There are two packages available on PlaceIt's logo maker. You can either purchase a single logo for $39.95 or get a subscription to their other design offerings for $14.95/month.
Process: PlaceIt's logo creation process begins by asking you for your brand's name and industry or preferred style. With these two bits of information entered, you'll be greeted with a wall of templates to edit. In the logo editor, you'll be able to change your name, slogan, fonts, colors, layout, and symbol.
But be warned, PlaceIt tends to show off its best symbols in the templates, so the other options can be a bit of a letdown.
Pros:
Well-designed templates, which you can explore without inputting a company name
The free-form logo editor offers a lot of control over your logo design
Cons:
Many symbols veer into clipart levels of quality (not good)
Colors are limited, with gradient and metallic effects only available for some symbols
The free-form editor can be overwhelming without any design suggestions to guide you
Trustpilot ranking: 4.8/5 with 2,219 reviews
Pricing: $20 for one low-res PNG logo file; $59 for high-quality PNG, SVG, and EPS logo files; $150 to customize your logo with a designer and get all logo files
The process: When you land on the Designhill logo maker page, there's the option to use a logo generator or start with a template. If you're going the generated logo route, start by picking sample logos, colors, and symbols you like, then wait for your generated logos to load (note: you have to sign up for an account to view designs).
Clicking on a logo lets you change text, symbols, colors, and containers. The layout options are limited — for example, you can't put a symbol between words or replace a letter with a symbol — and a DesignHill watermark appears in the background of your logo while you're editing, which can be distracting.
On the plus side, it's nice to see variations and to have the option to add a symbol or generate more logos from within the editor. If you're looking for a basic logo generator to try, DesignHill could be it.
Pros:
Quick and simple onboarding process
Easy-to-use logo editor that shows logos on mockups
You can pay more for logo add-ons (e.g. business cards) or to have a designer help with your design
Cons:
Generated logos can look broken — some have extra boxes or images that don't display properly
Layout and font choices are limited
Suggested color combinations can be low-contrast/hard to read
Choosing the best online logo maker app for you
Selecting the best online logo maker really depends on your needs. We hope this list made it easier for you to choose from the range of logo maker options online in 2022. While some of these options are better suited to people with an eye for graphic design, others use AI to help generate beautiful custom designs for you.
As well-designed brands become increasingly important to consumers, you'll want to select a logo maker that offers a wealth of customization options to keep up with logo trends.