23 of the Best Serif Fonts in 2022!
Serif fonts are the perfect choice for building a brand with a combined sense of authority and elegance.
The right font can make your business stand out from the competition, so we've compiled a list of the best serif fonts of 2022 to help you find the perfect match! We'll also cover famous serif logo examples and tips on how to design your own serif logo.
Let's dive in!
What is a serif font?
Serif fonts have small decorative flicks at the ends of each stroke, mimicking a quill or pen. They originated in the mid-1800s and have stayed popular because of their readability and visually appealing form.
Magazines, books, newspapers, and most long-form print formats use serif fonts. They've taken a backseat to sans serifs on the web, but put together the font pairing is a total win!
Using sans serif vs serif: Serif fonts add a more traditional touch and are popular for reading in print. Sans serif fonts offer a more contemporary and modern look that suits the web better.
Most popular serif fonts
The most popular serif fonts are Times New Roman, Georgia, Garamond, and Didot (to name a few). These fonts are often pre-installed in computers, making them an easy default choice.
Famous brands with serif font logos
Brands that use serifs are perceived as traditional, established, and trustworthy to viewers. Take a look at some famous brands with serif logos below!
While some companies have redesigned their logos using a more contemporary-looking sans serif, many have chosen to stay the course of the traditional serif as it conveys a timeless and sophisticated sense of style.
You won't see Tesla using a serif font, but Tiffany & Co always will!
How to use a serif font
Serifs suit some industries more than others. Think of the perception you want to set when choosing your font. Are you aiming for futuristic, and current? Or are you hoping to recall an old-world sense of class?
Serif fonts are great for the following industries:
Consulting
Fashion
Beauty
Law
Interior design
Journalism
Finance
If your business is in an innovative industry, modern sans serif fonts might be a better option.
Do's and don'ts of using a serif font
Here are some do's and don't for using a serif font in your brand:
Don't use serifs for long-form text on small screens
Do pair serif headings with sans serif body copy in digital environments
Don't use serifs if you want to appear futuristic or modern
Do use a serif for logos and branding
Don't use serif fonts for long-form display body copy
Do use serifs for all print branded materials
The best serif fonts of 2022
Let's take a look at the most popular serif fonts for 2022!
Chicago Makers has a distinct appeal made for logos, banners, and social media promotions. With varying weights and a modern vibe, this serif font is built to stand out. Designed by Din Studio in 2021.
Bosca is an elegant serif with the flexibility to pull off both modern and conservative designs. We see this font all over Pinterest! Designed by Larin Type Co in 2020, it's perfect for headings and branding that needs a touch of sophistication.
Hailing from the original Garamond designed in the 1500s (that's old!), EB Garamond adds a truly timeless touch to any brand. This version of Garamond was developed by Georg Duffner in 2019.
Neoclassical fonts like Mirador add an edge to the elegance of traditional serif typeface. Designed by Rene Bieder in 2015, it has a unique take on high contrast typography.
Where classic style with a modern touch intersect, you'll find Elgraine – an expressive and bulky font made for beautiful branding. Elgraine was designed by Nasir Udin in 2020 and has an extended character set that supports over 200 languages!
Zin Display demands attention through razor-sharp terminals and tails. Designed by CarnokyType in 2020, It's an exciting serif font that's striking yet easy to read.
Tiempos Fine has a balance of sharp serifs and soft curves. It was designed by the Klim Type Foundry in 2018 and is suitable for editorial print due to its large headings and easy-to-read body text.
Hackey is a multifaceted font that can be used in both timeless and innovative cases. Both luxurious and contemporary, it adds a modern twist to classic serif fonts. Designed by madeDeduk in 2020, it's packed with unique features!
Bodoni is a classic example of a perfectly refined typeface. It's a good serif font for body text and long-form print. Bodoni* is a remake of the original Bodoni typeface and was designed by Indestructible Type in 2020.
A font inspired by calligraphy, Ogg has a unique mix of elements that make it a choice for new-age brands. It was released by Sharp Type in 2020 and has 5 weights and 10 total fonts to work with!
Striking and special, the Pacho serif font is made for standing out. Pacho was designed by madeDeduk in 2021 and has 9 weights.
Laviossa is an elegant yet striking design. Designed by Anwar Patihan and published by Jehoo Creative in 2020, it has 5 variable weights and stunning detail.
For a retro take in the modern world, Pockota has a vintage feel and tons of character. Designed by Nasir Udin in 2020, it's best suited for display and branding.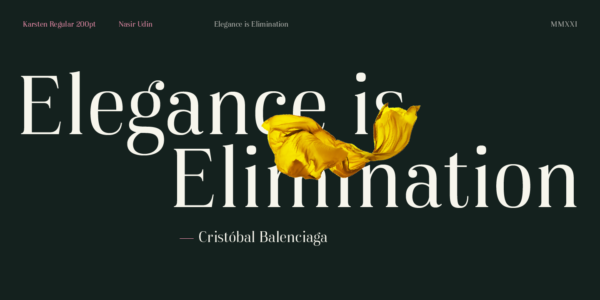 Karsten is another serif font released in 2021 by Nasir Udin with elegant, modern strokes inspired by dutch architecture. It's a well-built font that offers an authoritative elegance to any project.
Bespoke is a good serif font for body text. Released by Indian Type Foundry in 2021, it's designed for readability in both editorial and digital formats.
A modern serif font with a Didone inspired look, Fiorina was designed by Andriy Konstantynov in 2020 and has 4 sizes and 72 font options. It's a versatile font with a great range of uses in editorial and digital formats.
Bubbling with personality, Boiling is a bold font with unique curves and an unmatched appeal. Designed by Alit Design in 2020, it comes with 11 fonts and is perfect for brands looking to stand out.
A retro serif that blends old principles with the new, Restora is a versatile font with tall letterforms and artful serifs. Designed by Nasir Udin in 2019, it's available in 8 weights.
Morison has flair without compromising readability. Published by Fenotype in 2019, it's a fantastic typeface for both minimalistic or exuberant designs. It works well in many mediums and is one of the best serif fonts for print.
Beauty Club is, you guessed it, a great fit for beauty brands! Designed by Cindy Kinash and published by Cultivated Mind in 2018, it radiates sophistication and poise, with a minimalistic look.
A fresh take on a retro look, Recoleta mixed rounded elements from 70's typefaces with angled strokes for a dramatic look. Published by Latinotype in 2018, it's made for impactful branding.
Clear, refined, and noble, Cadillac is a font that demands respect with its didonesque look. Designed by Hoftype in 2018, Cadillac is a great serif font for body text.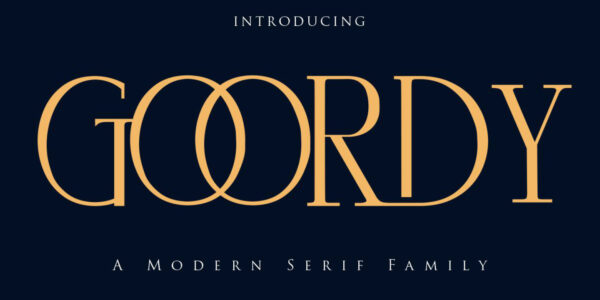 Goordy has a luxurious old-fashioned look. Designed by Gilar Studio in 2021, this serif font is made for sophisticated brands.
---
How to make a serif font logo
Choosing a logo font can be daunting. Be mindful of the brand identity you're building and the message you want to convey to your audience. These fonts should be consistent throughout your brand!
Below are some serif logo ideas for different industries made with our logo maker!
Consulting


You can get away with a range of different fonts for different types of consulting.
We used a personable, authoritative serif font with a sans serif slogan to balance out a classic font with a modern vibe. We used a monogram logo type with a pink and navy color combination to stand out.
Tip: Only using serif fonts in your logo will give you an authoritative, old-fashioned look. Balance out the old with the new by adding a more modern font as the slogan.
Beauty and fashion


Serif fonts are a great choice for adding a sense of prestige and authority to beauty and fashion brands.
Above, we mixed a sturdy serif with a modern sans serif slogan. We used gold and black to further enhance the look of luxury.
Tip: Make sure your fonts are aligned with your brand mission and values. Your logo should be an instant representation of what your business does and what it stands for.
Health and wellness


Logo fonts help define your brand and give your customers a sense of what to expect from your business.
In the logo above, we paired a bold serif with a lightweight cursive font slogan for a soft and organic touch. The font and color combination reflects a rustic and dependable appeal fit for a traditional wellness business.
Blogging


Retro serifs are a lot of fun and are making a major comeback. With fun curves and an easygoing look, they're perfect for lighthearted brands that embrace the simplicity of the past.
Above, we used a retro serif for both logo and slogan, creating harmony with contrasting colors and sizes. We used the Looka Business Name Generator to come up with blog name ideas.