The Importance of A Brand Voice and How to Set One
When most people think about branding, the first thing that comes to mind is usually the visual stuff—you know, logos, fonts, colors, the works. "Brand voice" is often seen as an extra, even though it's just as essential in forming the foundations of a strong and durable brand identity.
Customers get attached to a business that feels relatable on a human level. By giving your brand its own "voice", you'll speak the language of your potential customers. It's a brand voice that makes us laugh, or cry, or feel empowered.  This will break down barriers and help you get your message across loud and clear.
What is a "brand voice"?
Brand voice is the tone, style, and language of a brand's communication with its customers.  It is the voice of a brand identity.
A surprising study by the Harvard Business Review found that when it comes to brand loyalty, people actually value emotional engagement more than they value customer satisfaction. A strong brand voice can help you form a lasting impression and establish an ongoing relationship with your customers.
The bottom line is, people just want to feel connected!
A brand voice that sounds like you, or talks to you the way a mentor would or a best friend would, is much more compelling than generic company communications. By ensuring your brand voice reaches your prospects in a relevant, personalized way, they get the impression that you value them on a human level and can anticipate their needs.
Why is having a strong brand voice important?
Having a strong, consistent brand voice has become critical to a company's survival in this age of constant distraction and endless scrolling. Without a strong brand voice, it's nearly impossible for a company to gain a foothold in a world already oversaturated with marketing messages.
A well-developed brand voice permeates everything from your social media posts, website copy, and emails, to your point of sale, and even your packaging. Essentially, every customer touchpoint provides an opportunity for prospects to come into contact and become familiar with this voice.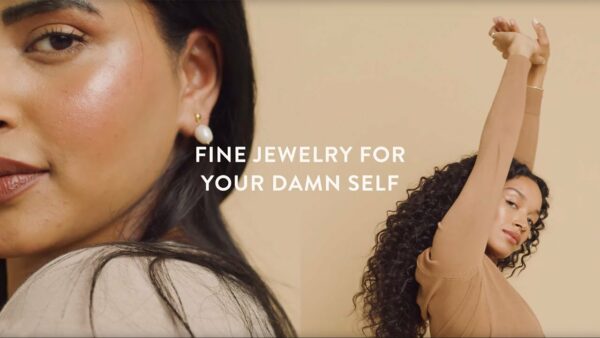 Mejuri, a Canadian jewelry brand skyrocketed in popularity with a brand voice that spoke to professional women who buy jewelry for themselves, rather than waiting on a partner for nice shiny things. The voice is empowering, and strong, and exudes a sense of confidence.
Different kinds of brand voice
You've probably noticed how easy it is to pinpoint the "personalities" of household name brands, with almost the same accuracy as those of your own friends.
Burger King? Droll but friendly.
Victoria's Secret? Sultry yet playful.
Little Debbie? Nostalgic and pure.
happy valentine's day to everyone except your horrible ex. today in LA, SF, BOS, and NYC, you can turn your ex-flame into a flame-grilled whopper.
xo, #burgerquinn

— Burger King (@BurgerKing) February 14, 2020
We feel well-acquainted with these companies because they have established their voices clearly and consistently over many years, building a sense of familiarity that spans generations.
Here are a few more examples of brand voice personalities:
Whacky. These brands are the jesters of the marketing world. They find it hard to keep a "straight face" in their communications. Every day is April Fool's Day. You never know what to expect next, and that keeps their target audience on their toes. Skittles is a great example of a brand with a whacky brand voice and tone.
Seductive. These sultry brands speak to people's sensual sides with just a hint of hedonism. Ghiradelli chocolates maintains a smooth, sultry brand voice in their ads and messaging.
Visionary. These right-brained brands are all about creativity and their messaging taps right into the imagination. The sky's the limit! Lego has a visionary tone, excellent for encouraging the future builders of our world!
Nonconformist. These brands were born to be wild. They are the voices of rebellious free spirits everywhere. We love clothing brand, Reformation's, loud-mouthed, sassy brand voice who's email subject lines always come in capital letters with sharp, punchy copy.
Next-door neighbor. These laid-back brands have the unpretentious personalities of someone you wouldn't mind having a beer with. Five Guys maintains a laid-back, easy-going vibe in its brand tone and messaging.
Heroic. These brands want to save the day and they want you to know they're up for any challenge that gets thrown their way. If brands could have uniforms, theirs would be a cape.  ADT home security systems is a great example of a brand with a heroic voice that instills absolute trust in its customers.
Compassionate. These altruistic brands are on a mission, but they also give you the warm and fuzzies about the good work they do. They're in service to others and their voices are filled with kindness, empathy, and compassion. The American Society for Prevention of Cruelty to Animals (ASPCA) really leans into a compassionate voice when marketing to its donators.
How to develop a brand voice
Brand voices speak for themselves once they're well-established, but sometimes choosing how you want your brand to sound is the hardest part.
Make a mood board
If you're ready to help your brand find its voice, the first thing you need to do is identify your brand personality. Consider every aspect of your brand identity, all the way down to your logo fonts and colors—everything that makes you "you". If you're struggling, you might even want to make a mood board filled with imagery that relates to your product or service. You'll get a better impression of your brand's overall "character" when you can visualize it.
Gather your core personality traits
Using the inspiration you've gleaned from this brainstorming session, jot down a list of human "personality traits" that you feel represent your brand best. What's your style? Are you quirky? Friendly? Easygoing? Cutting edge? Professional? Match your tone of voice to these qualities.
Decide how to use this voice
Once you've settled on your voice, you'll need to decide how you want to use your voice. If your brand is "quirky", you might want to use humor, irony, and even an element of surprise in your communication style. If your brand is "professional", try using formal language that instills confidence in your customers and shows them you mean business.
You know your brand better than anyone, so keep fine-tuning that tone until you're happy with it.
Ask yourself these questions
Once your customers have become acquainted with your unique communication style, you'll start to establish credibility with them and earn their trust. That's why it's extremely important to lay down a few ground rules for your brand voice and include them in your brand guidelines. Here are some examples of questions you should ask yourself:
Will you use slang or stick to eloquent speech?
Contractions (can't, won't, shouldn't), or spell everything out?
Will you address your customers by name when replying to comments?
Will you be forthright, or remain diplomatic at all times?
Do you plan to use emojis, or keep your communications text-based?
Using your brand voice effectively
Here are a few key factors to keep in mind as you establish the voice of your brand.
Know your target audience
Your brand voice should "speak" to your customers and potential customers in a way that ensures they will actually listen to it. If you want to secure your place in the market, you need to keep your audience charmed. Research their demographics and familiarize yourself with what they like and what they want. (Equally important is knowing what they don't like and don't want!)
Make yourself recognizable. In case you haven't noticed, there's a whole lot of noise out there these days. Your voice has to be both unique and unforgettable enough to be "heard" above your competitors.
Don't be a copycat. If you copy the brand voices of your competitors too closely, you'll come across as a cheap imitation. It will be obvious, and you'll likely lose business as a result. Hone in on what makes you unique and stick to it!
Don't be robotic. Using language that relies too heavily on tech speak or industry jargon might show off your know-how, but it can scare away potential customers. These days, people prefer brands they can relate to on a human level. Keep your tone conversational.
Your brand voice is not your voice. When you post on behalf of your business, don't write the way you would write. Keep your brand in mind at all times and don't let your own figures of speech, moods or attitudes dilute your messaging. Always make sure you are reflecting your brand's personality, and not your own, in every interaction and communication.
Consistency is key. Don't break character! A brand personality that changes like the wind will confuse customers. If your social media posts are warm and friendly but your website is cold and clinical, your prospects will have a hard time figuring out what you're all about. Chances are, you'll lose out to a better-branded competitor. (They might not walk the walk like you can, but at least they talk the talk.)
What does your brand sound like?
Having a strong brand voice is so much more than just another clever marketing ploy. It's a way to breathe life and personality into your business and form a lasting bond with your customers.
Psst! Did you know Looka has a monthly newsletter with over 30,000 subscribers? We send helpful content like this over to you once a month so you can stay in the loop when developing your brand.
Sign up here!