The 4 Most Popular Cannabis Branding Styles of 2020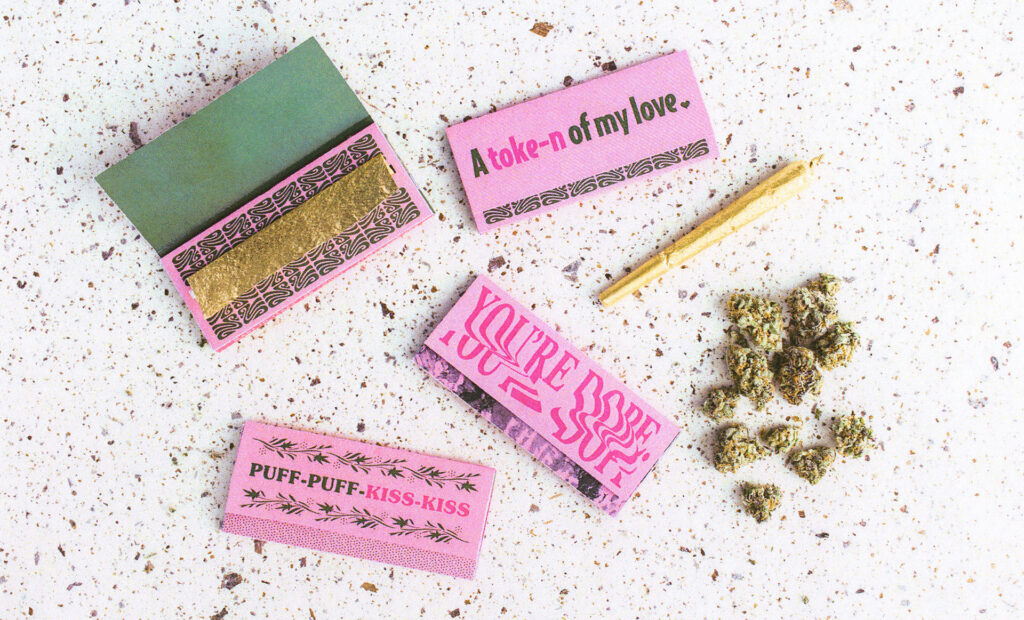 Starting a cannabis business? It's time to think about how to brand it! Cannabis culture has come a long way from the bong-filled cabinets, neon signs, and Bob Marley t-shirts of headshops gone by. With literally hundreds of providers currently popping up across North America, the need to create a distinct brand identity is more important than ever.
Fortunately, there are a ton of great examples of cannabis brands out there. To help you get started, we've grouped together four of our favorite cannabis branding styles for 2020 – plus a few important tips on launching your own cannabis business.
Let's take a look!
The core elements of a great cannabis brand
Weed is a big deal nowadays. Since its legalization in Canada and parts of the US, some of the largest distributors have been listed on the New York Stock Exchange, raking in revenues of up to a quarter-billion each year. The market has generated a huge diversity of products; from medicinal and recreational CBD edibles to pre-rolled joints, plus an array of different buying options (brick and mortar, eCommerce, subscription-based).
As a result, you need to build a brand that will make you stand out and help define your positioning clearly. Unfortunately, 'Craig's insane Cheese' and 'down at the park' are no longer an acceptable product or distribution model, respectively. (Craig's Cheese was insane though…)
So what do most great cannabis brands have in common?
1. The logo
Unless it's used in a subtle or original way, most modern cannabis company logos are steering clear of the ganja leaf symbology of the past. While images of giant green leaves might have had their place on the wall beside your Offspring and Limp Bizkit posters, this isn't the 90s anymore (sadly). Having said that, the leaf symbol is an important and unique icon of the industry and, when used effectively, can spearhead some great brand directions.
Design a cannabis logo now!
2. The name
Cannabis culture is notorious for its overused cliches, and brands have realized it's high-time to stop that. Names generally work when they refer to cannabis in a cool, understated way, like Doja, Tweed, and Tokyo Smoke. Luckily, the enormous cannabis lexicon has a huge range of words to choose from and adapt, like kush, loud, chronic, smoke, bud, and so on. Play around with names and try to get something that pops in your market category.
3. Look and feel
Cannabis branding is evolving and developing in character. The look and feel you choose will depend on the kind of clientele you believe your product aligns with. Take note of certain buzzwords and themes you notice in brands you like. Are they health-focused? Organic-looking? Modern? Luxurious? Increasingly, cannabis brands are no longer seen as part of an outsider or counterculture market. The branding has started to follow more conventional avenues as a result.
Tip: You may have noticed how a lot of cannabis brands look and feel the same as beauty brands, organic products, or tea and coffee companies. This is no accident. Many actively draw inspiration from these verticals, since the applications of cannabis have crossovers in each.
Cannabis branding styles
As the market for legal cannabinoids continues to flourish, we've noticed a natural clustering of brands into a few distinct categories. Here are four of the most common cannabis branding approaches we've seen so far.
---
1. Modern
A happy marriage of digital-era design and online buying models, cannabis branding under the Modern category has a clean, relaxed feel and tech aesthetic. Many of the brands here go for stripped-back sans serif logo fonts, beautifully simple design elements, and gorgeous eCommerce displays.
Dosist
With Apple-level attention to detail, dosist is a great example of modern cannabis branding. It's aesthetic uses a backdrop of creamy pastels with some rich accents to highlight different formulas. We particularly love the clean, educational feel of the website and the bold branding elements, like the logo, packaging and color palette.
Tweed
Owned by the monolithic Canopy Growth Corporation – the first cannabis company to be publicly listed – Tweed is a trendy cannabis brand that sells everything from pre-rolled joints to chocolate. The logo and branding follow a modern, urban feel reminiscent of sneaker and clothing companies. We particularly love their packaging!
Doja
Another brand under the Canopy Growth umbrella, Doja is a fantastic example of both a sleek brand identity and a brilliant online execution, created by design agency, Article. The logo is an example of using cannabis imagery in a subtle way, and the website is stunning—weaving story, function and color into a seamlessly rich experience.
(Seriously, check out their website)
Tips for creating a modern cannabis brand:
Keep your logo simple
Use a distinct, thoughtful color palette
Focus on functionality across your brand aesthetic, from the website to the packaging design
Think of a catchy, approachable name
---
2. Upmarket
Upmarket cannabis has continued to grow as a market segment, with brands like Beboe and The Goodship Company coming to define the look and feel of the luxury cannabis aesthetic. Distinct design elements with a boutique cosmetic feel (plus a few extra dollars on the price tag) typify these brands.
Beboe
Beboe is a Cali-based luxury cannabis experience brand created by artist Scott Campbell and tech and fashion executive Clement Kwan. Selling everything from vape pens to pastels, Beboe uses baroque-inspired branding with aspects of Campbell's traditional tattooing background creeping in.
Défoncé
No, it's not a Beyoncé knock-off. Putting the high in high-quality, Défoncé (which is also French for "high") creates luxury, cannabis-infused chocolate with gorgeous packaging – AKA nothing like the edibles you're used to. Classy branding mixed with craft chocolate packaging, plus a super cool logomark, make Défoncé a great example of how to brand a specific product, market, and segment successfully.
Van der Pop
Designed as a female-friendly cannabis business, Van der Pop 'curates and creates cannabis experiences for the modern woman.' A logo that couldn't be further away from headshop aesthetic if it tried, Van der Pop's branding draws inspiration from the world of fashion and cosmetics, with a delicately crafted brand story that directs cannabis education to women.
The Goodship Company
The Goodship Company is another CBD-infused chocolate maker with baroque brand elements. Even if you're just starting out with a few products in your line, The Goodship Company is proof that it's all about the brand you surround them in.
Tips for creating an upmarket cannabis brand:
Draw inspiration from relevant industries
Play bold design elements off a sleek, sophisticated logo
Create a name that sounds expensive!
---
3. Organica
Probably the most 'predictable' of cannabis branding styles (which isn't necessarily a bad thing) organica brands center on holistic approaches and an often rustic, mellow feel. Brands under this category use earthy tones and can often bear a passing resemblance to yoga studios or coffee company branding.
Marley Natural
Marley Natural is a provider of cannabis products and accessories, with a distinctly rustic feel and an outspoken brand voice. Their iconography is Rasta-inspired, and their brand story does a good job encapsulating their feel and flavor of their products.
Kiva Confections
Kiva Confections is an edibles producer that makes cannabis-infused mints, bites, gummies, and chocolates. Their branding is on-point for its simple organic elements and laid back color combinations. Products are individually named, and many have unique package designs that help clarify and define their offering.
Maitri
Maitri, which means loving-kindness in Sanskrit, creates beautiful cannabis homeware and accessories for the ritually-minded. Wood-grain touches and soft porcelain-style details give their products a ceremonial quality that makes you want to throw on a '10 Hours of Gentle Rain' track on YouTube and put your feet up.
Tips for creating an organica cannabis brand:
Take inspiration from nature

Focus on textural contrasts and natural forms

Explore spiritualist traditions and approaches

Use earthy color combinations
---
4. Health-first
Health-first weed branding often combines a clinical look and feel with an approachable – but not too flashy – modern aesthetic. Logos and branding elements are simple, and websites are your usual eCommerce setup. The emphasis in this vertical is on no-nonsense functionality, education, and safety.
Wana Edibles
Wana sells accessible cannabis edibles in both medical and recreational formats, depending on which state you're in. With branding more akin to a supplements company, Wana does a good job of positioning themselves as a health-centric cannabis brand, without being too over the top about it. The logo could use some work, however!
Apothecanna
Apothecanna is a US-based provider of cannabis-infused pain relief skincare products. According to the company mission, Apothecanna aims 'to spread the wisdom of traditional plant medicine', and has created a brand that's not too in-your-face. This weed brand focuses on clearly describing the ingredients and benefits available.
Tips for creating a health-first cannabis brand:
Take inspiration from mass-market healthcare and supplements, but put your own twist on it
Keep design elements and themes simple and utilitarian
Focus on a clear, educational tone of voice
Starting a cannabis business
If you're thinking about a cannabis business, you've probably put some thought into the practical aspects. But just in case, here's a couple of things to keep in mind:
Think about your positioning before you launch. For example, if you're planning on creating a brand identity for a boutique brand of CBD edibles, make sure the strain and dosages are appropriate. Don't send your clientele straight to Mars after just one gummy.
Make sure you understand the relevant laws and regulations in your state or province. Cannabis may be legal in Canada and 11 States (at the time of writing), but each jurisdiction has its own regulations on possession and distribution. Make sure you're up to date and compliant. Similarly, many social media companies have strict policies about marketing any kind of cannabinoid product, so double-check to be sure.
Ultimately, cannabis branding is a uniquely fun and rewarding terrain. Understanding the popular branding styles out there is a great way to give yourself a ballpark idea of your own direction. Good luck, have fun, and happy 420!