Top 21 Christmas Fonts to Make Festive Brands Shine
The most wonderful time of the year calls for whimsical holiday fonts, festive colors, and a cozy aesthetic. Whether you're branding a holiday-themed product or launching a seasonal business, the holidays are the ideal time to break through and break even.
With record-breaking online sales and increased social media use, holiday branding comes down to standing out from the competition and distinguishing your brand identity.
To help you make the most of the holiday rush, we've curated the best Christmas fonts below so you can nail your logo and brand. Throw on your Christmas playlist and let's get started!
How to add a Christmas aesthetic to your brand
Use the elements below to build a holly jolly brand that tugs at heartstrings (and wallets!).
1. Use a Christmas font
Old-fashioned serif fonts and hand-drawn cursive fonts are common for the holidays because of their potential for a handcrafted appeal. The holidays are all about sentimentality!
Opt for these logo fonts when creating your holiday-themed brand:
Tip:
Sans serif fonts
can be too crisp and modern for the holidays, but they're still a great
font pair
for slogans due to their readability. 
Here are some Christmas logo ideas made with Looka's logo maker:


The font on the left uses a vintage Christmas font enhanced by the bright red color. The thin brush font on the right is minimalistic and well balanced by the snow-like container.
2. Choose a festive color palette
Stand out from the sea of red and green by using a more original color combination. Save the Christmas go-to's as accent colors instead!
Take inspiration from the winter color palette of the holidays and think of crisp white snow or the mahogany of mulled wine. Even the gold foil of stars and dark blue of the night sky can work as holiday colors with the right font!
Check out the festive logos below. All made on the Looka logo maker!


With a background of yellow, the red and green logo on the left accentuates the fonts and symbols without screaming Christmas. It's fun, elegant, and great for businesses in gifts, baked goods, or crafts!
On the right, the gold on dark blue creates a more formally festive vibe without the use of red or green. It's ideal for office parties, event hosting, and storefront design!
Design your Christmas logo now!
3. Add holiday symbols
Holiday symbols can instantly communicate your product or service offering. Use them to your advantage!
Here are some holiday symbols for inspiration:
Mistletoe
Gift boxes
Pine trees
String lights
Handmade crafts
Snow
Candy canes
A Wreath
Check out these holiday logos made with Looka's logo maker:


The gift box and handwritten script on the left are playful and simple. Perfect for businesses in personalized gifts, decor, handmade crafts, or baked goods.
On the right, the minimalist color palette is offset by the dynamic display font and Christmas tree symbol. It's ideal for those in tree sales, deliveries, and sustainable decor.
Top 20 Christmas fonts for festive brands
We've curated the top Christmas fonts below along with usage suggestions and suitable businesses!
A playful and sheepish font, Christmas sheep is a display font that exudes a child-like vibe. It's best suited for holiday businesses that dabble in toys, children's events, or cute craft items.
With swirling serifs and an eccentric look, this script display font is for fun-loving businesses. It's attention-grabbing and ideal for holiday decor, postcards, entertainment, and gift wrapping.
This font has a bounce in its step, with lettering that looks imperfectly handcrafted. It's got a fun aesthetic and is perfect for spreading holiday cheer in crafts, tree decor businesses, and digital mediums like websites.

Eksell Display has a conservative appeal with crisp serifs and bold strokes. It's ideal for eCommerce businesses, professional decor, gifts, and web-based businesses. It also works well for year-round branding!
Neat and lovable, this cursive font is reminiscent of bedtime stories. With rounded edges and sublime symmetry, it has a soft look that's easy to read. Great for businesses in home goods, handcrafted items, toys, and postcards.
Where vintage meets modern, Landmark is unique, bold, and luxurious. It's suitable for businesses in handmade crafts, corporate gift baskets, or event planning. Landmark is versatile and can be used on various marketing collateral throughout the year.
A fun sans-serif with a festive twist, this font is great for e-invites and businesses in postcards, gift baskets, and holiday party planning. With five decoration elements, you can pick and choose your aesthetic and let the Christmas font do the talking for you.
Mouthwatering and sweet, this font looks hand-illustrated and individually crafted. It's a great choice for businesses that produce artisanal items, gifts, toys, and anything "cute". It's great for distinguishing your brand at the Christmas market or branding baked goods.
Who doesn't love snow for the holidays? These snow-capped letters make you want to jump into a Snuggie and watch Home Alone. Use this fun display Christmas font on packaging, labels, and social media posts. Great for businesses in snow removal, handmade winter apparel, and hot drink mixtures for snowy nights by the fire.
This handwritten Christmas font is for businesses that need a personal touch and a childlike look. Businesses that make postcards, handcrafted gifts, toys, apparel, or holiday decorations can add another level of personalization with this font.
This font has a neat, structured look, making it personable and professional. It can be used for artisanal market items, fun postcards, and gift baskets. Or maybe a letter from Santa himself!
Karlostine has handcrafted lettering made for impactful branding. Its bold brush style is great for greeting cards, handmade or personalized items, and any type of personal branding for holiday events.
Vintage fonts make us feel nostalgic and reminiscent of simpler times. This font collection has a serif, sans serif, and script style to cover all of your bases. Hanley pro adds a retro look to handmade items, winter apparel, skincare, or sustainable gift wrapping services!
A combination of a script and display font, Bourton Hand is the full package for distinct handmade-looking branding. They're great for hand-brewed beverages, artisanal gifts, men's skincare, and pop-up bars.
This Christmas font is great for bold, old-fashioned branding and works year-round. Ideal for baking and pastry businesses. It also works well for rustic event planning and winter apparel brands!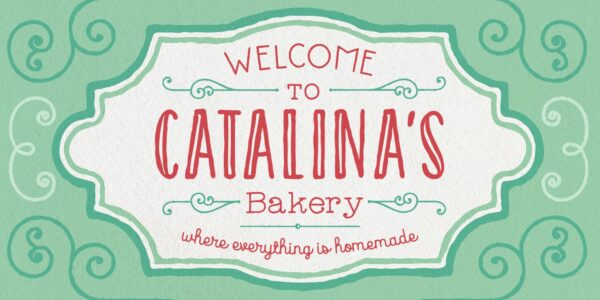 Like grandma's homemade apple pie, this holiday font is sweet and well crafted. It has a hand-drawn allure and five font families to help you create an artisanal look en masse. Perfect for artisanal goods, bakeries, and anything hand-stitched with love.
Elegant and human, Naive Inline has an artisanal look and beautiful minimalistic lettering. It's for businesses that have a simple aesthetic and want to catch the eyes of Christmas market-goers. It's ideal for handmade skincare brands, personal branding, or elegant winter clothing lines.
The toy industry is booming during the holidays, and most parents are looking for something special for their little ones. This Christmas font is loud, fun, and rambunctious. It's the perfect choice for artisanal toys, games, and handmade children's winter apparel.
This block-like font is sturdy, playful, and has a toy-like structure. It has versatile uses, but it's ideal for handmade products,  toys, and brand personalities that have a child-like wonder.
Mellow morning is anything but mellow, with doodle-like lettering that's fun and creative. It includes a script option, making it perfect for businesses in gift-giving, illustration, toys, and Christmas card design.
Prettywise has a retro element that's endearing and original. Its thick flowing serifs and solid height make it both whimsical and sturdy. An ideal Christmas font for businesses in beauty, vintage fashion, or pop-up gift sales.
Let's get festive!
A solid brand builds loyalty and secures clients year-round. Get your holiday brand up and running with the perfect Christmas font and logo. Remember to:
Use a festive font that portrays your brand identity
Choose an original color palette to stand out from the rest
Use a symbol or monogram to build brand recognition on social media and packaging materials.
Choose a Christmas font that embodies your business products or services.
Try Looka's logo maker for free and start making some holiday magic!