Every Pantone Color of the Year of the Last Decade
Today, Pantone is known worldwide for setting its infamous "Pantone Color of the Year", a trend-setting declaration that often surprises and delights design enthusiasts. 
Before we had the Pantone Matching System (PMS), everyone had a different idea of what "blue" meant. If you needed something printed in a specific shade of blue, it was a challenge for your printer to find an exact match. 
In 1963, Lawrence Herbert, founder of Pantone, innovated a system for identifying, matching, and communicating color. Suddenly, printers were able to communicate the exact color code they needed with their ink supplier who could then create the right color for the client. 
A happy ending for all!
Pantone colors from 2012 onward!
We've dug through the archives to bring you a list of every Pantone color of the year for the last 10+ years. Below, you'll find suggestions on how to incorporate these colors into any kind of design you're doing, along with some color pair suggestions.
2022: Very Peri
In contrast to the muted earthy tones we've seen in recent logo redesigns, Very Peri is a dynamic periwinkle purple. This 2022 color of the year signifies an embracing of the future and the way we've changed over the last few years. 
Veri Peri pairs well with other bold colors to create an electrifying color palette. Whether used in fashion, interior design, or a candy bar wrapper, this color is sure to delight. 
PANTONE 17-3938 Very Peri
2021: Ultimate Gray + Illuminating
Two contrasting colors coming together to support one another in their differences. This is essentially the intention behind the selection of this grey and yellow color pair meant, to reflect the themes of another pandemic year, 2021. 
We love the use of yellow as a pop of color over a soft grey foundation. Grey is a stable, neutral color that's brightened and made more exciting with the use of an accent color. See it in action in this logo! 
PANTONE 17-5104, PANTONE 13-0647
2020: Classic Blue
A drastic change from 2019's dynamic hue, 2020's color of the year was Classic Blue. Calm, confident, balanced, and resilient, these are just some of the words used to describe 2020's Pantone color of the year. 
Blue is known for its emotional associations with tranquility, loyalty, and stability. Often used in health and financial industries where trust is an essential aspect of doing business. 
PANTONE 19-4052 Classic Blue
2019: Living Coral
A warm and energetic color, Living Coral brings a social and spirited energy into our lives. 
This color can be boldly used in interior design as an accent wall, or in fashion as an accessory color. We also love its use in neon color palettes! 
PANTONE 16-1546 Living Coral
2018: Ultraviolet
Ultraviolet has a mystical, mythical, witchy element to it. With the booming interest in astrology and neo-spiritual practices, this vibrant violet came onto the scene to reflect where collective interest was heading.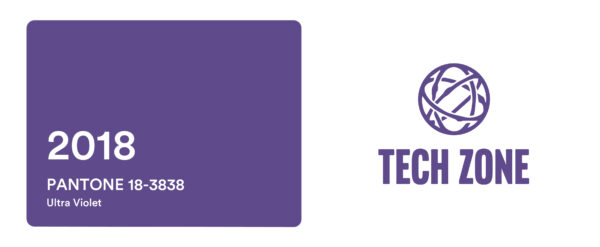 Pantone's 2018 color of the year fits right in with the jewel tones of Fall. But, we won't limit it to one season. Use this vibrant purple Pantone color anywhere! From logos, to websites, to nail polish, it's a truly versatile shade.
PANTONE 18-3838 Ultra Violet
2017: Greenery
This zesty green shade truly evokes the feeling of full immersion in nature. Psychologically, we feel more at ease when we see the color green, which is why so many wellness brands take advantage of this color. 
2017's Pantone color reminds us to take inspiration from nature. Green pairs well with other cool colors like blue and grey, and or contrasted well with warm colors like orange and fuchsia pink! 
PANTONE 15-0343 GREENERY
2016: Rose Quartz & Serenity
A perfect color combination, this soft pink and baby blue are pulled straight out of our favorite pastel color palettes! This was the first time Pantone selected two colors for their Color of the Year. Truly, these colors can be used just about anywhere. 
From garments to paint colors, these tranquil colors bring a sense of serenity wherever they're used. 
PANTONE 13-1520 Rose Quartz & PANTONE 15-3919 Serenity
2015: Marsala
An earthy, luxurious tone, Pantone's 2015 color of the year is a perfect choice for those with aesthetic taste. We see this color applied in beauty frequently, as well as in interior design and real estate.  There's something satisfying about a warm and inviting red shade like this one. 
 PANTONE 18-1438 Marsala
2014: Radiant Orchid
Positioned as exotic and confident, the 2014 Pantone color of the year was selected for its dominance on the runway at the time! This sweet pink and purple blend is vibrant and versatile.  We see it pair well with analogous colors such as pinks and reds. 
PANTONE 18-3224 Radiant Orchid
2013: Emerald
This saturated green tone brings a sense of energy and renewal with it. Pantone's 2013 color of the year, Emerald, can be used in numerous ways. See below how Pantone encouraged the use of this color in daily life.
PANTONE 17-5641 Emerald
What will next year bring?
Pantone always keeps us on our toes when it comes to their color of the year. Will we get a soft neutral tone? Or a loud and dynamic shade? What's your guess?
Remember that colors have emotional associations with them. When working with a Pantone color, it's good to check what emotions are associated with the shade you're choosing.
Here's a quick rundown of colors and their emotional association.
Blue: Loyalty, professionalism, trust
Red: Strength, passion, confidence
Yellow: Positivity, enthusiasm, happiness
Green: Harmony, nature, growth
Purple: Royalty, spirituality, wisdom
Pink: Compassion, love, playfulness
Orange: Optimism, youth, creativity
Read our guide to designing a
brand color palette
, to learn how to choose the right colors for your brand!