Top 7 Frustrations of Working With a Freelance Graphic Designer
Debating whether to hire a graphic designer for your brand, or do the work yourself?
Working with a freelance graphic designer can certainly have its perks. You get a specialized professional who (hopefully) understands your business and creates custom designs. As a budding entrepreneur, you don't always know exactly what you're looking for, and working with a graphic designer can help bring clarity around your brand and design preferences.
But working with a graphic designer also has its pitfalls. We surveyed 100 of our users to hear about their experiences working with graphic designers. We got details on what people loved, liked, disliked, hated, and were willing to pay premium prices for when working with a graphic designer.
Before jumping into a contract with a designer, we wanted to candidly share some of the top frustrations we heard from this study so you are better able to decide if hiring a graphic designer is the right choice for your brand.
Let's look at seven of the most common frustrations in freelance graphic design arrangements and what you can do to mitigate or avoid them.
1. Divided focus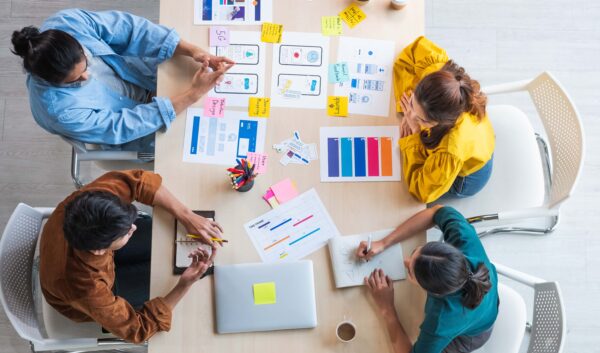 When you work with a freelance designer, you're likely just one of a number of clients they have. That means you can't be sure you're their first priority—or even their second or third. Some 6% of our survey respondents indicated not feeling like a priority was the worst part of working with a designer.
Late email responses, pushed timelines, and missed deadlines are common experiences of working with a freelance designer who's taken on multiple projects. If the designer overcommits, or if another client has a time-consuming emergency, the freelancer might be forced to turn in your projects late.
How to avoid this
Ask about their workload during your initial interview. Find out how many other clients they work with at any given time and how many are on their docket right now. Discuss revisions practices, and communication preferences to get a sense of how they'll work with you.
Once you've hired your designer, talk about their other commitments while you set turn-in dates and other benchmarks so you can trust your work remains a top focus for them.
2. Trust issues
Trust issues were the third-biggest issue our respondents named, with 15% citing this. Giving up creative control is a difficult task, especially when its something close to your heart—like your business. Being able to step back and trust your designer to make creative decisions on behalf of your brand is challenging.
When working with a designer, it might not always feel like that sense of trust is present. With limited revisions, you can't be 100% sure you're going to get exactly the kind of design you want by the end of the process.
How to fix this
Communication is certainly key when building trust with your designer. You should both set out clear rules and expectations of the other in terms of what you're looking for and how you'll work together. Take the time to explain in-depth the values and mission behind your business so that they feel a sense of personal investment in your brand.
If relinquishing control is a difficult task for you, you might want to consider working with an AI-powered designer that puts control back into your hands! For example, Looka's logo maker will help you customize a design in under 10 minutes. You'll be presented with color scheme options, different layouts, font suggestions, and more. It's like working with a designer except this time, you have full control of your own design.
3. Poor communication
Poor communication came in as the single most frustrating aspect of working with a designer, at a whopping 64%. This wasn't just about answering emails and setting up phone calls. Our users cited specific issues around conveying their vision to the designer and having it properly executed. Some examples:
"It can be hard to ensure your designer knows exactly what you want."

"It's the slight details that you envisioned that the designer didn't fully grasp in your description."

"One thing that can be irritating is sending revision notes and then receiving the revised design but with the changes gone in the opposite direction. Accurately communicating the feeling/emotion/mood you want to evoke in the design can be difficult."
How to fix this
Receiving a design that doesn't meet your expectations is a terrible feeling. Especially when you've put your time and energy into explaining what you're looking for. A good designer should set up a lengthy first consultation to discuss your vision. Using a moodboard is a great step to making sure you're on the same page. Look for examples that meet the criteria you're looking for, and make a list of elements you love. The clearer you can get with your descriptions, the better your designs will turn out.
Alternatively, if you know exactly what you want, you could do the design work yourself! Canva is a great option for DIY brand assets.
4. Lack of face-to-face interaction
In these days of global digital connection, you can hire the best freelance graphic designers in the world if you have the budget! The bad news is you have very little opportunity to observe their work and interact with them in person. It's possible, even likely, that you'll never be face-to-face with the freelancer.
This can make working with a freelance designer feel highly transaction, and take the joy out of a fun creative process. There's a risk your freelancer will venture far "off script" from the design specifications because you're just not on the same page.
How to fix this
Make a point to call or video conference, rather than email, with your designer to establish a personal connection. You might want to set up weekly calls to catch up and update each other on your respective progress.
Done well, this results in a compromise between close supervision and freelancer autonomy. You'll have enough control to keep the project in line, while the freelancer retains enough self-determination to be creative.
5. Dilettante syndrome
There are many qualified full-time freelance graphic designers in the world who take their jobs seriously and do excellent work, on time, every time.
But there are a large number of freelancers who call themselves "graphic designers" without making a serious effort. These include talented people with a demanding full-time job doing something else, stay-at-home parents, retirees seeking supplemental income, and other folks with some design skills, but not necessarily the right time or environment.
Now, not all part-timers are flaky or naive about the industry! But there's a risk of running into issues increases if you hire a part-time designer.
How to fix this
Ask for references. If a freelancer doesn't have any, hire somebody who does. Any real professional will have plenty of people ready to say they do great work and will be happy to put you in touch with some of them.
Spend time looking through their portfolio, and cross-check on their website and social media. You want to be sure they have done recent work, for active businesses. Not just their sister's wedding logo six years ago!
6. Timeline troubles
If you're deciding whether or hire a freelance graphic designer, one of the first things to consider is how much time you have. Missed deadlines were the second-most commonly cited negative factor in working with designers, coming in at 17%.
It can be hard for a freelancer to feel the same urgency you have with your project timelines. If you're dealing with a true professional, this isn't a problem. But if your freelancer is running late, it's harder to rally them with the need for speed.
How to avoid this
Communication is crucial. Set the initial timeline clearly, and communicate about things that might impact that timeline as they arrive. While you're at it, keep the freelancer in the loop about other parts of the project so they can anticipate any changes you may need to make.
7. Prioritizing their needs over yours
Every project a graphic designer works on is an opportunity to add a new and exciting piece of work to their portfolio. 15% of respondents vocalized that their business needs were not properly being taken into account. Just because something looks good, doesn't mean it works for your brand. A great freelancer will be able to separate their preferences from your brand's needs. But as our study shows, this is not always the case— especially if you're working with a small budget.
How to avoid this
With every branding project, it's important for you to have a list of must-haves, and a clear understanding of what you don't like. If your audience is mostly seniors, a thin scripted font is probably a bad idea as it's not the most legible. Take a step back and prioritize what you need so you can clearly communicate this with the designer you've chosen to hire.
Is working with a graphic designer the right fit?
Don't let this list sour you on the idea of hiring a freelance designer. Instead, focus on the solutions we talk about above. Use them to avoid these frustrations from the beginning and identify which candidates will help you avoid them. A great designer will work hard to nail your design and create a smooth process while working together.