Good Fonts for Logos and How to Pick the Right One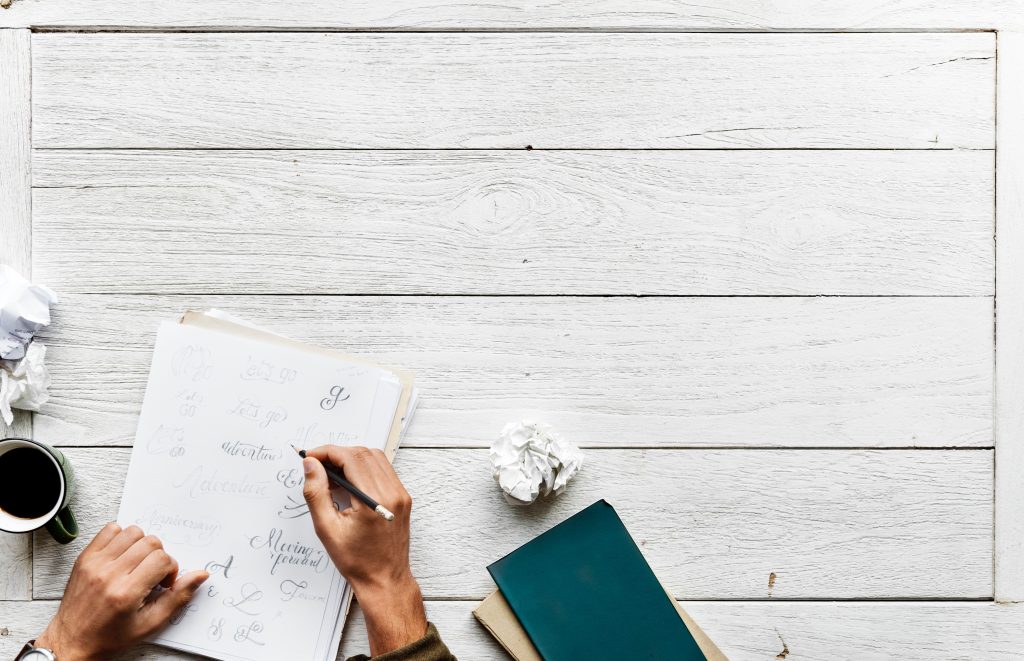 Picking a good font for your logo can be time-consuming and disorienting. 
You know the font is an important element of logo design, but it's just so hard to choose! By changing your font, you can completely change the mood and message of your design. Whether it's vintage, futuristic, or modern, your font should be carefully considered and convey the message you want. 
Tip: Don't underestimate the power of picking the right font design and the deep psychological impact it has on your visitors. Experienced designers understand this and pick their fonts very carefully and deliberately. We often spend hours selecting a font for a design. – Brad Shaw, President & CEO, Dallas Website Design
Different font styles communicate different subconscious messages to people, which can help you build brand identity.
There are a few core categories of font styles you should know about before selecting yours: Serif, Sans Serif, Modern, Handwritten, and Display. We'll review them all so you have the chance to learn what each style conveys and how to use them!  
Serif fonts
A timeless classic, serif fonts are associated with tradition and propriety. Fonts like Times New Roman generally incite a positive response to older generations, but businesses targeting a younger crowd should probably choose a different style for their logo. A serif font is a good font for a brand looking to associate itself with timelessness and legacy.
The Financial Times is a perfect example of a classic serif font. As a business newspaper, its logo evokes trust, confidence, and reputability. The logo gives a sense of tradition, which makes sense given this newspaper's first issue came out in 1888! 
Sans-serif fonts
Sans serif fonts made a comeback in 2017, with numerous well-known brands, including Calvin Klein, opting for this clean, simple look for their logo font. Easy to read and neutral by design, this font will mesh well with most shapes and designs that may be included in your branding. Choose this type of font for a futuristic, modern and straightforward look.
Though once appearing as more of a modern font style, sans-serifs now are more common than serif fonts (okay, maybe a little too much) because of their easy legibility and simple style. These days, you can't go wrong with a sans-serif font!
Modern fonts
If luxury and exclusivity are at the top of your branding objectives, exploring modern fonts could be the direction for you. These typefaces often give off a sense of sophistication and complexity. Modern fonts convey an overall feeling of power—most effective with younger, more hip demographics.
Test your logo fonts here!
It's common to see more modern fonts used by businesses appealing to a younger demographic. Startups and various mobile app companies will take this route, just like the below example. Ritual is an app that allows you to order food ahead of time, and easily pick it up, all the while accruing points and rewards to use on your purchases. Their logo is smart, sophisticated, and modern, just like their business.
Tip: Logo's lend themselves to a bit more of a unique look vs using a classic font. If every company's logo design was rendered in Helvetica, what would make it unique? Sure I've used plenty of classics in a logo, but that's where I let the project and subject matter speak to me.– Chad Birenbaum, Co-Founder & Designer, Duckpin Design
Handwritten fonts
Formal, elegant and feminine. A brand looking to display these kinds of characteristics should use a cursive font, but with extreme caution. Logos are often resized, and this could cause readability issues with handwritten font style logos. Text with scripted fonts should remain short, as extended cursive text can strain the reader's eye.
As mentioned above, it takes a certain kind of brand to pull off a handwritten, or cursive font. These types of fonts are playful at heart, but can quickly turn child-like. Make sure that if you're using a handwritten font for your logo, that it matches the message you are trying to convey to your target audience.
Display fonts
Other fonts that do not fit into the aforementioned categories are quite commonplace in logo design, with many businesses opting to have fonts designed specifically for their branding. These typically do not convey simplicity or elegance, but designing a unique font for the specific message you are trying to get across can be quite effective.
The below Disney font is a classic example of this. Often referred to as a display font, their custom font is iconic and fun, pulling into the magical theme of their stories.
Tip:
It is absolutely fine to use more interesting fonts when the rest of the design is simple and we want to emphasize the font as the primary design element or when we want to highlight a particular message above all else.
–
Jason Van Tassel, Owner & Creative Director, MouthMedia
5 questions to consider when choosing a logo font
Ryan K. Hertel is Creative Director at Socialocca, a design agency in Pennsylvania. He's got five recommendations of things to consider when deciding on the right font for your logo. 
1. What is your brand?
It's good to know exactly what you're designing for when getting started. Your font choices for a law-firm and a preschool need to differentiate. Professional organizations need a professional appearance meaning a clean font is a good choice for a logo. On the flip-side, designers should aim for anything but boring with a preschool logo. Playful and even immature fonts can accurately depict the brand in a case like this!
2. Who's going to see your logo?
The intended audience of a logo is crucial. A brand's designs are usually intended to be seen multiple times by the same audience, so your design needs to cater to them. Maybe it's best to keep your designs conservative for an older crowd, but spice things up for a millennial audience.
3. Where will your logo be seen?
There are so many outlets for consumers to see your logo. Always account for readability and the window of opportunity your logo design has to catch someone's attention. With something like a billboard that drivers only have a chance to view briefly in passing, it would only make sense to create a logo with a font that's structured and easy to read. When it comes to a creative logo that'll be in front of viewers, again and again, designers can take more liberty in their font uniqueness. Recognize how long your design has to win over a consumer and adjust to it.
4. What's the goal of your logo?
Are you trying to create a logo that'll be easy to integrate into apparel? Or will it be used more online and in digital assets? The font choices should differ based on the primary medium your logo will be seen. Also, keep in mind the brand you're designing for. A creative business, like a social media agency, may always want to display an energetic and upbeat vibe across all brand designs. You can always use basic and fancy font pairs to keep consistent branding and hit your brand goals, while still having fun with it.
5. How is your design going to connect with viewers?
When trying to catch someone's attention, fancy fonts can always do the trick. Hook in consumers with headline fonts that reel their eyes in. Once they're caught, you can keep the content font more basic so it's easy for viewers to read and understand. Again, this question of how to connect with viewers can be solved by mixing and matching basic and fancy fonts. The best designers know how to balance and implement both kinds in all types of design situations.
---
Find the right font for your logo!
Like with all elements of branding, know who your target market is and what message you are trying to convey to them. Your logo text is important, but how it is presented can make or break your logo design. Once you've decided how you'd like to use fonts to convey your brand, test it out in our logo maker!