Gradient Logo Design: A Beginner's Guide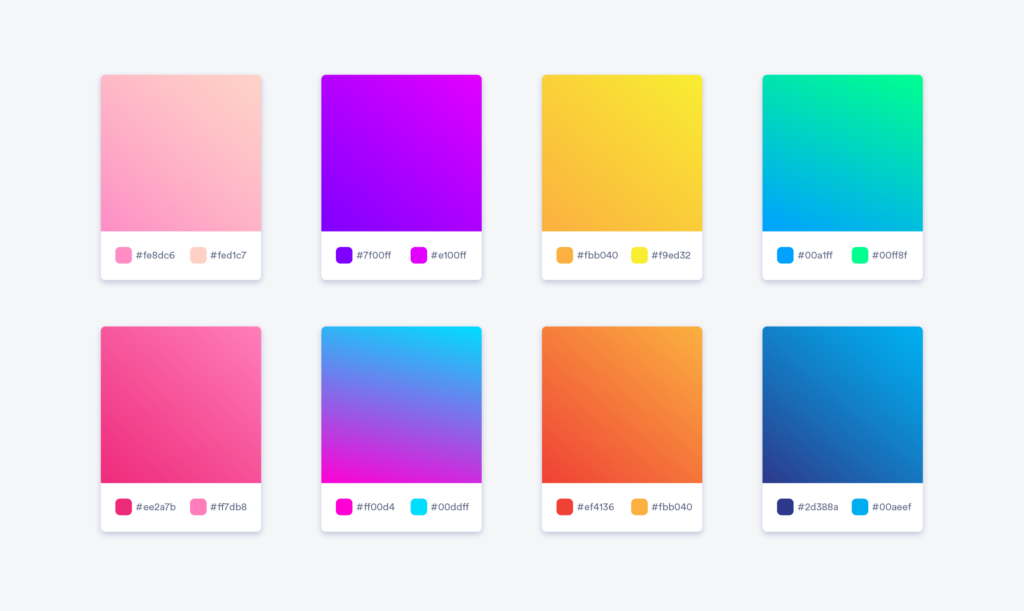 Instagram, Firefox, Asana, and Tinder…what do all of these brands have in common? A colorful gradient logo design.
Though there tends to be controversy around gradients (some say they're cheesy or dated), it's clear that if done well — and for an appropriate target audience — these types of designs can make a splash.
But before we go deep on gradient design, it's important to understand what a gradient is.
What is a gradient?
Gradients (also called color ramps or color progressions) consist of a gradual blend of colors or shades. They can be a blend of colors in the same shade OR a blend of a wide variety of colors. You can also use a gradient that fades from one color into transparent.
To have a true gradient effect, the colors need to bleed into each other — they can't be stacked side by side. Without the gradual blend, you simply have a colorful design.

When to choose a gradient logo
Looking for a way to stand out from your competitors? The gradient trend has re-emerged in recent years and may be the trick to getting noticed.
Gradients often give logos more of a 3D effect, which can make a design pop off the screen. Take a look at the designs below — the one on the right has a flat graphic, while the other has a gradient effect applied.
However, we don't recommend choosing a gradient logo only because you want to stand out or because it's trendy. It needs to fit your brand identity — and, more importantly, resonate with your target audience.
For example, if you're looking to create a logo for your boutique law firm, using a gradient probably won't sit well with your clientele who are used to seeing traditional and plain law logos.
On the other hand, if you're making a logo for your online health and wellness blog, you'll have more flexibility to play with fun styles and colors.
Think about choosing a gradient if:
You're going to use your logo for (mostly) online purposes. Gradients are usually tricky to print because they consist of multiple colors. If your business is going to be marketing primarily through print materials like menus, business cards, signs, or car decals, then you should strongly consider using a flat (non-gradient) logo design.
You're in a more creative industry. If you're a financial consultant or an ultra-minimalist furniture brand, a gradient isn't your best bet. But if you're in a more creative industry, it could be a good fit. Remember: Your logo should match your brand personality and target audience.
Your logo includes a symbol or monogram. Using a gradient on the company name or slogan is rare because it's important to keep logo text legible. Instead, gradients are usually applied to the symbol or monogram elements in a logo. If you want a wordmark (text-only) logo, a gradient design probably isn't for you.
Your logo design is simple. If you want your logo to have a container, slogan, or all of the above, adding a gradient will make the design too busy and hard to digest. But if your initial design is simple and minimalist, adding a gradient could work well.
Be careful when applying gradients. Because they can have such a significant visual impact on a design, it's important to use them sparingly. Without constraints, your design can look intense real quick. We'll go over some tips on that later.
You don't need to add a gradient to your entire logo design. It's more common to apply the visual effect on only the symbol, monogram, or container.
Examples of gradient designs
Logos with gradients have been making a resurgence over the last few years, particularly in the tech industry. Apps have to stand out on phones and other devices, and gradients can make the icon pop in a sea of other apps.

Aside from the famous logo examples above, there are tons of other cool logos with gradients to pull inspiration from! Search sites like Pinterest and Dribbble to see if you find anything that sparks your creativity.
As mentioned, it's more common to use gradients on logo symbols rather than the entire logo. This also lends well to app icons, like Instagram and its suite of tools.
The main reason to avoid gradients on text (or exercise caution) is for readability — your company name should always be super clear.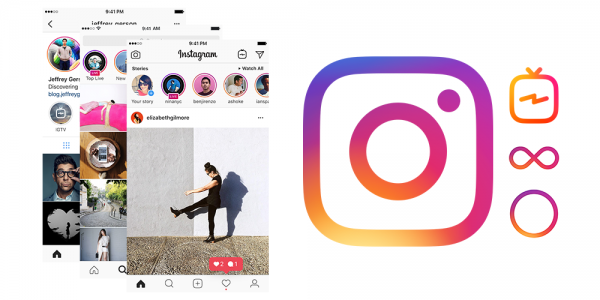 Tips for designing a gradient logo
Not all gradients are made equal or fit with every brand aesthetic, so think carefully before taking the leap.
Before you jump right in, you should know some of the dos and don'ts of creating a gradient logo.
Do: Consider contrast and accessibility when creating a gradient logo.
Don't: Use only your own judgement to check if it's accessible or not. Ask a few friends or family members to see if it's clear and legible to them!


Do: Use a gradient if the design is well thought-out and aligned with your brand.
Don't: Use a gradient that looks like it was created without any thought.


Do: Optimize your gradient design for print by ensuring it looks clear on multiple backgrounds and materials (having both a white and black version of your logo is highly recommended).
Don't: Overlook the importance of readability and print quality at different sizes when designing.


Do: Consider punctuation and accent marks when creating gradients. For example, does the dot over an "i" get lost in the background?
Don't: Create a gradient design that isn't suited for the font and style of name.


Do: Create a solid (and simple) logo design first, then test how gradients look.
Don't: Add gradients to your logo that make it hard to read or difficult to reproduce. Subtlety is key!


How to create a gradient logo
If you're considering creating a gradient logo for your business, our logo maker is a great option!
You don't need fancy design skills to try it, and it's a great way to test and see if using a gradient design is what you want.
Here's a quick step-by-step of how to create a gradient logo using Looka:

Click the logo element you want to edit (either the slogan, symbol, or container).
In the menu above your logo, select the circle on the far left to open up the Color Picker menu.
At the bottom of the Color Picker menu, select the gradient of your choice.
Test colors and styles of gradients to see if one works for your design!
When used well, gradients can be a great way to add personality to your logo design. At the very least, it's an option to energize your branding and is easy to test out when designing a logo.
It's important to note that adding a gradient to your logo doesn't automatically make it cool and punchy — your design needs to look great both with and without color. Make sure to view it in black and white to test if the basic design works.
And while adding a gradient to your entire logo may be overdoing it, adding a gradient to only the symbol is the most common practice (and for a good reason).
The best way to go about creating your own gradient logo is to start with inspiration, and test out different colors and styles before committing to anything.
Most importantly, don't forget to think about where you'll be using your logo most, and if a gradient aligns with the future branding and marketing efforts of your business. Good luck!
Want to know more about color theory? Check out our video for some tips on how to choose the best colors for your logo!