How Much Does a Logo Cost in 2023?
If you're thinking about taking your side hustle to the next level this year, getting a killer logo design can help transform your business idea into a money-making venture.
Which begs the question: how much does a logo cost? From DIY design to working with a graphic designer or agency, the cost of a logo can vary from $2 to $2500+, with several options in between. Mid-range options include buying a logo from an online logo maker (starting at $20) or a design crowdsourcing website (starting at $99).
But the truth is, there are so many variables that factor into how much you'll pay for your logo design. Here's what you need to know before choosing how to make your logo.
---
Logo design pricing factors
Designing a logo with or without outside support is an iterative and multi-step process that involves research, brainstorming, sketches, and several design concepts.
That's why custom logo packages can wildly range not only in price—from relatively free to a few thousand dollars—but the amount of time and effort needed to get the job done.
There are many factors that influence logo design cost.
Design process. The most affordable option is to use an online logo maker or higher a freelance designer. The most expensive option is to work with a graphic design agency.
Designer expertise. Not all professional designers offer the same skill level. A logo design bought for $15 off Fiverr will likely be of lower quality than a graphic designer with 10+ years of experience who runs their own design business.
Location. If you're working offline with a designer, costs will vary widely based on location. A logo designed by someone living in Manhattan will cost much more than someone living in a small town.
Revision process. Working with a professional logo designer will often involve revisions to get your logo just right. But beyond one revision, you're most likely looking at additional costs.
Logo quality. If you are after a highly customized logo design that involves hand-drawn illustrations and custom fonts, your logo will cost more than $100. Buying a logo from an online platform that uses templates you can customize will cost you less than $100.
Don't worry — we're here to guide you through the cost of making a logo and what each option includes.
---
Option 1: Do it yourself
If you're looking to flex your design chops, you might want to take a stab at making your own logo. But creating a logo design that fits your brand and can be used across channels is a challenge.
The biggest cost will be your own time crafting a logo on paper and choosing the right design software to bring the sketch to life.
We want to warn you there is a reason why people pay to design logos. It isn't easy, especially without a background in design.
The good news? You'll have complete creative control, and there are online tutorials to hold your hand as you learn new software (like the one below!).
Only available for Mac OS X, Sketch costs $99 USD for a one-year license. The vector-based design software will let you export your logo in various formats: PDF, SVG, PNG, JPG, and EPS. While Sketch is steadily becoming a favorite in the design community, it isn't a tool for print design since you can't export logos in the printer-friendly CMYK colors.
Illustrator is the design industry's go-to app for vector graphics and is built to work with other Adobe programs. You can export your work in over ten formats for digital and print use. Access the software through an Adobe Creative Cloud membership for $20.99 USD per month on an annual plan or $31.49 USD for month-to-month use.
A free (but basic) vector graphics editor, Vectr can be downloaded onto your desktop or used online. The program offers helpful in-app lessons. Files can be exported in both raster and vector formats, including AI, PNG, JPG, and SVG.
Canva's paid subscription costs $149.00 CAD annually or $12.95 CAD paid monthly. The program features more than 1000 logo templates to customize and lets you download your finished work as a JPG, PNG, PDF, or GIF.
---
Option 2: Buy and customize a logo template
Pre-made templates cut some of the effort and time required to create a high-quality logo from scratch.
Because you need software to customize the design, most template logo files are compatible with Adobe Illustrator. Again, you'll need a paid subscription to these programs. It then takes time to alter colors and change the generic text to your brand's name.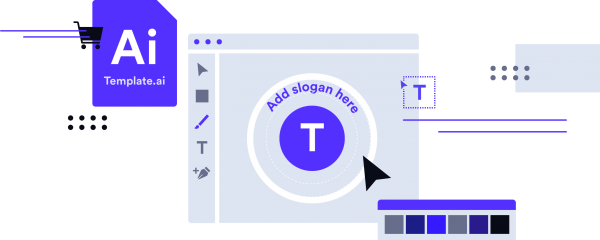 These templates can come with more than just a logo, offering up a branding package and social media designs. Make sure you read the template description to know what you're getting, including the file types included.
And remember: using a template does mean other people could have a very similar logo to the one you choose. We don't want you shelling out your hard-earned cash for an overused and unoriginal design!
There are over 49,000 logo templates on Creative Market to explore, ranging from as little as $2 to $500. The bulk of the templates are between $19 CAD and $39 CAD. This cost includes a bundle with two licensing options: standard, for businesses that aren't going to exceed 500 sales, and extended, for unlimited sales. Expect to spend three times the listed cost for the extended license.
You'll find hundreds of logo templates on Adobe Spark that are promoted as free. The catch is you'll need to pay for Adobe Spark software to edit them at $9.99 USD per month. Adobe Spark is specifically designed for users with a solid design sense who want more control in designing their own flyers, social media graphics, and even videos!
With nearly 58,000 templates, GraphicRiver carries low-grade templates from around $10 USD. High-end bundles that can hit the $200 USD mark. Most of the non-exclusive logo packages on this site will cost you $30 USD to $50 USD and come with vector-based files.
On Etsy, you'll find a variety of logo design templates to choose from ranging from $15 USD to $250 USD. Some sellers will work with you to customize your design for an additional price. Watch out for the file type you'll receive, ideally, you get the source file or a vector file so you can make changes or scale it as needed in the future. In some cases, sellers will offer files in Adobe Illustrator, and even Canva.
---
Option 3: Use an online logo maker
Without the need to purchase or learn design software, logo makers might be the cheapest option on the market. Some sites charge absolutely nothing to use the service — you only pay when you're ready to download the logo files.
An online logo maker (like Looka's!) can generate hundreds of logo variations using basic information about your company and design preferences; you can then edit and tweak the mockups you like.
But beware: even though logo makers run in a low price bracket, the quality of designs can drastically differ. While there are freebies on the market, a paid option is more likely to give you the correct files you need to confidently use your logo. Plus, you'll likely have additional customer support with a paid option should you have any questions
Looka falls in this category, offering a basic PNG logo package for $20 USD and $65 USD for a high-resolution logo package with PNG, EPS, SVG, and PDF files (more pricing info here).
You can also purchase a subscription to the Brand Kit which offers you hundreds of templates for branded flyers, invoices, business cards, and social media graphics. Design the look you want in mere seconds and use these designs to market your business effectively.
---
Option 4: Crowdsource the design
Think of crowdsourcing as a contest: you post a detailed logo brief to a community of designers, including the price you're willing to pay for a design. Freelancers can then submit their unique designs for a chance to be picked.
Once a design is finalized, the designer will send your logo in multiple file types to launch your business. Logo cost can vary here, let's review some options.
99designs runs seven-day contests divided into two rounds: qualifying and final. You have the chance to give designers feedback, and up to two weeks to review the final submitted designs before choosing a winner.
Four different logo packages range from $399 to $1699 USD. The most pricey option is exclusive to what they call "top-level" designers. You'll have to pay for your design contest upfront (before you get any logo files). But it comes with a money-back guarantee.
You can set a three, five, or 10-day deadline for your design contest on DesignCrowd and provide a detailed design brief. Launch a contest for $129 USD, and you can expect to receive up to 50 designs from a handful of designers. They also offer a money-back guarantee.
Through DesignHill, crowdsourcing a logo starts at $249 USD, while top designers cost $699 USD.  Although you can choose the contest duration to suit your needs, you'll have to pay the cost upfront.
---
Option 5: Hire a freelance logo designer
Tapping a freelancer means you'll get to work with an expert to create a professional logo design. You'll see several concepts come to fruition. Depending on the designer's skill, a fresh logo could cost you anywhere from $250 to $2,500. Remember when selecting a freelancer to look for how much experience they have, and how they bill (hourly vs. by project).
A freelancer with less experience will likely charge less, but you might not get the smooth process you're looking for.
Through different platforms, there are online communities of designers you can seek out to find one that meets your needs. But remember that this will take time!
Despite offering a free basic membership, to search for designers for hire, Dribbble charges $299 USD per month, or $199 USD per month for a basic designer search package.
Through the platform, you set how much you're willing to pay, the type of work needed, and the experience level you're seeking. Designers set their own hourly rates, which can range from $15 USD to $200 USD per hour based on their experience.
You set the style, file format, price range, and design deadline through Fiverr. You'll then need to pay a designer upfront for their work. The cost is typically in the $25 to $150 per hour range (subject to your currency). Fiverr offers three packages — basic, standard, and premium — each coming with its own set of design and file download options. For one, simple logo design, packages usually range from $50-$100.
Billed as the biggest freelance exchange in the world, most designers will charge between $10 and $200 per hour. A basic account is free, apart from a 3% transaction fee.
If you upgrade to a pro account, Upwork handpicks freelancers for a flat fee of $500 USD and an additional 20% transaction fee. Upwork also allows you to hold your funds in escrow, meaning designers must complete the job to get paid.
---
Option 6: Hire a logo design agency
The most expensive logo option out there is to hire a firm to do the work for you.
Agencies charge upwards of $2,500 USD for a professional logo design, with some hitting the $5,000 USD to $10,000 USD mark. That can be cost-prohibitive for someone looking to evolve a side hustle into their 9-to-5.
When considering an agency, here's what to keep in mind:
The deposit: Expect to pay up to 50% of the cost for a logo design before an agency jumps into the work.
The contract: Not all agencies will ask you to sign a contract. If you do, you'll be legally on the hook for paying the full fee once the work is complete.
The time: Backed by a design team, an agency can take their time crafting your logo. Expect at least one week before you see any mockups.
Extra costs to consider 
After your logo is complete, consider rounding out your company's visual identity with customized designs for social media and business cards. Establishing brand guidelines and getting a trademark might also be on your list.
These costs can quickly add up, so keep them in mind when selecting (and budgeting) a logo-making option.
---
How will you use your logo?
Before making a choice, take a step back to figure out how you'll be using that logo across channels and branded applications.
Will your logo only live digitally, or do you plan on printing it on business cards and other marketing materials? The answer to that question can change the kind of logo file formats and color variations you'll need.
There are two basic categories of image files: raster and vector.
Raster files are measured in DPI (dots per inch) and have a file extension of .jpg, .png or .gif. Since raster files are based on a pixel grid, you run the risk of your logo becoming distorted when you change the image size.
Vector files, on the other hand, can be scaled to any size without losing quality—from an Instagram profile picture to a subway station ad. They can be opened, edited, and saved in different programs, and have a file extension of .ai, .eps, .svg, or .pdf.

While you can make a high-resolution raster file work for you, they're not ideal for all applications. Vector files are what you'll want to ensure your logo looks amazing across branded assets.
And when it comes to color variations, make sure you're getting light, dark, and full-color versions of your logo for your branding needs, as well as versions with transparent backgrounds.
The exporting options for color can range, too: RGB is used for digitally displayed logos, and CMYK is best for printed products (Pantone can work for both).
Choosing the right option
Even if you're just getting a business off the ground, a logo is the starting point for building your brand identity.
With your ideal logo in mind, think about how you'll be showing off your brand online and offline. Then figure out what logo design package price will work for you.
Remember your options based on logo cost, and design needs are as follows:
On the under-$100 end, you could look at designing a logo yourself or buying and customizing a template if you have some editing chops.
An online logo maker is an affordable logo design choice. If you don't want to buy design software but still want control over the process it might be your best bet!
More to spend? You can check out design crowdsourcing, or hire a freelance designer or agency if it seems like a good fit.
Whatever option you choose, we wish you the best in your logo-making journey!
Try our logo maker for free!