How to Promote Your Website on Social Media
Launching a new website is a big accomplishment — congrats! Now that the hard work is done, you'll want to drive organic traffic to your site using social media, especially the channels where your target audience spends the most time.
While there's no one-trick strategy you can use to optimize for every social platform, this article will give you a crash course on how to promote your website on all the big ones — Facebook, Twitter, Instagram, and LinkedIn. (You'll also want to use your logo on social media to boost your brand!)
Ready to go?
How to promote your website on Facebook
Step 1: The first step to promote your website on Facebook is by setting up your Business Page. All you have to do is follow this link, pick your business type, then:
Name your page after your website/business
Fill in the About section (include your website address)
Upload a profile and cover photo
Fill out your call-to-action button
Your call-to-action can say anything, such as "Learn More" or "Sign Up." Make sure your CTA leads back to your website!
Step 2: Next, you should join Facebook groups related to your business niche and start asking and answering questions on them. Your target audience is already here, so it's a great way to build relationships and attract people back to your Facebook page (and, in turn, your website).
Step 3: Once you start to build an audience, you need to make efforts to engage them. Create photo caption contests or post special offers to create buzz and attract people back to your website without sounding overly "sales-y." Here's an example from Powell's Books:
Step 4: If you have the budget, paid promotion is probably the most effective way to attract traffic to your Facebook page and your website. You can do this right from your page using the "Boost Post" feature. (Tip: It helps to see what posts are already doing well organically!)
Facebook allows you to target audiences with your content based on demographics, location, interests, and more. Spend time to set these filters to the people you want to see your content.
---
How to promote your website on Twitter
Step 1: Unlike Facebook, where you create a business page separate from your account, Twitter promotion happens directly from your profile. So if you already have a personal account, you'll want to create a new one for business purposes.
All you need to do is create a handle (hopefully something similar to your website), upload a picture, and fill out your bio. Your bio is an important part to spend time on because people will search for and find your profile based on your bio keywords.
Don't forget to link your website to your profile as well!
Step 2: Once you've created your profile, start tweeting content that interests your target audience. For example, if you're a freelance writer in the health niche, you'd start tweeting about health-related topics.
Some content should be link back to your website or blog to attract traffic — but definitely not all of it! Also include interesting content from a variety of trustworthy websites and blogs.
Each time you post, use relevant hashtags to broaden your reach. There are a lot of ways to find them — a free tool like Hashtagify is probably the easiest.
Step 3: Lastly, you can get even more reach for your tweets by paying to promote them. You probably see promoted tweets in your feed already, like this one: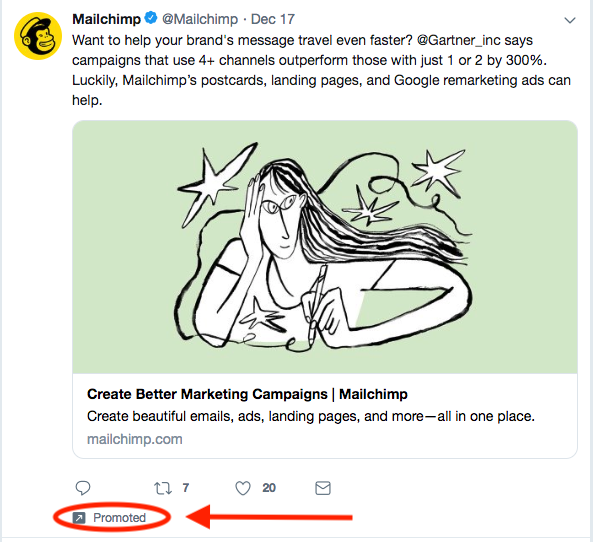 Twitter allows you to promote your tweets to a very specific audience based on demographics. Make sure your promoted tweets include links back to your website or, ideally, a landing page that drives a specific action like buying an ebook, signing up for an event, shopping an online promotion — you get the idea!
---
How to promote your website on Instagram
Step 1: If you don't have an existing account you're posting from, Instagram recently introduced an option to create a business account — if you choose this option, you'll get access to analytics on the performance of your posts and insights about your audience. Make sure you include a clickable website link in your bio.
Step 2: Post content. Whatever hashtags you're already using on Twitter are probably relevant for your Instagram posts as well. You can also use Instagram's search feature to find relevant hashtags. Just type in an existing hashtag and it will show you suggestions and how many posts already use it:
Post engaging visual content and run competitions/sweepstakes to encourage engagement. Here's an example of this in action from GoCamp Rentals:
If your main goal is to attract people back to your website, ask participants to fill out an online form on your site in order to enter a contest.
You can't link directly to your site from your Instagram posts, but you can direct people back to a link in your profile instead. So if you create a targeted landing page, put that link in your bio before running the contest.
Step 3: Explore paid options. If you're ready to pay for more reach, Instagram has several different ad types to choose from. If getting clicks to your website is the main goal, then photo or video ads are the best options.
Instagram is also the best platform for influencer marketing. Find other popular Instagrammers with a captive audience interested in your niche and ask them to promote your website or products for a fee. You can find the right influencers using a platform like Speakr or Revfluence.
---
How to promote your website on LinkedIn
Step 1: Create your page(s). You might already have a personal profile on LinkedIn. If so, you can add links to your website as well.
If your website hosts your online business, then you'll probably want to create a LinkedIn company page as well. Here, you can post updates about your business and highlight your work. Don't forget to include your website in the company details.
Step 2: Join groups. Just like with Facebook, you'll want to join LinkedIn groups related to your niche and start engaging. Answer people's questions and ask some yourself. Recommend your blog content to attract people back to your website.
Step 3: Explore paid options. You can create text ads, sponsored content, or sponsored inmail. Sponsored content is probably the best option to attract people back to your website. Share posts from your blog then promote them on your LinkedIn page:
Keep your LinkedIn profile professional and take advantage of opportunities to promote your website in your posts and groups to attract traffic.
---
Wrapping up
That's it for your crash course on how to promote your website on social media!
Remember: It's not enough to simply create your profiles, post your URL, and expect traffic to come. You have to turn your website into a valuable resource for your niche audience through blogging and other content.
If you don't have time to post a lot of your own content, take time to curate links each week through sites like Feedly or industry emails you subscribe to.
Building a social audience takes time, commitment, and a lot of targeted entertaining content to get new followers. But once you've done the legwork, social media can become a reliable traffic source for your website. Win!
Looking for more info? Get actionable advice on using social media to grow your business.