How to Start a Service Business (and Make Money From Your Skills)
Service business owners are the everyday heroes who make life run smoothly. Think of the people who fix your car, cut your hair, do your taxes, walk your dog, design your website, install flooring, coach you through a major life change, photograph your wedding, and clean your eavestroughs.
Whether it's something indulgent or practical, service-based businesses are all about helping people get stuff done.
And from an entrepreneurial perspective, these types of businesses usually cost much less to launch than e-commerce startups. With little to no inventory to worry about, service businesses can be quick to start — they (mostly) involve your time and skills.
In other words, you get to decide how much time and energy you want to put into the business.
Reasons to start a service business:
They're simple to get started — you are the product!
You can run it as a side hustle while having a full-time job.
They provide lots of opportunity for growth and learning.
You can hone your expertise/niche and actually make money from it!
There are no set hours — you decide when you want to work.
You have full control over the service and offering (YOU are the boss).
There are lots of free or cheap tools to help you grow and manage your time.
Before you begin your journey to entrepreneurship, there are a few key questions to answer that will set you up for future success. Don't worry — we'll help you go through each of them.
What's your service business idea?
Of course, this is the first thing to tackle. What are you going to sell, and how/where will you be selling it?
According to Bizfluent, the top service businesses in 2018 included day care, self-help counselling, online education, auto and computer repair, home-based laundry services, pet care, solar panel installation, as well as social networking and tech consulting.
Maybe you work in marketing for a large company and are looking to branch out on your own. Or, you want to turn your photography hobby into a money-making side business by exploring creative photo shoot ideas.
Or maybe you simply know you want to help people in one area of their lives and you're building up a service business idea around that.
There's really no limit to what you can offer — but make sure that what you're offering is something people actually want to buy. Take the time to research your idea thoroughly to make sure there's a market for it.
Once you've settled on an idea, sit down and think about what you can do to make your service business unique. You can even take a look at your competitors and find ways to differentiate your offering in some way. It's important to stand out, and really sell yourself as the product.
Say it out loud: "I am the product!"
"I AM THE PRODUCT!"
Now, to the money-making business.
How will your price your services?
This is a big one, and takes a lot of thought and evaluation. Price your services too low, and you'll never turn a profit. Price them too high, and you'll scare away potential clients.
Sometimes people will luck out by guessing a number that they feel their service is worth, and people miraculously jump on board with it…but it's usually not that simple. Location, competition, and expertise are three of many things to consider when thinking about how to price your offerings.
No matter what way you slice it, there are three main strategies you can use to price a service-based business. The one you choose will depend on what kind of services you offer.
Strategy #1: Hourly rate pricing
The simplest way freelancers and service-based businesses can charge is by the hour. Your potential clients will also be familiar with this model since many regular employees earn money at an hourly rate.
Let's look at an example of hourly pricing in action:
Yoga Tree Studio offers a variety of treatments and services, many of which are priced out by the hour. Hourly pricing makes good sense in this situation since the effectiveness of their service is time based.
It's also a smart move to offer three tutoring options at different rates. Having one rigid hourly rate might turn some budget-minded people away.
Strategy #2: Package service pricing
When you offer package services, you charge a flat fee for a task or combination of services.
For example, a freelance writer can write a blog post for $200, no matter how long it takes. That's a package service. That same writer can also perform keyword research, write a blog post, offer two rounds of creative revisions, and upload it to WordPress for $450. That's another (more valuable) package.
Let's look at an example of package pricing:
The Yes Girls offer four wedding planning package options, including the two shown above:
Day-Of Coordination
The Essential Package
The Absolute Package
A La Carte Services
Package services are a smart idea for this type of business because people seek out wedding planners to unload the burden of event planning.
They don't want to hire someone to "help with wedding planning for X number of hours at X rate." They want to tick tasks off their list: find a venue, hire vendors, coordinate rehearsal, and more. Package services highlight value and "bundled services" for customers.
Strategy #3: Combination pricing
Combination pricing is when you offer your services at an hourly rate and as part of a package.
Relationship Hero is a good example of combined pricing. They offer a variety of relationship coaching packages that include a certain number of one-on-one consulting hours that customers can then divvy up throughout their busy schedules. One of their main selling points is that their coaches "are available 24/7 to help you accomplish your relationship goals."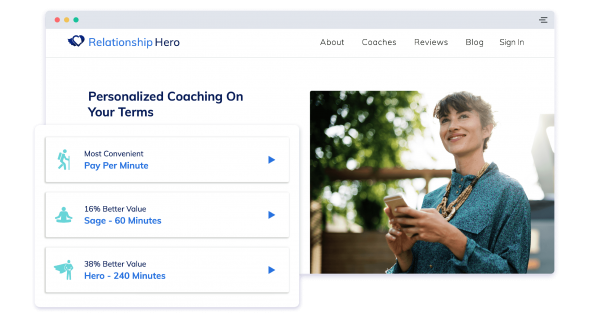 Combination packages are a smart idea when you know your clients want a certain amount of one-on-one time with you, whether that's in person or via phone or video chat. If you offer package-only services, it's difficult to show customers how they'll get that value.
Choosing the right pricing method
The method you choose is going to depend on the kind of services you offer. If how much time you spend providing your service is important for customers, then an hourly rate makes sense. Tutors, dog walkers, and babysitters are good examples of this.
Otherwise, package-based services are almost always a better move for your business. Package deals give you an opportunity to offer more value to your clients, but not necessarily more of your time.
Think back to the freelance writer example mentioned before. It could take the writer four hours to write a blog post, and only an extra hour to do the keyword research and upload it to WordPress. They're able to charge $150 extra for those simple tasks, and people will pay it because they want the value.
Keeping your pricing as hourly-only also inherently limits your ability to grow your income. There are only so many work hours every week you can fill.
And even if "time spent" is an important part of your business model, you can still take advantage of package services using a combination method. For example, massage therapists can use combination packages to entice their customers to seek additional services and add-ons within the chosen time frame, such as aromatherapy, acupuncture, and therapeutic massage oils.
How much will you charge, exactly?
Ready to set pricing? Follow these steps to come up with your numbers.
Start with cost-plus pricing
When first setting your prices, it's always a smart idea to calculate the cost of providing your service, then adding on your desired profits.
But it's easy to overlook work-related costs when you freelance and under-pay yourself as a result.
If you're a freelance designer, for example, you need to factor in a portion of the cost of your design software. There's also your WIFI, the tools you use to market your service, and the cost of your home office. And don't forget your earnings are all before taxes!
Check out this helpful formula and example of how to calculate cost-plus pricing.
Check out your competitors
Next, consider what other people in your service niche are charging to keep your prices competitive.
If you offer your freelance service on Upwork, you can view competitor bids before submitting a proposal if you pony up for the Upwork Plus Membership Plan.
If that's not in the budget, you can also scroll down to the bottom of a job post and see the client's work history and feedback. That will show you how much this client has paid for similar work in the past:
Don't make the mistake of comparing yourself to people who don't offer your level of service or expertise. You'll always find people with no experience offering your services for dirt cheap, but they're not really your competitors. You offer extra value that justifies a higher rate, as long as you illustrate it.
Illustrate value
Speaking of, the most important thing you can do to encourage clients to pay the rate you want is to illustrate your value. When you set up your website or profile on a service platform, look for opportunities to stand out from your competitors.
Luckily, platforms like Care.com, TaskRabbit, and Rover encourage and prompt you to do this. Take a look at this Rover profile as an example:
She's a dog service provider in Toronto, Canada who charges anywhere from $15 a walk, to $40 a night for boarding. That's a common service at a common price. But she makes herself stand out by highlighting value on her profile, such as: 10 years experience, and special needs dog experience.
She's also willing to help with more than just pet sitting, which expands her business offering to appeal to more needs:
Use the prompts of your service-based platform and your creativity to illustrate the real value of your services. The better you do this, the more you can charge.
How will you market your service business?
Once you've finalized your idea and figured out your pricing, it's time to get your business out there in the world! Here are some quick ways to do that:
Decide on a business name
Many service businesses will incorporate the owner/s name into it, though they don't always have to! As an example, here are some health practitioner business names:
Sam's Wellness
Kieran McAurthur's Health Services
GetWell
Cincinatti Wellness Consulting
If you still haven't decided on a name, we've got a video for that. Our Customer Success Manager, Andre, compiled the top tips and tricks to help you decide on a name quickly. Watch below:
Try generating some business name ideas using Looka's free-to-use Business Name Generator! Find brand name inspiration, check domain availability, and preview it on logos. It's a great way to come up with ideas in a super short amount of time.
Create your brand
You've got a name, but don't stop there. Put that name to WORK, and into a neat little package for people to recognize you by.
Creating a logo and brand around your service business will help you look professional, and allow you to again differentiate your company from your competitors. You can take it one step further and brand your business cards, website, social media channels, and more.
Want to create your own logo? You can it out for free with our online logo maker.
Spread the word on social
Facebook, Twitter, Instagram, YouTube and alike are all great places to gain reach and recognition for your business. Here are a few ways you can use social media to grow your business:
Promote discounts/specials to drive more sales
Post about the work you're doing to give a better idea about your service
Share customer stories to build trust
Tap into your existing circle/audience
One of the best ways to start up a business is to use your existing connections to spread the word, or even to test as your first customers. Service businesses can succeed on word of mouth alone!
How will you grow your service business?
After you've tried a few marketing initiatives (see above) and found your first customers, pat yourself on the back…you did it!!
What's next? Evaluate what's working well, particularly in terms of how you acquire customers, manage your time, and make money. When you're ready to reinvest and grow your business, here are a few ideas:
Try targeted ads on Facebook or Google AdWords
You'll need to do research first and set a strict budget of what you're willing to try. But, this can be an excellent strategy for getting your products or services in front of the right people!
You can use a tool like Google Keyword Planner to see what the monthly search volume (MSV) is for your particular service. Since most service businesses are location specific — like an aesthetician, home renovator, and babysitter — you can put this criteria into the search to narrow down your results. If you run a home construction business in Chicago, you may find keywords like "Chicago home renovation" or "Chicago renovations" are some top keywords that people are searching for.
From here, you can develop a strategy for creating Google AdWords to bid on some of these common search terms, or even craft up a blog post using this keyword to drive traffic to your website organically.
Consider add-on services or promotions
Is there anything extra your customers are asking for that you could offer or test? Going back to packaged services, think about the added value your customers would gladly pay more for.
Great examples include dog walkers who offer daily "report cards" for pet owners, or makeup artists who put together custom touch-up kits for their clients. Add-ons can make the difference between customers choosing you over your competition (and they tend to be really quick/simple things you can do to get that sale!). And yes, dog walking is a real business that can generate A TON of money.
Pursue partnerships
Find complementary businesses you could partner with for client referrals.
If you're a service business, think of real estate agents who partner with mortgage brokers, content creators with web designers, photographers with wedding planners, and so on. If you're an e-commerce business, you could look at partnering with influencers or bloggers, as well as other businesses who you're not in direct competition with.
Here are a few small partnership ideas to get you started:
Social media promotion: both parties share about the other's company on their social media accounts. Adding a discount or promo of some sort to this cross-promo can help to get people excited!
Content swap: if you and the partner company both have blogs, you can guest blog for each other to bring more exposure to your service. Make sure to add in a link to your website so that people can easily navigate to you if they stumbled upon the post!
Shared deals: if your services align well (like a makeup artist and a hair stylist), team up and offer some sort of deal for customers to get both services for a lesser price.
Overall, partnerships will allow you to expand and extend your reach to new audiences. They're also a great way to build up contacts and a community around your shared interests and fields.
Running a successful business
With only so much time in the day, you want to be spending your time on the to-do list items that matter most. Once your business is up and running, consider outsourcing tasks like bookkeeping or content writing that will free you up to deliver your services more effectively (and help more people). You can also invest in software or tools to help you be more efficient.
And there you have it! If you've been thinking about starting a service-based business, there's no time like the present. As founder Brian Scudamore wrote in Forbes, people are more willing than ever before to outsource tasks and order on-demand services to make their lives easier.
To get started, run through the above questions and spend time on each one, including nailing down your idea, figuring out your pricing, and testing our marketing and outreach strategies.
Looking for more small business tips and resources? Read our guide to starting a business.