Logo Design Inspiration: 25 Resources to Fuel Your Creativity
Choosing a logo is one of the most important branding decisions you'll make as a business owner. So where do you begin? Reviewing what other businesses have done is a smart (and fun!) way to get logo design inspiration for your brand.
Here are 25 Instagram accounts, websites, and color tools to help you succeed on your journey to the perfect brand identity. (You can also check out our industry-specific logo ideas pages!)
---
Instagram accounts for logo inspiration
Logoseum is an archive of colorful pictorial and abstract logos from past and present. Created by visual designer Matt Corbin, the account shares some of the most memorable flat logos in history alongside the more obscure. Each post shares the designer and the year created for followers to learn about and discuss.
Logos.ai is a fun account to browse to find logos created by expert and amateur designers alike. The channel often discusses the concept behind logos so you can learn more about how designs came to be (and see how they look across different mediums).
Logoimport is another popular Instagram account that features creative logos and sketches. With more than 1.4 million impressions a week, it's the go-to profile to follow if you want to read public opinions about logos — every post has a stream of lively comments about typography, colors, and other design factors.
Logo Place shares logos from artists around the web. The logo designs are created using Adobe Illustrator, Photoshop, and several other tools. Posts discuss the history of design and how it influences logos today, as well as recommendations for learning more about the industry.
If you're at the beginning of your logo design journey and want to learn more about the systems and techniques designers use to make art, then follow Learn Logo Design. Build your understanding of how the design process works, and you'll be better equipped to pinpoint a style when you create a logo.
With 106,000 followers on Instagram (and counting), logopassion is a popular profile to get inspiration. The feed shares new logo designs, mockups of how designers would redo famous logos, and sketches that give you an idea of the creative process.
Whether you want simple, detailed, abstract, or illustrated logo ideas, Logo Room is a design firm that shares super creative examples. Take note of the spectrum of colors, shapes, and typography styles used. We especially love their animal logos!
We'd be remiss if we didn't mention the most prominent design firm in the world. With designers Paula Scher (featured in Netflix's Abstract series) and Michael Bierut among its ranks, some of the most innovative logos are shared on Pentagram's account and serve as a reference for the graphic design industry.
Brandon Nicks is a freelance graphic designer in New York City. His feed is clean and curated — we particularly love the wordmark logos featured and the dreamy color palettes he uses (hello, Millennial pink).
The Dieline focuses on package design, but it's a fantastic place to see logos in real life scenarios — the color combinations will make your eyes happy and get your creative juices flowing. Branding design inspiration for the win!
Logo Books shares posts for the design-curious mind — pages and pages of popular and rare logo books are featured, mostly in black and white. Think of it as a logo history library in an Instagram account!
Speaking of history, we love the deep dive Rich Baird takes into abstract and pictorial logo design on this feed. All posts feature white symbols on a black background, many from the 1970s and 80s. It's the perfect place to get lost in shapes, lines, and curves.
---
Websites for logo inspiration
Dribbble is one of the most popular platforms around for design ideas. Part social media site and part freelancing platform, it's a place to share, see, and comment on logo design ideas (it's also a favorite around the Looka office!).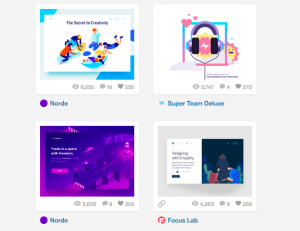 Behance is a platform where designers and other creatives showcase their work, including modern logos and graphics. You can endlessly browse the site's curated galleries to explore different ideas and get inspired.
Designspiration is a platform designed to inspire artists and share design ideas, logos included. Use their keyword suggestions to search the database for specific logo designs — for example, orange logos or restaurant logos.
Brand New is the design and logo blog to visit if you want to learn more about how designers think and work through their process. Each post illustrates how new logos from established brands tie into trends and changing brand identities.
If you want to learn more about the stories behind iconic logos, Logo Design Love is the blog to check out. They delve into how some of the most famous logos came to be and what factors drive a logo's success and longevity.
Vintage Logos offers some ultra-specific inspiration from a collection of logos in a mid-70s edition of the book World Of Logotypes. If you want to learn more about the roots of logo design or want some vintage ideas, this is an excellent resource.
Logospire is a simple website with a scrollable logo design inspiration gallery featuring different artists. If you find a logo you like, you can click back to the designer's website to see more of their style and work.
99% Invisible is a podcast covering all types of design-related topics. If you want logo inspiration, we recommend this episode with Tom Geismar, the graphic designer behind famous logos from Chase National Bank, Xerox, National Geographic, and more.
---
Color tools for logo inspiration
BrandColors isn't a traditional logo design resource, but it's super valuable nonetheless. Browse or search the brand colors big companies use and click on a color to copy the HEX code. (Tip: You can copy HEX codes into Looka's editor when working on a logo.)
Adobe Color CC is a robust color scheme builder that's also fun to casually play around with. If you have Adobe Creative Cloud, you can save and include color schemes directly in Adobe Illustrator or Photoshop. It's also useful to explore as a free web app.
Coolors is a color scheme generator that integrates with Adobe but also has a standalone iOS app and Google Chrome Extension. You can browse existing schemes by simply pressing your space bar. There's a paid subscription, but you can easily explore for free and jot down the HEX color codes you love.
Colourcode is a more fluid inspiration tool – as you move your cursor around the screen, the color changes and the HEX code appears at the bottom of the screen. Click to save, continue to the next color, and opt for one of the many options to export your scheme. Trust us; it's mesmerizing.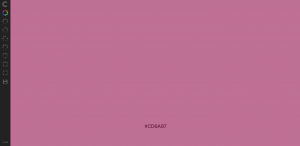 Color Supply has loads of information on how to pick the right colors, plus plenty of links to designers using interesting color schemes in their work. Pick a color on the wheel and see its complementary color (plus 20 suggested color combos on the right). Scroll down to see colors in action and get HEX codes.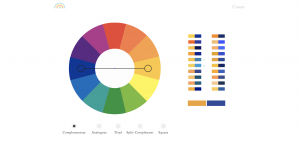 Ready to start creating your logo? Try our free logo maker, and generate endless options until you find one you love!