The 14 Most Powerful Logo Redesigns of 2021 (So Far)
Some of the best-known brands have changed up their logos this year, and it's our job to figure out why. What elements have changed? What's stayed the same? We're about to take a look at some of the best logo redesigns of 2021, and hopefully extract some sweet, juicy insights that you can use to give your own logo some flavor.
Let's take a look!
1. Burger King
Possibly the most memorable logo redesign of 2021 so far, Burger King started the year with a whopping rebrand. As we covered in our most recent logo design trends report, minimalism and notalgia are seeing a surge in popularity in the world of logo design. The new Burger King logo is a great example of both.
After two decades, the fast-food giant has retired its multicolor logo and gone back to basics. Playing off an old 90s design, the 2021 update by creative agency Jones Knowles Ritchie serves to make the brand 'less synthetic and artificial, and more real, crave-able and tasty.'
Tip: Color is one of the most basic and effective ways to give your brand instant personality. Be thoughtful with your
logo colors,
and the character you're looking for will shine through.
2. Pfizer
Amidst a surge of recent attention, the big pharma company recently unveiled a new logo and symbol that leaps out of the old capsule design. 2021's new positive space logo has a dynamism that was missing before, while familiar font elements retain the brand's legacy for the coming decade.
Design yourself a new logo
3. Planters
After killing off the beloved Mr. Peanut, Planters aimed for a logo refresh in 2021 that felt distinctly modern.
The Planters logo refresh is a good example of how to build off existing elements of an already recognizable logo. Without losing the essential nature of the original, the new Planters logo is sturdy, fun, and confident. The addition of a solid line at the top of the font gives weight, and the selection of the darker blue from the 2019 logo complements this choice nicely.
4. GM
GM joins the ranks of many other car manufacturers who are stripping down their branding to usher in a new electric and digital era. Flatter, sleeker, and more streamlined, the new lowercase GM logo is said to represent the "clean skies of a zero-emissions future" and the "energy of the Ultium battery platform". We dig it.
5. CIA
Congratulations, CIA. You no longer have to look like you literally paid a ten-year-old to create your logo in clipart. Instead, you get to look like an underground techno night in a Williamsburg basement. It's the perfect front!
6. Peugeot
The French car manufacturer is one of the only car brands who've opted to reimagine their logo design altogether, rather than simply stripping it down to its raw elements. Designed in-house at Peugeot, the 2021 logo reflects a new philosophy of 'living in the moment', according to Julie David, MD of Peugeot UK.
It's definitely sportier, but is it better? In terms of digital application, we think so. However, time will tell whether the new direction will be embraced in favor of the old iconic lion emblem.
7. Renault
The simple, geometric design style of Renault's new emblem adds a movement that was lacking in the old one – with double lines symbolizing a car's wheels on the road. The simple use of line to create depth gives this modern logo a continuity and direction that's subtle, but effective.
Tip: Think about how you can create depth and movement in your logo, even though it's flat. Be smart with positive and
negative space
, and play around with interesting uses of line.
8. Sweetgreen
A logo redesign as fresh as the food it represents. Sweetgreen's focus on healthy, enjoyable fast food is reflected perfectly in its new brand identity. With brighter colors and a clearer font, this is a great example of a brand refresh that doesn't have to go overboard to make an impact. 2021 is about simple, calculated choices that make a strong impression.
9. Discord
Another great logo redesign that didn't need to rock the boat to make a big impact. The main change in the platform's new logo is the font, moving from punchy all-caps to a bubblier lower case text.
Tip: Think about your font case and weight. Weight can imply sturdiness, impact, and strength. Depending on the style of font, it can also suggest friendliness and warmth. Font case and weight constantly work together. Do you want a brand that seems stocky and formidable? Lean and sophisticated? Swirly and goofy? It can really help to think of your
logo font
in terms of human personality like this!
10. Paramount
Another digital retro logo for the modern era. What do we mean by that? Basically, a lot of big companies are updating their logos to look both modern and vintage at the same time. With a new focus on building a streaming platform, Paramount's new logo is both flatter and more streamlined, yet nostalgic and adventurous. Pretty cool right?
11. Magnum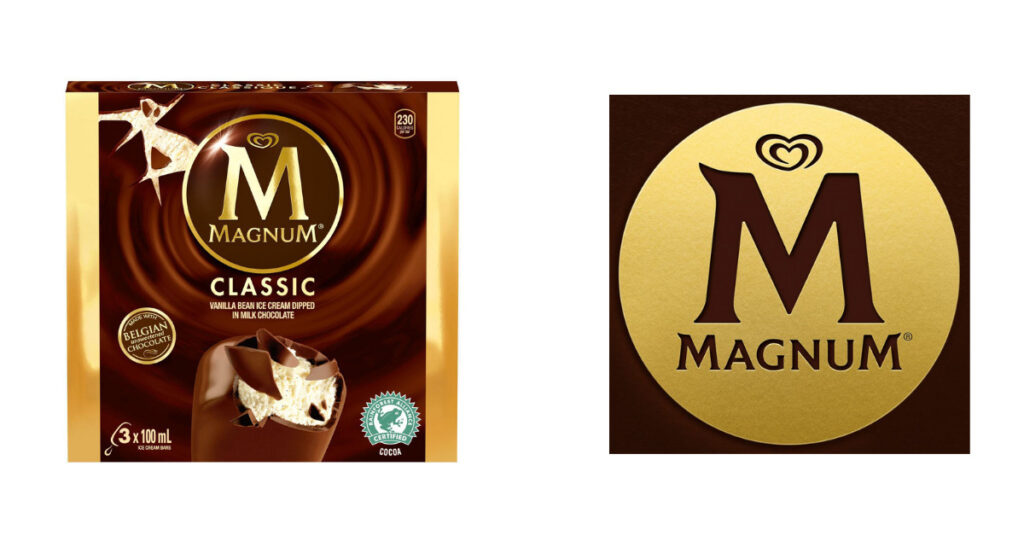 UK agency Sunhouse came up with a sensuous and delicious new logo for the king of ice-creams, Magnum. According to the agency, the new brand positioning was intended to be a 'liberated force of pleasure' (calm down.) Hyperbole aside, the new logo is better. As an inverted version of the old one, the new Magnum logo acts as a gold stamp.
It's cleaner, richer, and we particularly love the subtle texture effect!
12. Wise (formerly TransferWise)
They've come a long way from their simple, low-fee money transfer platform. Now, Wise has a new logo and brand to keep pace with its role as a leader in the fintech space. The new logo is shorter, snappier, and visually effortless – which represents their platform perfectly!
13. Coconut Bliss
The new logo and packaging for Coconut Bliss is a huge improvement. With a modern, simple take on the old design, 2021's updated logo is more fun and friendly. We really love how elements of the previous font have been reimagined, like the shape of the logo container and the swirly, cursive lettering.
14. National Gallery of Art
'Of the nation. For the people.' This is the guiding statement for the logo redesign of one of America's most renowned galleries. With help from the design studio Pentagram, the National has adopted a cleaner, more direct brand that focuses on inclusivity, vibrancy, and expression.
Tip: Use simple, bold colors alongside clear, legible text. You'd be amazed how much power you can create from such a straightforward pairing.
Logo redesign trends we've noticed in 2021
Prioritizing legibility. Brands move towards clearer, bolder, more easily read logo fonts.
The new vintage. Vintage-style logos continue to trend in 2021, with a more minimal and modern approach.
 Movement. From Wise to Planters we see the use of tilted or slightly curved logos to create a dynamic sense of movement.
Ditching the circle. Many brands are freeing up their logo by dropping the circular containers that once held everything together.
Need a logo redesign?
There are a ton of reasons brands change up their logos. For some, the focus of the company has evolved, and they need a new look to go with it. For others, the environment itself has shifted, and they need to adapt their brand identity to fit the times.
Whatever the reason, it helps to study recent logo redesigns. By doing so, you'll see how logos change depending on their context, and the kind of design trends operating more generally.
Keep your eyes peeled for more 2021 logo redesigns, and use them as inspiration to create your own logo!