Top 50 Minimalist Fonts for Simple and Clean Design
In design, minimalist fonts communicate more than just words. They convey your project's intention in a simple yet impactful way!
Minimalist design started off as an abstract art form in the 1960s. Since then, it's seeped into every facet of society to become a beacon of clarity in a cluttered world.
Minimalism can be seen anywhere from architecture to branding. It aims to do more with less by stripping designs to their bare essentials for striking simplicity.
People continue to embrace minimalism through neutral capsule wardrobes, tiny homes, and minimalistic design choices. Even international brands like Fendi and GoDaddy are following the new trend of rebranding into a minimalistic logo.
If you want to channel simple and clean minimalist design, we'll cover the best minimalist fonts and how to use them below.
Learn more about different types of fonts on our blog!
What is a minimalist font?
Minimalist fonts are defined by their spacious lettering and highly legible, modern look. Minimalism is an aesthetic, so these fonts can take on many shapes and forms. There isn't one particular look that defines them!
Here are some pointers for using minimalist fonts:
Use negative space (or white space) to enhance your lettering and layout
Focus on legibility and enlarge letters for clear and succinct messaging
Space out your letters (or increase kerning) to achieve an airy look
Remove any other design elements that create clutter
How to design a logo with a minimalist font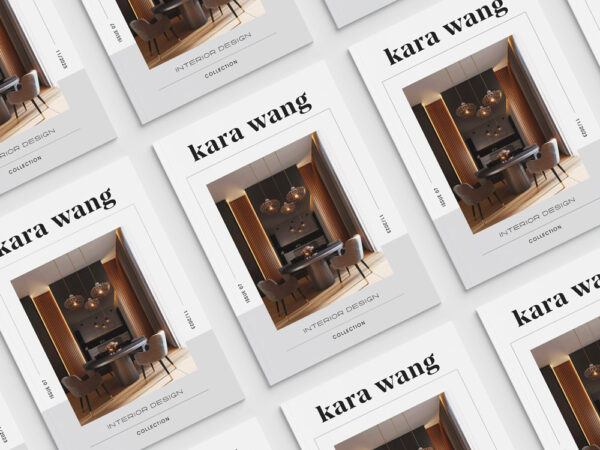 Creating a minimalist brand requires very specific choices that have a very strong impact. Choosing a minimalistic font is half of the work, so we've laid out some real-world examples below to help you find the right one.
Glossier's logo may look simple, but subtle design elements help it make a major impact. The brand used an italicized sans serif to create a sense of emphasis and motion while sealing it with an abrupt period.
It's unique and extremely memorable!


Cuyana has used a title case, thick, sans serif that demands attention. It communicates its modern luxury through clean-cut forms and wide-stance lettering that dominates the space.
To match its bubbly brand persona with its chemical and dairy-free product, Yoggu made the bold but simple move of adding an exclamation mark to its logo. The exclamation is all that's needed to bring character to the otherwise minimal logo.


Acne studios use negative space and layout to make its logo minimal and unconventional – much like its clothing!
Mejuri has also used wide kerning but added a small serif extension on the "M" to distinguish its logo. The simple flick on the "M" makes it identifiable and usable as a monogram in its icons and jewelry!
Design your minimalist logo now!
Here are some pointers on how to keep your logo design minimal:
For modern brands, opt for a sans serif font that's legible and has crisp lines and edges
For brands in traditional industries, try out a subtle serif font with thin strokes and mild serifs
Choose one color along with white or black for your color palette
Remove anything extra that clutters your logo – even your slogan!
Check out the minimalist fonts in action below!






Top 50 minimalist fonts for clean design
Let's dive into the zen world of minimalist fonts! We'll help you find the perfect font for your minimal logo or design project.
This geometric sans serif is abstract and futuristic. It has varying line strokes with a balance of smooth curves and sharp serifs. Designed by Struvictory.art, it works well for architecture, technology, and gaming industries.
With a fitting name, Minimally is a well-balanced font with versatile use options. It's ideal for modern branding and packaging to body text. It has easy legibility and 6 styles to choose from.
Whimsical and versatile, Larosa has thin, wide lettering. It's great for branding modern fashion, beauty, and sustainable businesses. It has three different weights and stylistic elements to choose from and was designed by Kurt Harahap in 2022.
Breezy and modern, Vista Nordic has subtle strokes with wide kerning. Great for web display and branding, it has a striking simplicity that makes it unforgettable. Published by VistaType in 2022.
Simplicity at its finest, Univa Nova is a well-rounded minimalist font with crisp legibility and closed apertures. Published by Fontastica, this font family has 16 fonts with 8 weights and is versatile enough for web and print use. It's ideal for long bodies of text as well as logo and branding design. Published by Fontastica in 2021.
Pacaro is bold and demanding, with clean geometric styling and wide spacing between letters. With heavy stroke lines, it favors abstract branding or retro designs. This font is ideal for industries in fashion, design, and consulting.
Elegant and modern, Esthete has thin strokes and a tall height. It has a midcentury modern look that works well for editorials, packaging, and logos. It's a great choice for health, beauty, or design fields.
Script fonts can be minimalist too! But make sure your business name is short and easy to read/pronounce. Minimalisty is wispy and fleeting. with a handwritten appeal that works well in the artisanal, holistic health, and beauty industries.
Skin has a squeaky clean look with ultra-crisp legibility. It has wide kerning, making it perfect for logo design, branding, and packaging. It has an innocence to it, and it's perfect for alternative beauty brands, clothing, and personal branding.
Perfectly symmetrical and distilled from geometric shapes, Cera Pro is bold and versatile. It has clean edges and closed apertures making it ideal for branding design, consulting, and technology industries.
Light and airy, Clean and Glam is made for artisanal beauty brands that skip the complicated branding and chemicals. This duo has a handwritten script with wide kerning and a simple sans serif font with stark legibility. Designed by Bec Ralec.
HV Harietta is a humanist semi-geometric sans serif that is perfect for branding, logo design, and packaging. It has elegant strokes and a humanist look that's perfect for personal branding, interior design agencies, and editorial magazines. Published by Harmonais Visual.
Clio is sophisticated and clean with a look of modern luxury. It's ideal for designing logos and branding for luxury dining, beauty business, and personal branding that needs a touch of elegance.
Aneba Neue is a more professional and robotic minimalist font, with a no-nonsense look that prioritizes legibility and crisp communication.  It has 5 weights and two styles, making it ideal for headlines and web display.
Luxora is a textbook sans serif minimalist font, with 14 fonts and 7 weights in its font family. It has crisp web legibility and cozy kerning perfect for branding, packaging, and logo design. It's ideal for consulting, real estate, beauty, and fashion industries. Designed by Jean Johnson.
Lorsche is smooth and strong, with crisp lettering made for web branding and packaging. It's slightly quirky, with strong capitals and a modern lux appeal. It's ideal for branding fashion labels, consulting businesses, and personal branding. Made in 2022 by Foxtype.
Blest Banc is thin and striking, with design elements that merge letters or remove strokes. It has a futuristic look, with tall lettering and crisp shapes. It's ideal for minimalist branding for tech industries, modern personal branding, and architecture. This is a free minimalist font by Nihstudio.
Warm and quirky, Jacques is a minimalist font with a more personable look. With elegant curves and spacious lettering, it's versatile enough to be used as a heading and body text. It's ideal for editorial magazines, fashion branding, and modern beauty brands.
Macing is sophisticated with a subtle touch of abstraction. Its unique look makes it perfect for editorial magazines, photography branding, and beauty packaging. It has 8 styles and was published by Issam Type.
Cafe Lumen is an abstract minimalist font. It has a combination of smooth and sharp design elements that give it an unparalleled look. It's ideal for branding beauty, design, and personal branding businesses.
Ravensara has high-contrasting strokes and was made as an alternative version to the classic Didone. It has an Avant-garde look and is perfect for fashion, beauty, and photography that pushes the limits.
Alore has distinct thin strokes with razor-sharp serifs. It has wide and geometric lettering making it striking yet understated. It works well for modern branding in consulting, architecture, or design industries.
If you're looking for a vintage font that's also minimalistic, Agron has the right balance. It has playful curves and cozy kerning for a warmer look. It's ideal for branding a vintage online shop, a crafts side hustle, or your personal brand!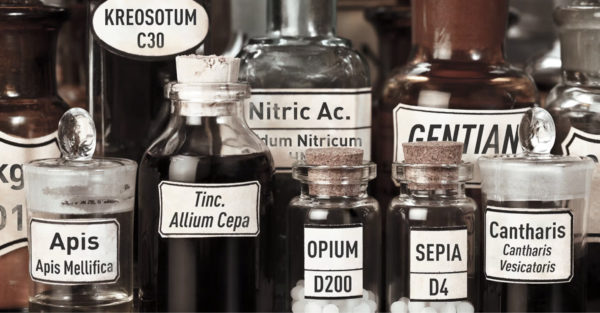 Stark and professional, FF Din is an iconic minimalist font that earned a spot at MoMA! It has an all-encompassing 55 styles fit for any use and many languages. It's authoritative, rigid, and suitable for signage, posters, editorial magazines, or body text.
Novera is a geometric font that looks contemporary but still feels approachable. This font family has 40 styles with options for headings, body text, and bold dynamic titles. It's ideal for professional industries in technology, business consulting, and editorial posters and magazines.
Mello is friendly and appealing, with rounded edges and lettering. It has a fresh look and is great for branding your website, work portfolio, blog, and even social media assets!
Practish is a slab serif with unexpected twists and turns. It has a balance of soft curves and squared-off lettering that has an experimental look. Practish is great for brands in the engineering, consulting, and creative fields.
Peyton is made for unconventional branding and mind-bending designs. It has a dash of a typewriter and sans serif typeface. Experimental fonts are a graphic design trend in 2022, and Payton is perfect for creative industries that push boundaries.
Club Winers was published in May 2023 by Andfonts. It is a sophisticated and luxurious serif font that infuses designs with an air of exclusivity., It's an excellent choice for high-end fashion, beauty, and lifestyle applications.
Angrela Display is an ornament serif font, released in 2023, that combines charm, luxury, and modern elegance. Ideal for upscale-themed projects, it works well for branding projects, logos, magazine layouts, social media graphics, and website headers.
Qara is a striking Didot serif font designed by Tammami in 2023. It offers a stunning blend of elegance and luxury. With its sleek design, it commands attention, creating sophistication in any creative endeavor.
Free minimalist fonts
Want amazing minimalist fonts but have a tight budget? Check out the free clean and simple fonts below!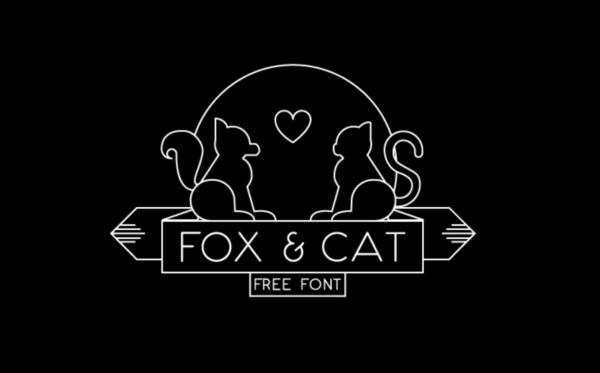 Fox and cat is a simple font with symmetrical lettering and eye-pleasing geometric shapes. It has a playful look and is versatile enough to be used for web and editorial needs. This is a free minimalist font by Jo Aguilar on Behance.
Moorly has the Gatsby-like look of the roaring '20s with modern refinements. It's classy and has tall lettering with snug spacing. It's perfect for branding traditional industries like fashion, alcohol, and beauty. Moorly is a free minimalist font by Lafitte.
Krub is a direct and clean font with slightly rounded edges and great versatility. It can be used in headings and body text and is ideal for branding beauty products, social media assets, and websites.
Ahamono has the vintage look of old-school typography with the modern elements of a sans serif. It's perfect for branding artisanal products, or as a font pair with a bolder serif font.
Code is a perfect example of a geometrical sans serif font that has a futuristic look. It's perfectly rounded and has a calming appeal. It's perfect for modern branding in makeup, beauty, or architectural fields.
Poiret is perky and feminine, with small quirks on the slant of the "e". It's a beautiful font for personal branding, website headings, photography, and magazines.
A true modern font, Afrah is assertive and elegant. It's perfect for branding and logo design in more traditional industries. It can be used for web and editorial needs.
Aamiya is a modern and simpleserif font that exudes versatility and a unique aesthetic. With two styles available, this font pack is perfect for modern design projects. Designed by CreativeFinest in 2022.
Released in 2023, Minimalist Brush Typeface  is creative and fun. It's suited for creative industries like design studios, restaurants, and craft products. It will do well on headings, banners, social media graphics, and cover art.
Hinge was designed by Tanveer in 2022. It's a serif font with a modern and minimalist style and sharp serifs. It's perfect for branding, logos, banners, and invitations.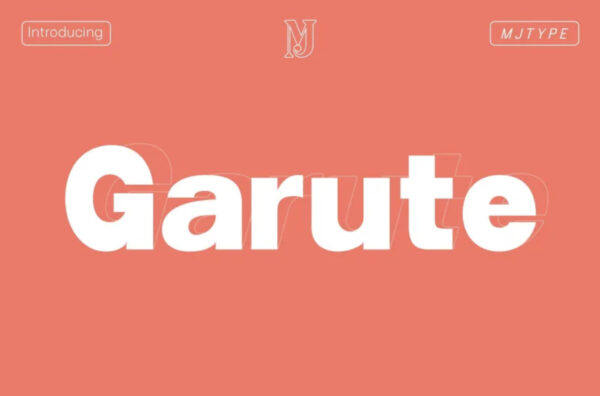 Garute, created by font designer Mjtype in 2023, has clean lines that embody a contemporary aesthetic. It's an ideal choice for logos, headlines, posters, and magazines.
Released in 2022, Habel is a charming, hand-drawn display font. It offers a clutter-free and uniform letter spacing whilst still being approachable and friendly. It's ideal  for blog headers, craft candles and foods, weddings, and logos.
Vonique is a free sans serif font with geometric lettering. . This minimalist sans serif is perfect for logo design, body text and any digital designs.
Badrick is a sans serif minimalist font that oozes confidence and style with its towering letters and striking appearance. It's a perfect match for the mens beauty industry and headers, logos, or branding. Designed by CreativeFinest, 2022.
Robecha Daniera is a luxurious and elegant serif typeface. With its clean, yet curvy-shaped letters, itsIdeal for personal branding, magazines, and beauty products.  Released in 2022.
Bulone is a whimsical font characterized by itsdynamic serif swirls, smooth curves and spacious apertures. Thisfont is well-suited for minimalist branding, editorial layouts, modern websites, and clean typography projects. Designed by Alit Design, 2022.
Castoro Titling is an all-caps font that reinterprets the proportions of Roman inscriptional letters.The result is a demanding font that's suitable for larger sizes. Perfect for branding, headers, and posters. Designed by Tiro Typeworks, John Hudson, 2023.
FF Fago is a monospaced font that's been hand-crafted to provide a retro, Y2K appearance. With the same space between all letters, it's ideal to pair this font with a bold serif or display font for striking contrast.
Allisa combines modern and classic elements, resulting in a unique and contemporary look. Its feminine and dainty design makes it great for creating elegant and luxurious logos, , personal brands, and magazines. Designed by Storytype, 2023.
Minimalist fonts on your computer
For easily accessible minimalist fonts check out these suggestions.! They're already installed in almost every computer out there.
Roboto
Open Sans
Raleway
Avenir
Lato
Design the perfect minimalist logo
If you've found the perfect minimalist font for your project, use Looka's AI-powered logo maker to generate minimalist logos instantly. You'll still have full creative control, without having to spend time on the small details.