Monogram Logo Design: A Beginner's Guide
How do you tell a story in as few words — or letters — as possible? By creating a monogram logo!
Monograms flourished in the late 19th century, most notably in the fashion industry. Luxury fashion brands like  Louis Vuitton, Chanel, and Gucci have some of the most iconic monogram logo designs — with decades of reputation and worldwide recognition. Other famous monogram examples include Hewlett-Packard (HP) and Life's Good (LG) to name a few.
What's interesting about a monogram logo design is the sentimental value it carries — the use of letters forms memorable acronyms and a deeper connection to the company name.
Here are some famous monogram logo examples:
What is a monogram logo?
A monogram logo is a decorative design made up of a combination of one to three letters (traditionally three) to create a single symbol. Monograms are commonly used to represent the initials of a person or business. The letters in this logo style may also be combined with imagery to illustrate the concept of the brand further.
Monograms are one of the oldest forms of identification, with the earliest use by the Ancient Greeks on coins to represent different cities. Throughout history, monograms were often used by painters on their artwork, as well as by royal families who relied on them for distinction (often to declare property) and for wedding invitations. 
Check out some monogram logo examples we made with Looka's monogram logo maker below:




Looka's
monogram logo maker
applies the principles of design for you so you can focus on creating the perfect monogram logo.
When to choose a monogram logo for your business
When designing a logo, you want something that'll resonate with your target audience while establishing your brand's essence (the emotions you want people to tie to your brand).
Take the Louis Vuitton monogram logo: the serif font evokes feelings of luxury, class, and exclusivity.
Monogram logos work well in global markets and are a smart choice for companies with long or difficult-to-pronounce business names. They're also easy to remember — everyone knows LV stands for Louis Vuitton, and although it's a French name, it's memorable.
Think about choosing a custom monogram logo if:
Your business name is on the longer side
If your name is on the longer side or consists of multiple words, it may be difficult to display them clearly in a logo.
Take the London Symphony Orchestra as an example. It can certainly start to become a mouthful (try saying it five times!), so the company opted for a simple three-letter monogram for its logo. They even took it a step further by creating the image of a conductor and a baton with the letters!

Your business name can naturally turn into an acronym
If your business name is technical orlong, shorten it into an easy-to-remember acronym. This tactic works well for businesses with global markets, as they're easy to pronounce and recognize.
The Minnesota Mining and Manufacturing Company took this route when creating its logo by simply shortening its name to "3M."

Your business has family ties
The monogram style works great for businesses that have family roots, as monograms first started as a concept that has sentimental value. As one of the most successful luxury fashion houses in the world, Louis Vuitton's logo is a prime example of a monogram that has family history behind it.

Your business covers global markets
Does your business have markets outside of its home nation? Consider a monogram that will be simple for people around the world to recognize and remember.
General Electric's monogram is a little more on the abstract side with its custom script typeface. Though everyone won't know the company is named General Electric, It's been around for long enough to be a household monogram symbol.

You don't want to use an abstract symbol
If you prefer not to use a symbol in your logo and want your company name to stand on its own, a monogram is a good option. Create a visually appealing logo by combining initials and making something original all your own.
When you're first starting your business, you're trying to establish your brand and raise awareness around it. In this case, start with a variation of the monogram with the full name of your business underneath or beside the monogram.
You can then use the monogram by itself in smaller spaces, like social media profile images or website favicons.


Create your own monogram logo now, for free!
Monogram logo design tips
Here are a few tips to review before creating a good monogram logo:
1. Find a distinct typeface
This style of logo design requires attentiveness to the logo font you choose. Monogram logos are all about the letters, so it's critical to find a typeface that reflects your brand's personality and your target audience. 
How do you start the process of choosing a typeface for your own monogram logo? Ask yourself these questions:
Can my business name be shortened?
How many letters do I want to include?
How will I use my monogram, and where will people see it?
Once you've answered these questions, start experimenting! Are you going for a fancy, elaborate look and feel? Try a cursive font. Want something more classic and refined? Consider a serif.
Don't be afraid to explore typefaces or even dabble in freehand if you're feeling adventurous. Step outside your comfort zone and try as many options as you can until you come across a monogram you're happy with.
---
2. Mix it up with a character feature
With a two or three-letter monogram, you can play with the idea of a character feature with simple letters.
Take the famous professional tennis player, Roger Federer for example. The monogram used for his personal brand features his first and last initials; however, portions of these letters are missing, leaving it to our brains to complete the image of the "RF."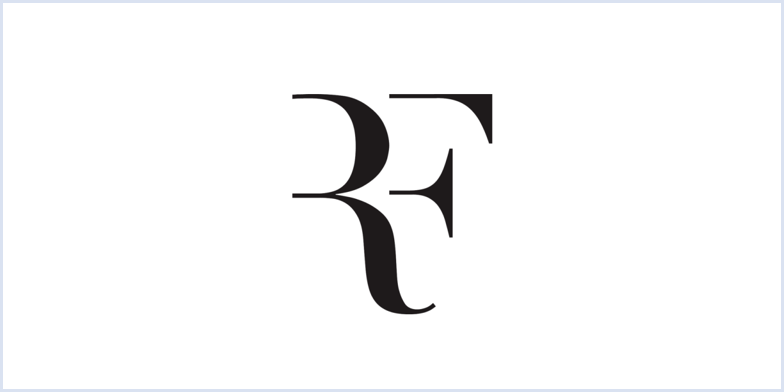 Single-letter monograms are the most challenging monogram logo to create. Making a single letter powerful enough to stand on its own isn't easy, but it can be done once brand recognition is built.
Take one of the most iconic logos of all time: the McDonald's logo. The letter "M" was taken to new heights by designer Jim Schindler with the famous "Golden Arches." Reminiscent of its world-class fries, the Golden Arches is a creative take on a standalone letter "M."
---
3. Choose color wisely
Less is more when it comes to the creation of monogram logos. Limit the number of color combinations and use no more than two to make the letters of your monogram stand strong.
Black tends to be a popular logo color, especially in the fashion industry, because it's both versatile and minimal. Paired with white, it's ideal for working with inverse variations.


The jewelry brand Mejuri opted for a dainty (like their products) "M" monogram enclosed in a circle container in black. The brand also uses a gold logo color variation in some of its marketing materials.
Most brands stick with one color, but using two or three is acceptable if they're significant in communicating the brand identity. Baskin Robbins' new logo redesign incorporated its traditional pink and brown brand colors from their vintage logo.


Bold primary colors are top choices for brands who want to use color to distinguish their brand. Popular monogram logo colors like red evoke feelings of power and excitement, and blue communicates a sense of trust and reliability. Like GM's new logo!
---
4. Experiment with shape and layout
Sure, monogram logos consist of only letters for the most part, but the shape does play a significant role in their overall design. It comes down to the layout of the letters used in a monogram.  
Most common is a horizontal layout with overlapping letters, falling into a traditional rectangle shape. Luxury fashion brand Yves Saint Laurent strayed away from this by arranging the initials "YSL" overlapped in a carefully crafted vertical orientation.
Keep in mind there are many other layout options to choose from:
Interlocked: This is a popular style as it's versatile and can be used across industries. This layout requires at least two letters.
Letter seal: On the more formal side, a letter seal monogram works for brands that are more traditional, and may have some history behind it.
Mirrored or Flipped: Most effective when done with two letters, this eye-catching layout gets people to do a double-take and works well for brands in creative fields like design agencies and interior decorators. Adding an elaborate container around your monogram logo can also create an emblem logo style. It can exude a more traditional, old-timey look. Like Warner Brothers above!
Stacked: Thinking of taking an untraditional approach? Consider a stacked monogram. This unique layout works well with two to four letters and is sure to grab attention. It's best to stick to a clean serif or sans-serif font as this may start to look cluttered with a script typeface.
Informal: A bit on the quirkier side, an informal monogram is a great way to play up your brand's personality. Typically a handwritten typeface, this is a more personal take on this style of logo. Consider a more informal monogram for a blog or casual clothing brand.
Monogram logo ideas
Ready for some inspiring monogram logo ideas to kick off your logo design? Check them out below!
Made on the Looka Logo Maker
Made on the Looka Logo Maker
Made on the Looka Logo Maker
Made on the Looka Logo Maker
Made on the Looka Logo Maker
Made on the Looka Logo Maker
Made on the Looka Logo Maker
Designed on the Looka Logo Maker
Made on the Looka Logo Maker
Designed on the Looka Logo Maker






---
How will you use your own monogram logo?
You can use a monogram logo on favicon images, watermarks, stationery, badges, pins, and more. Have a clear idea of where your logo will appear: on wedding stationery? Merchandise? Shopping bags? Knowing exactly where your logo will appear most prominently will help in your design decisions.


Monogram logos tell a story. They reveal who we are while staying true to tradition and brand identity. They're a brilliant and personal way to make your brand recognizable.
Because they've been associated with declaring the identity of an individual, family, or institution to the public, monograms are the most sentimental choice in logo design.
The great thing about designing a monogram is that anyone can do it. All it takes is a little imagination and knowing how you want to present those letters. Try our online monogram maker and monogram templates today to explore fonts, layouts, colors, and more!