Top 30 Romantic Fonts for Celebrating Love Year-Round
Love is in the air! Whether you're designing for weddings or self-care products, having the perfect romantic font is key to expressing your intentions. It also helps distinguish your design from others!
To help you find the perfect match, we've scoured the internet and curated the top love and romantic fonts for you below.
Throw on Adele's new album and let's go!
How to make a romantic font logo
Romantic fonts have varying looks from personal and intimate to sultry and modern. Here's how you can use fonts to add romance to your designs:


Pair fonts with color combinations that match your brand personality and resonate with your audience.
To inspire emotions of warmth, elegance, and grace, choose romantic colors like mauve, coral, or burgundy.
For a more polished and sophisticated look, pair cooler colors like taupe, sapphire, and tiffany blue.
Muted pastel colors are also a great choice for romantic design! Just think of how you want people to feel.


Tip: Avoid using cursive or display fonts for logo slogans to maintain legibility at smaller text sizes.
Design your romantic logo now!
Romantic fonts in Google Docs
Add a rose-tinted glow to your work with free romantic fonts. Here are our favorite romantic fonts on Google Docs:
Top Romantic fonts for elegant design
Let's dive into some swoon-worthy romantic fonts for your designs.
Rottering is a flowy serif font with elegantly extended serifs that curve from one letter to the next. It creates a legible yet romantic look that's perfect for luxury branding in the wedding or intimate fashion industries. Released by Absonstype in 2022.
A refined and modern font, Coax has varying weights within letters that create a calligraphic look. With a sprinkle of asymmetry for intrigue, it's great for wedding invitations, personal branding, and adding a sultry vibe to your designs.
Cicada is a romantic font with a sophisticated sans serif typeface that adds a modern element to any design. It's perfect for bespoke designs in luxurious clothing or wedding industries. Designed by Laryn Type Co in 2022.
Blosta is a duo of a script and serif font with a dreamy, romantic vibe. It has a classical look with soft, reaching serifs and elaborate curves. Add this wedding font pair to designs with an elegant-yet-minimalist aesthetic. Published by Alcode in 2021
Joules and Jacques has a Parisian feel with an elaborate script font and a bold serif duo. It's a romantic font that's both classy and luxurious! It's perfect for florists, wedding planners, and photographers.
Sometimes love is bubbly and fun! Million Dreams embodies summer lovin' with playful thick strokes that take after vintage fonts. The curvy serifs are balanced by sharp edges, adding a whimsical look to your designs. Created by Dean Nugrah in 2021.
Delicate yet edgy, Suissant looks like strokes on a canvas. The passionate, hand-drawn lettering feels artistic. Its unique appeal is a balance of sharp angles and elegant curves. This romantic font works well for bold brand identities in handcrafted products or services.
Quarts Pachino is a retro romantic font, with thick handmade calligraphy and slanted lettering. Its bold look is ideal for illustrations, packaging designs, and editorials. It has multilingual support and was designed in 2021 by Allouse Studio.
Winterante is a whimsical handwritten font with long weaving tails and fluid-like lettering. It adds a heartfelt touch to designs and works well for artisanal industries, wedding planning, the arts, and photography. Created by Aldedesign in 2021.
This handmade romantic cursive font is a perfect match for crafts and artisanal products dedicated to expressing love. From fresh pastries to flower arrangements, this font adds an intimate touch with playful curves and exuberant serifs.
Ornate and graceful, Shaping Heart is the font of a true love story. Complete with discrete heart-dotted i's! With elements that form full loops, it's a full circle wedding font that can be used for invitations, florists, event planning, and greeting cards. Designed in 2021 by Sarid Ezra.
New Romantine is a romantic font with a flamboyant style and a sense of humor. It has spiraling serifs and shapely curves balanced by a rigid, legible axis. It works well for branding, editorials, product design, and creative wedding invitations. Designed by Orenari in 2021.
Boiler is the perfect valentine font to express love, affection, and connectedness. It's bubbling with charm and a lovable aesthetic. It has a vertical axis for maximum clarity and varying weights for full freedom of expression. Designed by Alit design in 2022.
The Acres is like frolicking through vineyards in Tuscany. It's romantic, luxurious, and radiates exclusivity. With intense clean shapes and bold confidence, it's perfect for making a statement in branding, restaurants, weddings, product packaging, and editorials. Designed in 2022 by Set Sail Studios.
Dorige has an edgy look but a smooth shape. No sharp points here! Its thick strokes and funky serifs add a retro look that's lively and daring. Its soft curves are perfect for romantic branding, retro logo design, and editorial pieces. Made in 2022 by Issam Type.
The Marbler is a stunning retro romantic font with a hint of spontaneity and fun. The tilted axis and whirling swashes add a playful element perfect for traditional branding in modern times. This font works well for honeymoon event planners, invitations, or engagements. Designed in 2022 by Nathatype.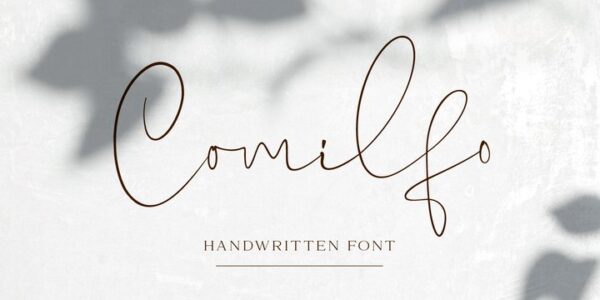 Minimalistic and dazed, Comilfo is comforting in its simplicity. Its curves and elegant handwritten style are a perfect cross between lavish and modest. It's perfect for wedding invitations, branding, gourmet baking, and editorial magazines.
Wairel is bold yet quirky, with waving swashes and charm. It's a beautiful romantic logo font for florists, wedding planners, valentines day cards, and intimate event planners. Designed by Dmitrii Chirkov in 2021.
This wedding font duo adds luxury and intimacy to your designs through a balance of handmade cursive and a traditional serif. It works well for traditional industries that need a dash of intimacy. Designed in 2021 by Almeera Studio.
Melatti is a whimsical hand-lettering font, that looks like it was made by you. It adds an artisanal touch to branding for handmade products or industries that thrive on personal connections.
Pure Love adds a personable touch through its human-centric curves and slightly aloof spacing. It's easygoing and relaxed, but with just enough impact to look great on invitations, editorials, and packaging. Designed by Fidan Fonts in 2021.
Movere is a romantic font that has elegance and grace but in a minimalistic setting. It has the traditional, classic look of a serif font – but without the serifs. Perfect for modern branding, luxurious industries, and weddings. Designed in 2022 by Dmitrii Chirkov.
Bold and unwavering, Cliona is a monoline script. It looks lush yet casual and works well with a retro color combination. Perfect for artisanal product packaging, wedding planners, and photographer branding. Designed in 2021 by Create Big Supply.
Magique captures the magic and serendipity of love and romance. It has thin swirling serfs and unique looping features to keep you at the edge of your seat. It adds a touch of retro, old-school magic and is perfect for one-of-a-kind branding, product packaging, and editorial design.
Retrips is fun, spontaneous, and overflowing with coiling serifs and excitement. It's as unique as a love story and can be used in many industries for varying purposes. It's great for social media posts, personal branding, editorial pieces, and unconventional branding.
Add elegance with romantic fonts
Spice up your designs with romantic fonts that bring a heartwarming feel to your work. Whether it be for Valentines day or celebrations of love, we've got you covered with the full gamut of love font styles.
Use the Looka logo maker to create a logo for your business and use our wide array of fonts to create the perfect romantic look.