SEO for Small Business: A Beginner's Guide
In 2022, SEO is a crucial part of small business success.
The US alone has around 32 million small businesses. That's 99.9% of the entire US economy.
In 2020, all businesses were forced to turn digital and employ digital marketing as the economy itself made a swift shift to online.
Every new and already established small business had to quickly learn the ins and outs of digital marketing—all to establish a successful online presence.
But there's a conundrum. The web is already filled with larger brands that have impressive ad budgets and big marketing teams. That's why small businesses cannot afford to invest in short-term unsustainable digital strategies. 
Hail to Search Engine Optimization (SEO)—it comes as the answer and can serve as the key driver to your online success.
Is SEO important to small businesses?
With SEO being the backbone of online visibility,  small businesses should certainly invest in it. Unlike advertising, it doesn't require large budgets or a big creative team. It's aimed at sustainable long-term growth— just what the doctor ordered. 
That's why we put together a brief guide to walk you through the key steps to setting up your organic online presence with the help of SEO. These steps are easy to take and they are an absolute must if you want to reach your customers and be visible to them online.
Small business SEO: 4 steps for building a surefire SEO strategy
For anyone new to digital marketing, SEO may seem extremely technical. From an outsider's perspective, it seems to demand in-depth technical skills and a thorough understanding of a lot of new challenging concepts (search algorithms, keywords, etc.).
But actually, as a small business managing a small website, you don't have to get super advanced from day one.
Here, we share the easy first steps to getting started in the world of SEO. 
Step 1: Set up your basics
If you're serious about SEO, you cannot live without two Google tools that are absolutely free—Google Analytics and Google Search Console.
Most websites are already integrated with the two. If not—make sure you have access to both tools as they are filled with data you need to make smart SEO choices for developing your online visibility strategy:
Google Analytics comes in handy when you need to track your site performance—from traffic growth to conversions. It's also a valuable source of audience insights that will help you connect with them.
Google Search Console reveals how your site is doing from a ranking perspective. You should use it to review site issues (and fix them), manage your indexing (specify to Google which pages to look at and rank), and much more.
Tip:
don't forget to set up your
Google Business Profile
. This is especially important to small businesses that target local searches as this should help you appear within map listings.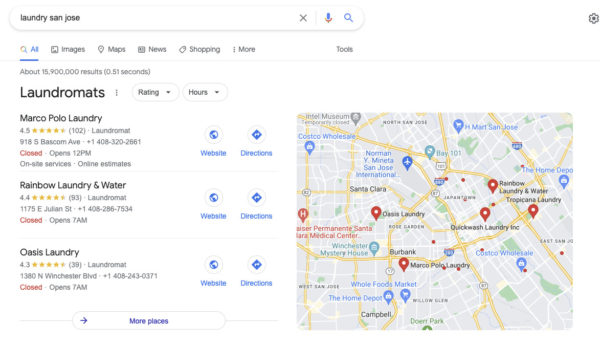 Step 2: Get to keyword research
If you've read anything about SEO, you can tell that keywords play a big part.
Why? Because keywords show which queries people enter to find your kind of business, product, or service. Therefore, if customers typically search for a "laundry service near me", your laundry service's website should target this keyword.
It's as basic as that!
Now, how do you know which keywords you should target? That's what keyword research is for.
In this case, gut instinct isn't the best source of reliable data. What you need are actual data and insights that come from your own research and your top competitors. All of those can be found inside keyword tools that reveal it all.
Moz, Google Search Console, and Ahrefs are great options as well.
Here's a suggested keyword research workflow:
1. Take a look at competitors' keyword portfolios
Run a simple Google search for your business. What websites appear when you search for that "laundry service in San Jose"? These sites are your organic competitors, and they can differ from your offline rivals. 
Make note of those you are racing against online.
To find out which keywords your competitors rank for, use a tool like BuzzSumo, Semrush, or Spyfu. These tools can provide you with a list of keywords your competitors are targeting.
You should also be able to see which search terms bring in the most traffic to competing sites and use them as a starting idea for your own keyword list.
2. Reveal the low-hanging fruits
At this point, you should have a pretty solid list of keywords you can potentially use throughout your site.
To start, focus your efforts on keywords that can bring the most value. Because you can't possibly optimize for each and every search query.
At this stage, your job is to find search terms that can bring traffic but that are also fairly easy to target. For this, pay attention to the following metrics:
Search volume: shows how many people search for a certain keyword every month. This can help to assess your traffic potential if you rank for that keyword.
Keyword difficulty: reflects how hard it is to rank for that keyword. In our experience, if you have a new website and are just starting out with your SEO efforts, you should target keywords that are below the 60% difficulty mark.
The perfect balance would mean having a set of keywords that have both substantial search volume and low keyword difficulty.
3. Add those keywords throughout your site
Keyword research uncovers all kinds of queries that lead people to your site. In order to rank for these keywords, you have to optimize your site for them.
So as technical as it can get, your SEO success depends on content. Because it's content that eventually brings you all the rankings.
Take your keyword list and integrate it throughout your site, making sure your target terms appear across your page's title, H2's, and the copy itself.
Tip: Don't forget to make sure each site page has all the metadata filled out—from meta titles to meta descriptions. And it's a good practice to add your main keyword into these spaces as well.
Step 3: Fix your site issues
Ok so we know we said we wouldn't get technical…but there's one technical area that you cannot miss.
Site issues.
Some examples of site issues include:
Broken links
Duplicate content
Missing meta-data
Complicated URLs
Slow page speed
Poor mobile experience
Alas, they can harm your site's performance even if you chose all the best keywords and created top-notch content that should have brought you the rankings.
It's okay, though, as the majority of site issues have an easy fix! You just have to know how to detect them.
Most SEO tools will have a site audit feature. This will point to all possible problems within your site and provide quick suggestions on how to resolve them.
For instance, Semrush offers a comprehensive site audit tool. From site speed and duplicate content to interlinking and missing metadata, it reflects it all:
Screaming Frog is another great tool that will tell you if you have any broken links, missing meta-data, discover duplicate content, and more!
Step 4: Try to build up an initial site authority
In the world of SEO, the more sites that link back to your site, the better.
Especially, if these are high-authority websites (e.g. Forbes would have an edge over your customers' local blog in Google's eyes). But of course, a typical small business cannot expect to be featured in Forbes, not straight away in any case.
This doesn't mean, though, that you should give up on backlinks.
As a small business, you can take a few steps that will build up that initial backlink portfolio:
If you have an offline presence, add your site to local directories.
Reach out to your suppliers, partners, neighbors, and even business associations and ask them to mention your website on their partner/near us pages, linking back to you
With time, you can do more to acquire more backlinks, but this should do for the start.
Bonus for setting up your small business SEO
There's certainly much more to SEO than I've discussed in this guide. But the trick is that these four steps will already get you set on your journey towards your online visibility.
Going through these basics, you'll build a solid foundation for future success.
Remember, everyone with a small business delving into the world of SEO feels inexperienced. The best you can do to start is:
Lead with curiosity
Be thorough
Creating great content
Get your hands on the right data and insights
If the first three ingredients are all up to you, the final one is a matter of having the right tools at hand.
Looka's Brand Kit subscribers get exclusive access to a free trial with Semrush. Sign up and build the brand of your dreams.