Looking for Some Extra Cash? Here's 25 Side Jobs for 2021
Looking beyond the regular 9-to-5 to increase your earning potential? An ever-growing response to the need for more cash and a sense of job fulfillment is having a side job. In a 2019 survey conducted by Bankrate.com, nearly half of Americans have a side gig, while north of the border, the number of Canadians working multiple jobs has quadrupled in 40 years. In a 2019 survey, findings showed that one-in-three working Canadians are managing their own side business.
During the COVID-19 crisis, in 2020 many turned to side jobs as their single source of income. Etsy saw a 250% increase in online shops in 2020.
Side jobs are the way of the future
On average, a side hustle may earn an extra $1100 per month – that's no loose change! With the advent of online services, side hustlers can make extra money from the comfort of their homes. And while the incentive to start a business may be financial, there are other gains: professional and personal fulfillment, new opportunities, and added security.
If you're hoping to ignite your entrepreneurial spirit, but not sure where to start, we've put together a list of 20 worthwhile side jobs to earn you more income in 2021.
1. Teach a new skill
Are your friends always raving about your incredible skills as a cook, calligrapher, piano player,  or [insert your special skill here]? Take your passion to new heights by sharing your knowledge with others. Some examples of skills people want to learn are:
Culinary arts (baking, cooking nutritious meals, making cultural cuisine, cake decorating, and mixology)
Music (guitar, piano, and singing)
Arts and crafts (pottery, painting, and sewing)
Wellness (essential oils workshop, guided meditation, and DIY natural beauty)
Average rate: $20 – $300 per person. The rate ranges depending on skill type, factoring in possible overhead costs, such as food ingredients or craft materials. For example, a cocktail-making class for a group might be $75 per person, while teaching piano can start at $40 for a 1-hour lesson.
Primary skills required: Your expertise in a specific skill area, good communication, comfort working with new people, event planning and basic marketing to gather interest.
2. Photography
Visual media is needed for all types of businesses and for various purposes—from company websites to social media. You don't have to be an expert to start a side hustle as an amateur photographer. So long as you know how to work a DSLR camera, and understand lighting and composition, you could step into a lucrative niche. Some specialties include:
Wedding
Food
Fashion
Portrait
Average rate: Generally starting at $200 for a 1-hour photo shoot and into the thousands per day. If you're offering stock-photo options, the rate per photo may start from $10 per pic.
Primary skills required: Comfort working with a DSLR camera, practiced understanding of lighting, composition, and basic photo editing skills are fundamental in photography. It's also essential to consider the type of photography, which may involve other factors.
For example, a wedding photographer would need to be skilled at taking photos under varying weather conditions, such as on an overcast day, and working with movement and people. On the other hand, a food photographer would have the know-how to work in indoor lighting, and a basic understanding of props and food composition.
3. Logo designing
If you think you've become a logo designing pro using Looka, you could offer logo designing services to others! While it may take graphic designer hours to create a single logo, Looka allows you to create a logo in just five minutes. With freelance graphic designers typically charging upwards of $70 per hour, there's a lot of earning potential here.
Average rate: Logo designers can charge $250 – $2500 flat fee for a single logo, even though making a logo in Looka costs FAR less than that.
Primary skills required: A simple 3-minute tutorial on Looka.
Start designing logos now!
4. Household fix-it and handy help
From wall painting to assembling furniture, there are endless household tasks that people are more than happy to pay for help with. That's not limited to manual labor, either—tech services are usually in high demand, from fixing laptops and smartphones to getting a new computer fully set-up. Here are some ways to lend a hand:
Wall painting
Assembling furniture
Moving helper
Install items (TV, cabinets)
Tech services (set-up or repair electronics)
Average rate: $20 – $50 per hour, or flat rate depending on the task. Most household repair and general labor jobs are charged by the hour, however, a flat rate, particularly with tech-related services, is common.
Primary skills required: Your expertise in the specific skill area…and some patience.
5. Cleaning services
Nobody wants to do chores, but everyone wants a clean house. That's a business opportunity if we've ever heard of one. If you're a Virgo, or enjoy a home that's spick-and-span, you might find a side-job as a cleaner your newfound calling. Be prepared to do it all, including:
Washing and putting away dishes
Laundry
Taking out the garbage
Washing floors
Average rate: $25 – $90 per hour. This rate depends on the size of the home, and what's involved – the rate goes higher with any extras such as cleaning a refrigerator or doing a big clean-up after a holiday party. (There may also be a tip added for a job well done!)
Primary skills required: A genuine love for all things tidy and orderly.
6. Virtual assistant
Who works in an office these days? Remote work has been a growing trend in recent years – it's projected that remote work will rival fixed office locations by 2025. One of the fastest-growing side jobs is the virtual assistant. Some responsibilities of a virtual assistant may include:
Administrative support (email management, note-taking, and making travel arrangements)
Customer service by phone, email, and/or chat agent
Average rate: $17 – $55 per hour. Virtual assistants who work independently (not through an agency) earn on the higher end of the pay scale.
Primary skills required: Having professional communication skills are an asset in this role (computer spellcheck is advised on emails and documentation!), as well as time management skills to prioritize tasks as needed.
7. Social media management
These days, no small business is without a social media account—though many business owners don't know anything about how to engage or gain new followers (read: potential customers). Enter the social media manager, whose role may include or be specific to:
Creating, and posting content
Moderating comments, and answering direct messages
Engaging with users, and building brand presence
Developing and implementing social media strategy based on analytics
Average rate: $15 – $120 plus per hour, depending on the level of expertise. A regular, everyday user of social media may charge $20 an hour, while someone with corporate experience may charge upwards of $120 per hour.
Primary skills required: Experience creating content for and engaging with users on primary social media platforms such as Instagram, Twitter, and Facebook. Extra points for experience with YouTube, LinkedIn, SnapChat, and TikTok.
8. Consulting
If you're an ace at your day job and enjoy problem-solving, you could earn a side job as a consultant in your field. As a consultant, you would get paid for your expertise in assessing information and providing guidance and solutions. Some types of consultants include:
Sales consultant
Fundraising consultant
Image consultant
Average rate: The rate of a consultant varies greatly depending on the demand of their particular knowledge in their field. On the low end, a consultant may charge $100 per hour, and on the high end over $10,000 for several sessions. Consultants may also charge per project (a flat fee) or on retainer.
Primary skills required: Your expertise in a specific field.
9. Web developer or website builder
Web developers create and design websites and web applications using their knowledge of back-end coding, programming languages such as HTML or Python, and front end design. Don't have a background in web development? If you know how to build simple websites using templates available through content management systems (CMSs), like WordPress and Squarespace, you can also turn that skill into a side gig.
Average rate: For a web developer, $60 – $125 per hour; and a simple website build using a CMS can start at $20 per hour.
Primary skills required: For web developers, knowledge of coding. For basic builds using a CMS, working knowledge of the CMS platform, some graphic design, and branding chops.
10. Gaming channel
The world of gaming is a $78.6 billion-dollar industry with new games being developed all the time to appeal to the over 2.5 billion gamers worldwide. Those who love playing video games, whether that's through a console, on the computer, or a smartphone, might be thrilled to learn that they can earn some side income running a gaming channel. Gaming enthusiasts can earn a side job as a:
Video game reviewer
Beta tester (for games not yet launched)
Game master (to moderate role-playing games, and be a principal of the rules)
Average rate: $13 – $48 per hour.
Primary skills required: Avid game-playing experience, strong attention to detail, and good communication skills are all required in the roles of video game reviewer, beta tester, and game master.
11. Online course
The world of online courses continues to rise as more people prefer the convenience of e-learning. The benefit of online courses is that the lessons can be pre-recorded, so the effort of teaching is done upfront, and can be utilized for years to come. Some areas for learning include:
Personal development (public speaking, and self-esteem)
Skill type (food photography, and creative writing)
Health and fitness (yoga, dance, and nutrition)
Average rate: $12 – $4000 plus per person. The rate depends on what's offered in the course, including the quantity and quality of the video-based lectures, access to the instructor, and additional resources.
Primary skills required: Your expertise in a specific skill area, good presentation skills via video camera, and e-learning platform basics.
12. Private tutoring
Tutors provide one-on-one learning support for students looking to enhance their skills in, or who might be struggling with a particular subject area. Private tutoring can be done in-person or online, via apps such as Skype. Some areas a tutor may help with are:
Math
Grammar
Foreign languages
Test-prep
Average rate: $13 – $40 per hour.
Primary skills required: Deep knowledge of the subject matter, patience, and clear communication skills.
13. Real estate agent
For the go-getters who enjoy the thrill of closing the deal, real estate may be the place to be. Real estate agents list and show private and commercial properties for sale or rent, working with homeowners, renters/buyers, and other real estate agents.
Average rate: Based on commission. A rental might earn an agent a fee of one month's rent, while the sale of a house may earn a listing agent a 3% commission of $15,000.
Primary skills required: Educational requirements as per real estate regulations, and a license to practice.
14. Event planner
Turn your passion for throwing memorable occasions into a fun side hustle as an event planner. Event planners work with their clients to create the best event experience from conception to execution. Some events a planner may help organize are:
Average rate: $14 – $100 plus per hour, or 15% – 20% of the total cost of an event.
Primary skills required: Exceptional organizational and time management skills, strong attention to detail, project management experience, and ability to multi-task.
15. Videography
The services of a videographer can range from a simple shoot and edit to a more full-service operation that includes story development and creative direction along with video production, and post-production editing. Videographers are hired for many purposes, such as making:
Wedding highlights
Commercials
Digital media (online interviews, or behind-the-scene clips)
Corporate videos
Social media videos
Average rate: $20 – $40 plus per hour, or a flat fee per project (for example, a wedding video may start at $1500 and be upwards of $3500).
Primary skills required: Working knowledge of a professional video camera, and various filmmaking gear, such as a tripod and shoulder rig.
16. E-commerce shops
Curate a selection of goods to sell in your very own online store. The items don't have to be new items bought wholesale either – there's a market for second-hand and vintage items, too. Some e-commerce ideas include:
Zero-waste products
Vintage clothing
Handmade items (pottery, knits, and jellies)
Average rate: Potentially from $1000 per month. It's difficult to determine an average rate, due to the vast number of e-commerce shops out there, price points of products, and supply vs. demand.
Primary skills required: Web skills and some knowledge of small business.
17. YouTube channel
It's hard to imagine that YouTube has only been around for 15 years and has since provided people a chance to earn a side income and, in some cases, millions of dollars in revenue. There's no limit to what type of content you can create for a YouTube channel. Some successful channels:
Review products (kids' toys, makeup, and games)
Teach skills (meditation, how to fix a fridge, how to replace a tire)
Share anything (gaming, personal stories, and travel vlogs)
Average rate: A YouTube channel earns a certain amount based on a cost per 1000 views – on average, $18 per 1,000 ad views.
Primary skills required: Basic video recording and video editing skills, and knowledge of the  YouTube platform.
18. Stylist
Stylists work with their clients in creating a unique fashion style for them that has them feeling confident and their best. They make recommendations and dress their clients according to their comfort, body type, personal style, and lifestyle. They may do the shopping for their clients as well.
Average rate: $25 to $350 plus per hour.
Primary skills required: Stylists are required to be knowledgeable about fashion trends, styles, and clothing brands.
19. Makeup artist
Working with individuals, actors, and models, makeup artists offer their expertise on makeup and beauty to enhance a person's look or change their appearance altogether. A flexible side job, makeup artists can be hired for:
TV and digital media
Formal events (wedding, prom, and graduation)
Special effects makeup artist for movies, TV, and theatre
Average rate: $17 – $40 plus per hour.
Primary skills required: Experience working with makeup and application.
20. Hospitality help
One of the easiest ways to make a quick buck is in the hospitality industry working in restaurants or helping to cater events. It can be a fun way to meet new people and network, as well. You could offer your services on-call—restaurants often have unreliable staff or unexpected turnover. Some hospitality side jobs include:
Restaurant server
Catering events
Bartender
Average rate: Minimum wage, plus tips. Tips can vary, from $40 to $300 or more per shift, depending on the restaurant and fluctuations in business.
Primary skills required: Hospitality experience.
Running a side hustle or part-time business can be both rewarding monetarily and personally. Start small and take it one day at a time – before you know it your services or goods may be in high-demand, offering you more wealth, and a new host of possibilities!
21. Personal shopper
In light of the pandemic, many essential workers and folks with health risks have leaned on the assistance of personal shoppers to run errands they can't do themselves. Whether it's grocery delivery, essential item runs, or other personal errands, personal shoppers can work on their own time when they need the extra cash.
Average rate: A quick glance at Kijiji shows personal shoppers charging anywhere from $35-50/hour. Gas is also often covered by the client.
Primary skill required: A car is necessary as a personal shopper, as well as the ability to do some heavy lifting and carrying.
22. Yard care
With more folks spending time at home, backyard updates and homeowner's obsession with lawn care skyrocketed in 2020 and will continue in 2021. Yard care can involve:
Lawn mowing
Weeding
Landscaping
Seasonal preparations
Snow removal
Primary skills: You need to be able to operate some machinery like a lawnmower or snowblower. If you have landscaping experience or a handy green thumb, you're likely to make more money from this side job.
Average rate: 1 hour of lawn mowing can cost between $25-$60 an hour. Homeowners typically spend between $1500-6000 on landscaping.
23. Child care
While schools remain closed, and essential workers are unable to work from home, the need for childcare has become urgent for some. According to a survey by Care.com 2021, 63% of parents are uncomfortable with their children returning to daycare, and 35% are now considering in-home care.
Primary skills: Many jurisdictions have requirements for folks wanting to get into childcare. At the very least you should be certified in CPR and First-Aid trained.
Average rate: The average weekly rate for at-home childcare for one infant is $565.
24. Interior decorator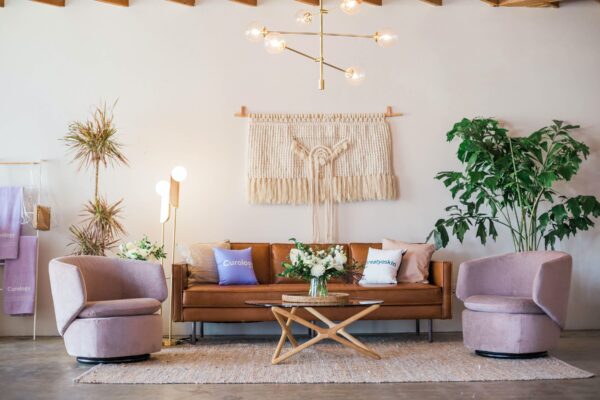 While interior design merges the art of styling an interior with the science of architecture, an interior decorator solely focuses on the art and styling of a space. This side job allows you to help new homeowners, or people looking to upgrade their spaces to source and style their homes. Interior decorators will:
Determine client's aesthetic and vision
Put together moodboards
Source furniture, textiles, and other decorative items
Assist with color combinations and design choices
Assist clients in the layout and styling of all pieces
Primary skills: No formal education or certifications are needed for interior decorating to be your side job.
You'll need a rich portfolio with examples of your work, (if you've never styled a house, start with your own!), and a solid Pinterest board or Instagram account full of inspiration so your clients can get an idea of your aesthetic.
Average rate: Decorators charge anywhere from $50-150 per hour based on their experience. Many decorators will work with a client to set a project fee, depending on their needs, timeline, and taste. Anywhere from $5000-20,000 is typical for a project.
25. General contractor
Home renovations BOOMED in 2020, up 40% in Canada and 58% in the US. The increase in home renovations is set to continue in 2021 as more companies have transitioned to fully remote working. As a general contractor, you're primed to make a lot of money while this trend rises. Some side job options as a general contractor include:
Tiling
Flooring
Kitchen and bathroom renovations
Drywalling
Primary skills: Generally speaking, this side job requires you to be handy. Heavy lifting, using tools, and general knowledge of some skilled trades are necessary. Depending on the location you practice, you might be required to have a business license as well as insurance.
Average rate: General contractors can make between $40-85/ hour. The rule of thumb for contractors is they charge 10-20% of the total cost of a renovation or remodeling project.