Top 11 Stay at Home Mom Jobs for Entrepreneurial Women
While the pandemic caused some mothers to leave the workforce, stay-at-home moms are choosing to generate income their own way.
In a recent Shopify survey of moms in the U.S., 62% of mothers are looking to supplement their income post-pandemic, with the majority interested in starting their own businesses. Through entrepreneurship, stay-at-home moms tilt the system in their favor by creating their own income and work-life balance.
In support of entrepreneurial moms everywhere, we've compiled a list of the top stay-at-home mom jobs that focus on flexibility and income potential. We'll cover how much you can earn and the fastest way to get started at any stage.
Let's jump in!
1. Blogging
Blogging is a great way to earn passive income through writing, photography, and sharing your experience online.
How can you start?
Focus on a blog niche that you're comfortable creating content for, here are a few ideas to start:
Food and recipes
Motherhood
Fashion and beauty
Career and finance
When choosing a blog name, pick something that's easy to brand and appeals to your audience. This step alone can take some time, so try out a name generator to speed up the process! Here's what one mom blogger had to say about hosting platforms:
"I decided to use WordPress. It was a simple platform and it was free. WordPress is a gold mine for someone who is trying to build a business on a budget." –  Kim from
Atomic Mommy
How can you earn money with a blog?
The key to monetizing your blog is getting lots of website visitors by promoting on social media channels and guest blogging. You can earn money by signing up for blog affiliate programs and Google Adsense.
Successful mom blogs like What Moms Love earn up to $20,000 a month in ads and affiliate marketing. It's one of the top stay at home mom jobs!
2. Crafting
Crafting means creating anything from scratch, in fact, most makers on Etsy start as crafters and end up with a small business!
How can you start?
Start by choosing your craft. Here are some popular crafting ideas to consider:
Candle making
Soap making
Pottery
Beadwork
Embroidery
Distinguish yourself by creating a brand identity and designing a logo. Consider hosting your store on Shopify or Etsy, and take enticing photos while pricing your products competitively.


Branding made with Looka
"As a mom, it was hard for me to find things to do for myself. I purchased a Cricut maker and from there I began to create things I loved and others would love as well." –
Motherlovingworld
How much can you earn?
Your earnings will vary based on how many products you can sell but aim for a profit margin of over 20% per unit. One crafter made $53,526 a year on Etsy by leveraging SEO, product photography, and social media!
3. Virtual assistant
Like most stay-at-home moms, virtual assistants are masters of organization and time management. As one of the top stay at home mom jobs, they work on a freelance basis completing the following tasks for various clients:
Project management
Schedule management
Database management
General operations
Social media management
Editing and writing
Basic accounting
"I found myself with years of on-the-job skills and patience taught by my children. I decided I wanted to help others grow their business while I grew mine." – Shawna Thompson from
MyMainstayVA.
How can you start?
Create a personal brand and build a portfolio with your experience and skills. Set up your profile on freelance platforms like Upwork and Fiverr and keep an eye on job postings online.
How much can you earn?
On average, Virtual assistants can earn around $32 an hour or $67,115 a year on a full-time basis. Your hourly rate grows based on your skills and experience, so never stop learning!
4. Handmade jewelry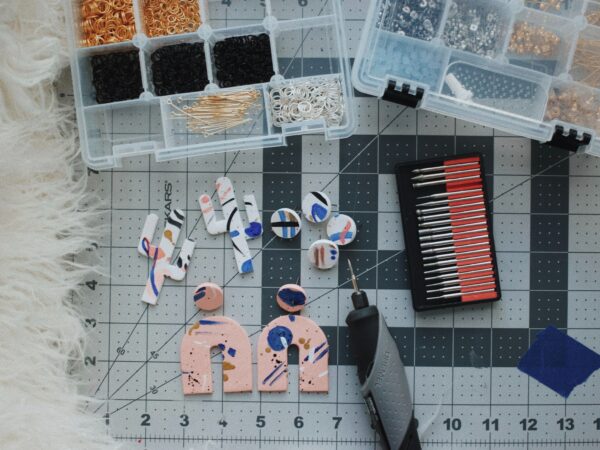 Jewelry making involves crafting any type of jewelry by hand. From beadwork to bending metals, It's beginner-friendly and affordable as both a hobby and a business.
How can you start?
Look through wholesale marketplaces like Faire to find jewelry materials in bulk, and order some jewelry-making tools to start with.
Find inspiration on Pinterest and Etsy, and create your inventory of unique handmade jewelry. Once you've set up your online store, start leveraging Instagram, Pinterest, and Facebook to sell your handmade jewelry.
How much can you earn?
Your revenue will fluctuate based on the number of pieces you sell, but you can set your profit margin from 25% to 75% for each piece.
5. Eyelash technician
Becoming an eyelash technician is affordable and a great long-term investment. With experience and regular clients, you can earn more money consistently.
How can you start?
Look into eyelash technician certificates in beauty salons in your area, or start with an online course. Once you've gained some experience with friends and family, build a website for bookings and post your work on social media!
How much can you earn?
You can expect to earn from $75 to $300 per client monthly. Experienced full-time eyelash technicians can make upwards of $75,000 to $150,000 a year!
6. Home bakery
Home bakeries give you the freedom to make money without the overhead costs of owning a bakery. Both profitable and fun, it's a great option for stay at home mom jobs.
How can you start?
Give yourself lots of prep time and stock up on baking ingredients and tools. Notify your community about your bakery by creating a small menu with your baking hours and distributing it on Facebook and high-traffic neighborhood areas.
Consider a pre-order set up so you only have to bake when you have orders coming in!


Branding made with Looka
How much can you earn?
Home bakeries are profitable due to their low startup costs and affordable ingredients. Cakes, cookies, and bread are the most profitable bakery products with a profit margin of 9% to 20%.
According to home baker Morgan Lunn:
"No one is going to believe in you more than yourself. So you need to invest in yourself more than anything else in this world. –
Girl Gang Cookies
"
7. Doggy daycare
Dog walking or starting a doggy daycare is a fun and profitable business opportunity for stay-at-home moms who love dogs.
How can you start?
Start by enclosing your backyard and buying toys, kennels, and insurance. Accept a few dogs in the beginning and increase your capacity as you get more comfortable. You don't want more dogs than you can handle!
Look into a pet sitting certificate and let your community know you're open for business by putting up flyers, posting on Facebook groups, and setting up a Google business account. You might need a business license as well, so make sure to check your local bylaws.
How much can you earn?
You can charge from $29 to $48 a day for pet daycare, and include different activities at additional costs. If you're open five days a week and accept five dogs daily, you can earn $2,900 monthly.
8. Catering service
If you've got a knack for cooking, catering is a great way to make money from the comfort of your kitchen.
How can you start?
Create a solid catering menu, and purchase an inventory of ingredients and trays for storing food. You might need a business license and insurance, so make sure to check your local bylaws beforehand.
Promote your business by putting up posters in your neighborhood, posting on Facebook groups, and setting up a Google My Business account.
How much can you earn?
Cooking from home means no labor or venue costs, leaving you with the costs of food, transport, and prep time. On average you can expect to earn $20 an hour or 42,248 annually.
9. Start an online thrift store
Online thrift stores have grown in popularity since the pandemic, use your creativity and sense of style to find profitable resale opportunities!
How can you start?
Visit thrift stores regularly to find items that have greater resale value, and post them on platforms like Depop, eBay, or Poshmark. Focus on great product photography and make the unboxing experience one of a kind!


Branding made with Looka
How much can you earn?
Profit will vary greatly on your findings and their condition. You can expect to earn from $500 to $5,000 a month as long as you build up your online store and stay consistent with your thrift findings.
10. Babysitting or childcare services
Affordable childcare is in great demand, making it one of the top stay-at-home mom jobs to earn money while helping the community.
How can you start?
Capitalize on your hands-on experience with kids, and separate a safe area where they can play and eat. Look into the license and insurance requirements in your state, and use word of mouth, Facebook, and Google to promote your service.
How much can you earn?
On average you can charge $18.52 per hour for babysitting. If you're opting for an at-home daycare, you can charge over $688 weekly per toddler.
11. Cleaning services
Cleaning is a booming industry with no shortage of high-traffic spaces looking for regular sanitation.
How can you start?
Starting a cleaning business is easier than you think! Choose a specific cleaning service niche like residential or small business, and buy the appropriate cleaning products to get the job done. Sign up for platforms like TaskRabbit to instantly find jobs within your area!
How much can you earn?
The average rate for residential cleaning services is $25 to $45 per hour, with plenty of opportunities to grow and earn up to $70,000 annually.
---
Want more options? Here are some more stay at home mom jobs for you to consider:
Start a photography business
Freelance writing
Data entry
Transcribing video or audio
Teaching English online
Ready to build a business?
Start earning money on your own terms and build your personal brand with the Looka Logo Maker!