55 T-shirt Design Ideas for Creative Designs
The custom t-shirt industry has a whopping market size worth $3.64 billion, making it a lucrative opportunity for entrepreneurs and designers looking to generate extra income. But creative t-shirt design ideas aren't easy to come by.
Whether you're starting a t-shirt business or want to come up with cool design ideas, we'll cover the full scope of t-shirt design ideas for every purpose.
Let's dive in!
How do you design a great t-shirt?
A great t-shirt is determined by quality and design. Tailor your quality to consumer demands by choosing suppliers that have ethical and sustainable practices in place.
Choose materials like organic cotton, hemp, linen, or even recycled water bottles! This will make your business more sustainable and win over environmentally conscious consumers. Not to mention leaving a smaller footprint on the planet!
Tip: To make your t-shirt accessible to all, choose a unisex size and cut that covers all bodies. Choosing local suppliers and retailers is also a great way to support your community if it suits your business model.
Perfect t-shirt design ideas have to be aligned with your intention. Are you trying to make a statement? Or are you creating relatable t-shirt designs that make people smile? Use the basics of design to create something that resonates with your audience and delivers your message.
T-shirt printing techniques and styles
There are myriad ways to get your design printed on t-shirts. They all depend on what your budget is, your batch volume, as well as what design you're printing. Here are the top t-shirt printing methods to consider:
Screen printing
Heat transfer Vinyl
Heat press printing
Direct to garment (DTG)
Check out other printing techniques like machine embroidery if it suits your design elements.
If you're looking to outsource this process, check out:
Zazzle
Teespring
Printful
Looka (for business t-shirt design!)
Examples of great t-shirt design ideas
Inspired by the Maya Angelou poem "Phenomenal Woman" Phenomenal Media, a company that highlights marginalized communities, uses t-shirts to tell stories and uplift people. Their t-shirt design is simple but powerful, relying on profound messaging to connect to their audience.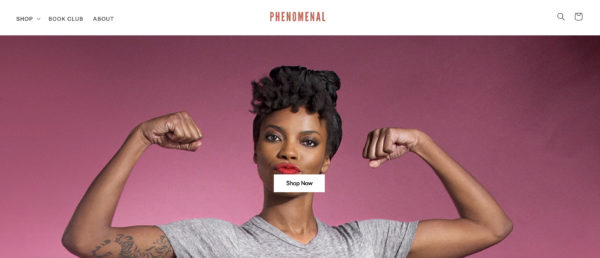 Some t-shirt design ideas come from a curated collection of viral moments in politics or social media. They capitalize on the profound impact that words of world leaders can have, such as the nasty woman t-shirt.
After the lewd comment by the former US president, women took to the streets in protest, and the "nasty woman" t-shirt became a feminist symbol of standing up to sexism in government.
T-shirt design can seem intimidating at first. To keep things simple, focus on these three elements:
Fonts: use a font that stands out and is aligned with your brand
Colors: use color combinations that are on-brand, but don't clash with the t-shirt color
Design: keep it simple and focus on making an impact with layout, words, and exciting graphic elements.
Shepard Fairey is an influential street artist and graphic designer known for his iconic "Obey Giant" campaign. His designs often feature political and social commentary and have become iconic symbols in streetwear and urban fashion.
1. Creative t-shirt design ideas
Creative ideas for t-shirts are the most fun. It can range anywhere from expressing your personal style and creative writing, to simple design inspiration you've found throughout life. The right target audience is out there as long as you hone in on a niche.
Below, Illustrator Glennz sells his unique designs on tees.
Founded by Johnny Earle, Johnny Cupcakes is a lifestyle brand known for its playful and quirky t-shirt designs. The brand creatively combines cupcakes with pop culture references, creating a unique and engaging aesthetic that has earned them a devoted fan base. The ones below are specifically for the anime/manga lovers out there.
The Mountain is known for its bold and hyper-realistic animal and nature-themed t-shirts. Their "Big Face Animal" series features incredibly detailed animal designs that cover the entire front of the t-shirts, creating a striking and eye-catching look.
2. Business t-shirt design ideas
Having a great business t-shirt helps you market your business everywhere you go. It's like a wearable business card! So, getting your company t-shirt design right is critical to boosting brand awareness, and getting people to wear (and market) your tee consistently.
Check out these business t-shirt ideas!




Make the most of your business t-shirt design by focusing on fashionable design rather than a basic tee with your logo and slogan on it. Use your brand identity to find imagery and messaging that show your business subtly and fashionably. The goals here are to get people to wear your t-shirt and to get your t-shirt noticed.
Tip: Having the same t-shirt as a work uniform makes you easily identifiable and trustworthy. It's also important to maintain professionalism if you have a team that represents your brand.
If you're a graphic designer, why not put your designs on custom t-shirts and create a new stream of income? Above, graphic designer Steffi uses her wholesome designs to sell t-shirts and sweaters.
Source: pinterest.ca/pin/24980972925119315/
Source: voodoo-rays.myshopify.com
Don't make your business t-shirt design look like an advertisement. A t-shirt needs to be fashionable and work well with anyone's wardrobe. Choose imagery, subtle words, and a unique design that appeals to your target audience.
Source: Sugen on Dribbble
Source: pinterest.ca/pin/23503229296633343/
Design a logo that embodies your brand personality, and use color combinations that work well with most colors.
Source: Peace Collective
Source: pinterest.ca/pin/799248265122995381/
Design your business t-shirt now!
3. Cool t-shirt design ideas
The Hundreds is a streetwear brand founded by Bobby Kim and Ben Shenassafar. They produce t-shirts with a mix of street culture and contemporary art, collaborating with various artists and designers to create unique and limited-edition designs.
Wotto stands out with creative doodle-inspired designs. His whimsical and intricate patterns, vibrant colors, and fantastical creatures transport us to a world of imagination. Wotto's T-shirts evoke joy, curiosity, and playfulness while carrying subtle messages,
A cool t-shirt design idea is to collaborate with a local illustrator or artist and create bespoke t-shirts with beautiful designs. Below, Orta store collaborated with illustrator Agathe Marty to create minimalist yet stunning t-shirt designs.
Source: Orta store

Here's another example of collaborating with a poet and an artist to create a t-shirt that is inspiring to those who wear it, and those who see it. It's also made of sustainable materials and dyes – a critical factor amongst conscious consumers!
Source: shopmerge.ca

4. Event t-shirt design ideas
A t-shirt is the perfect memorabilia for good times and life's milestones. Whatever the event may be, having the perfect event t-shirt design helps keep that sense of nostalgia and unity alive.
Event t-shirt design ideas are simple but powerful in their messaging. You can either strike a balance between imagery and words or only use typography to get your message across. Retro and vintage styles are graphic design trends in 2022, so going the nostalgic route might help your t-shirt design get noticed.
Handwritten lettering or illustrations are also a graphic design trend, with people leaning into the handcrafted and artisanal look to create truly unique t-shirt designs.
Source: Complex
Source: Complex
For protests or events showing solidarity, using iconic imagery and bold lettering on a simple back or white t-shirt is important in getting the message across. It also creates a wearable tee that can be worn inconspicuously.
3. Clubs and organization's t-shirt design ideas
Club and organization t-shirt design needs to be inclusive and direct. It should instantly identify what group or team a person belongs to, and communicate what their team or organization does.
Sports clubs
From softball teams to Twitch gamers, use bold fonts and unique team color combinations to express what your team is about. Use your team logo slogan to stand out and have fun with the layout while following the rules of visual hierarchy.
Try using curved text over a team symbol, or use the back of the t-shirt to create team spirit while the front shows off the team logo. This works for sports fans too!
Source: Rustic Road Shirt Co on Etsy
Source: Rustic Road Shirt Co on Etsy
Social organizations
Social organizations cover anything from climate change to social justice. So, they intend to inform and inspire – as well as identify. Take inspiration from existing organizations like Extinction Rebellion, Greenpeace, or Black Lives Matter to create your t-shirt design.
Logo made with the Looka logo maker
Logo made with the Looka logo maker
Pick some powerful copy to place either on the front or back of your t-shirt design and use bold fonts to make it clear. Stick to readable serif font or thicker sans serif fonts that are legible on a printed t-shirt. Otherwise, use on-brand colors that you want others to identify with your cause and organization.
 4. Charities or non-profit t-shirt design ideas
Charities and nonprofit t-shirt design ideas center around getting an emotional response from people. From adoption to animal rights and testing, its main focus is on the subject matter more than design.
These t-shirt designs are more functional in their layout and colors. Choose a simple color palette with powerful words that bring awareness to the cause. Use your slogan or a catchphrase as the main design element, with your logo applied discreetly.
Think of it as more of a statement shirt rather than an awareness of your brand piece. If your slogan is powerful enough, people will start to naturally correlate your brand to this cause.
Source: Customink.com
Source: Worldwildlife.org
Use no more than one statement color to make some words pop more than others, but try to keep it subtle on most occasions. This makes it easier for your customers to wear your shirt more consistently, and for it to match with other clothes. Remember, it's fashion first!
Source: PETA
Source: PETA
5. Graphic t-shirt design ideas
Graphic t-shirt designs are all about creativity and art. They're about expressing yourself and tapping into a unique creative outlet. When choosing or designing graphic art to print on a tee, keep these pointers in mind:
Look for circular designs, so that it looks better on a t-shirt.
Use a black, white, or gray t-shirt as the canvas for your graphic art. Having clashing colors will ruin your design.
Think outside of the box and don't forget about the back or sides of your t-shirt. You can have a wrap-around design or use the sides of your tee as well. Get experimental!
You can buy designs from independent artists or take inspiration from animated movies, series, or iconic cinema moments when designing your own. The world is your oyster with this one!
6. Pop culture t-shirt design ideas
Pop culture t-shirt design ideas are relevant, current, and bold. They rely on witty messaging to make their mark. Keep an eye on the news and media to brainstorm ideas for your t-shirt design. Or, choose a specific niche to tap into, like politics, movies, viral social media moments, or even memes!
The effort here is mostly in messaging, so keeping a simple t-shirt design is an option. But, there's no harm in using high-contrast colors or imagery with bold typography if it matches your aesthetic and subject matter.
Source: Shrillsociety.com
Source: Threadless.com
The t-shirt design above highlights the memory of Ruth Bader Ginsberg's death and her contribution as a trailblazing woman in politics.
Below, the "bye, Ivanka" tee uses simple colors and a bold sans serif to express the relief some felt when the Trump administration ended.
Other pop culture t-shirt designs cover famous movies or TV moments. The infamous "Vote for Pedro" t-shirt is a cinema moment that people love and relate to.
Another t-shirt design idea is capitalizing on viral moments from TV shows with a cult following. It could be a quote or a visual that resonates with folks. It can be anything from Seinfeld to Vanderpumo Rules!
Above, is a "send it to Darrell" quote from reality TV that went viral and became a t-shirt and sweater phenomenon.
Create your business t-shirt design with Looka!
Get your business t-shirt design instantly when you design your logo with Looka. Our print shop offers branded t-shirts, business cards, swag, and stickers! They're all automatically generated for you, all you have to do is hit print!
Once you've designed the perfect logo, head over to the brand kit to check out your print shop.
We've partnered with Zazzle to give you easy access to branded swag. You can print on various colors, and choose the perfect style for your t-shirt.
T-shirt design ideas are always changing
The world of t-shirt design ideas is limitless and unique. You can put anything on a t-shirt, as long as it has a purpose and resonates with a specific audience.
Keep your eye out for opportunities to create the next t-shirt design ideas that resonate with people's changing beliefs, events, causes, or even their sense of humor! Make your t-shirt design everyone's favorite t-shirt, and always stay plugged in.