15 Website Design Trends You Don't Want to Miss in 2023
For the past few years, minimalism was one of the reigning website design trends. In recent years, simple images, muted two-toned color palettes, and other minimalist design favorites have given way to maximalism. Colorful, vibrant, and complex visuals have stepped in, swinging the design pendulum to the opposite extreme.
Moving into 2023, however, expect a tilt toward dynamic movement. Brands are using web design to impress their visitors through animation, moving elements, and illustrations. The goals for web design in 2023 are to generate engagement and create an authentic brand experience with every scroll and click. 
For brands, keeping up with website design trends and understanding what's important for users today is critical to making decisions that support web traffic, engagement, and conversions in 2023 and beyond.
Find out more about 15 web design trends for 2023 below, including what cool websites are using these trends now.
Top web trends of 2023:
Animation stimulation
Scrapbook layering
Geometric aesthetic
Mini-sites
Visible grids
Moving type
Bending and overlapping grids
Retro resurrection
Interactive design
Bare-bones brutalism
Atmospheric scroll
Multimedia as a focus
Smooth serif fonts
Illustration takes the lead
Gaussian blur
---
But first, some technical web design trends
Before diving into top web design trends, it's important to understand the technical trends behind them. Staying up-to-date on technical trends helps your site perform better in search engine results and with critical behavioral metrics such as time on page.
Here's a look at a few items that are top factors going into 2023:
Page speed and page load times
Google considers page speed a factor in overall page quality. Beautiful pages that take forever to load may not perform well in the search engine results pages (SERPs) because of this. Plus, according to Google, bounce rates increase by 32% if a page takes three seconds to load instead of one. It doesn't matter how great your web design is if people aren't sticking around to see it.
Mobile-friendly websites
Mobile devices account for around half of all internet traffic, so sites that aren't mobile-friendly risk alienating half (or more) of their target audiences. Google's mobile-first initiative means a site that's not mobile-friendly might not show up in SERPs at all, reducing chances of organic traffic.
Accessible web design
It's important for sites to be accessible and operable by anyone, so accessibility can be a ranking factor. Pages that don't account for accessibility issues may not rise high in the page results. It's also just good business to ensure your web design works for as many potential consumers as possible.
15 top website design trends brands are using in 2023
What are the current trends in website design? If you're looking for some of the best web design tips for this year, these 15 latest web design trends are a great place to start.
1. Animation stimulation
Movement and animation have taken over the web, with many brands differentiating themselves from competitors through animated web design that shows off their brand colors, fonts, and dynamic personality. Above, Drunk Elephant takes the visitor for a ride, with a new animation for each scroll – encouraging them to stay on the page and look at their products.
These interactive websites indirectly increase a visitor's time on the page and decrease your bounce rate – making your website authoritative in any search engine's eyes. But be wary of loading times! Make sure you keep your loading time low as you add animations.
2. Scrapbook layering
Layering images over other design elements is a great way to add a unique human touch to your website. This type of design is more personal and playful, adding a touch of craftiness to an otherwise high-tech website. It gives the designer more opportunities to be creative and show off colors, fonts, and imagery that make a stronger impression on the visitors.
Above, Coming Up Roses uses scrapbook layering to embed the personalized approach she takes with her clients into every part of her web design.
3. Geometric aesthetic
Shapes convey meaning. Using shapes deliberately in website design can generate emotion and influence the viewer. Designers are taking advantage of this and using shapes to frame headings, images, products, and CTAs to make them bolder and more visually appealing.
Proxies use squares and ovals with softly rounded edges to add a sense of organization and unity.
4. Mini-sites
Sometimes, less is more. If you're a freelancer or storefront that simply needs a page with contact information and links, this is the most efficient way to go about it.
Mini sites also work well for selling services by having a straightforward page that conveys information directly and at breakneck speeds. The above mini-site is a perfect example of a single landing page effectively conveying a studio brand with a modern font and fewer images.
Mini sites load insanely fast and you don't have to worry about mobile accessibility as much as a multipage website.
5. Visible grids
The visible grid web design trend provides a transparent, retro look that gives the viewer immediate insight into how the designer meant the page to be organized. The benefits include easy-to-navigate sections and control over where the viewer's attention is directed.
Check out how Acid League uses a visible grid to separate product images and information so users can scroll quickly through to find what they're looking for.
This type of structure works well if you want to promote your site on social media. You can quickly turn content from each grid into images for social posts, so all your design efforts do double duty.
6. Moving type
Your font and all other visual elements can be moving in an emotional sense. But literally moving type can be powerful too.
Web designers are adding animated elements to text to convey information in a more striking way, and moving text creates a dynamic appearance that captures the eye. Monday Creative's bold header, for example, immediately grabs and holds the reader's attention and draws them into the page.
7. Bending and overlapping grids
Prim and proper layouts aren't for everyone anymore. Broken grids, overlapping text and images, and surprising visual elements like vertically placed text flaunt web design as an art. Designers that know how to bend the rules for a lasting first impression and artistic visual appeal can help create powerful branding on websites.
Playing around with text placement is definitely a 2023 web design trend. Consider Melyssa Griffin's site, which playfully overlaps images, text boxes, text, and other elements to create an inviting scrapbook-like ambiance.
8. The retro resurrection
Whether it's the bubbly, unhindered design of the 90s or the colorful craziness of the 70s, one web design trend in 2023 is looking to the past for inspiration and steering away from more recent minimalism.
Bright, contrasting colors, presentations that "break the rules," and vintage fonts and images are all on display. Pursot's attention-grabbing homepage is one example — the bright brand name stands boldly against a rapidly changing set of background images.
Learn about some color combinations that work so you can "break" the design rules the right way.
9. Interactive design
The right interactive design elements add intrigue to web content while driving up engagement. Meaningful interactions express brand identity while drawing the user further into the site, organically.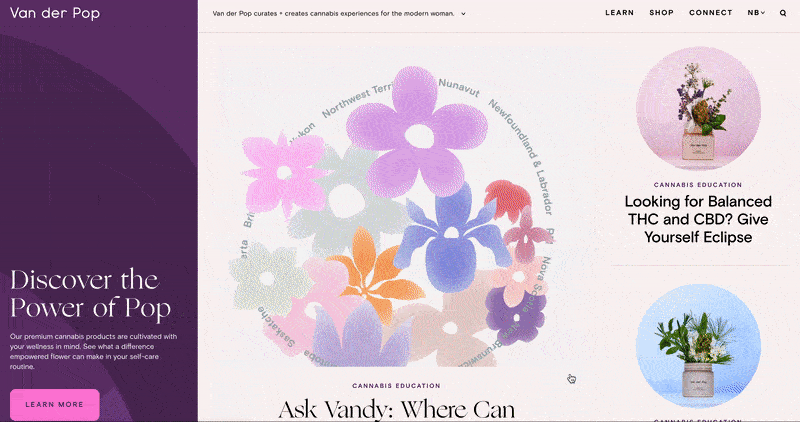 Hover effects and interactive clickable and scrollable elements are examples of simple design concepts that can drive deeper engagement.
Van der Pop's site is rife with fun interactive elements, including color tones that lighten or darken when you hover over images, lots of scrolling opportunities, and plenty of clickable buttons. Visitors may find themselves clicking and scrolling even before they realize it.
10. Bare-bones brutalism with a kick
This web design trend is almost grunge in its simple and non-conforming nature. In a world where cramming in more is the common default, this trend is looking to do less while capitalizing on the same benefits of brand recognition, visitor engagement, and conversions.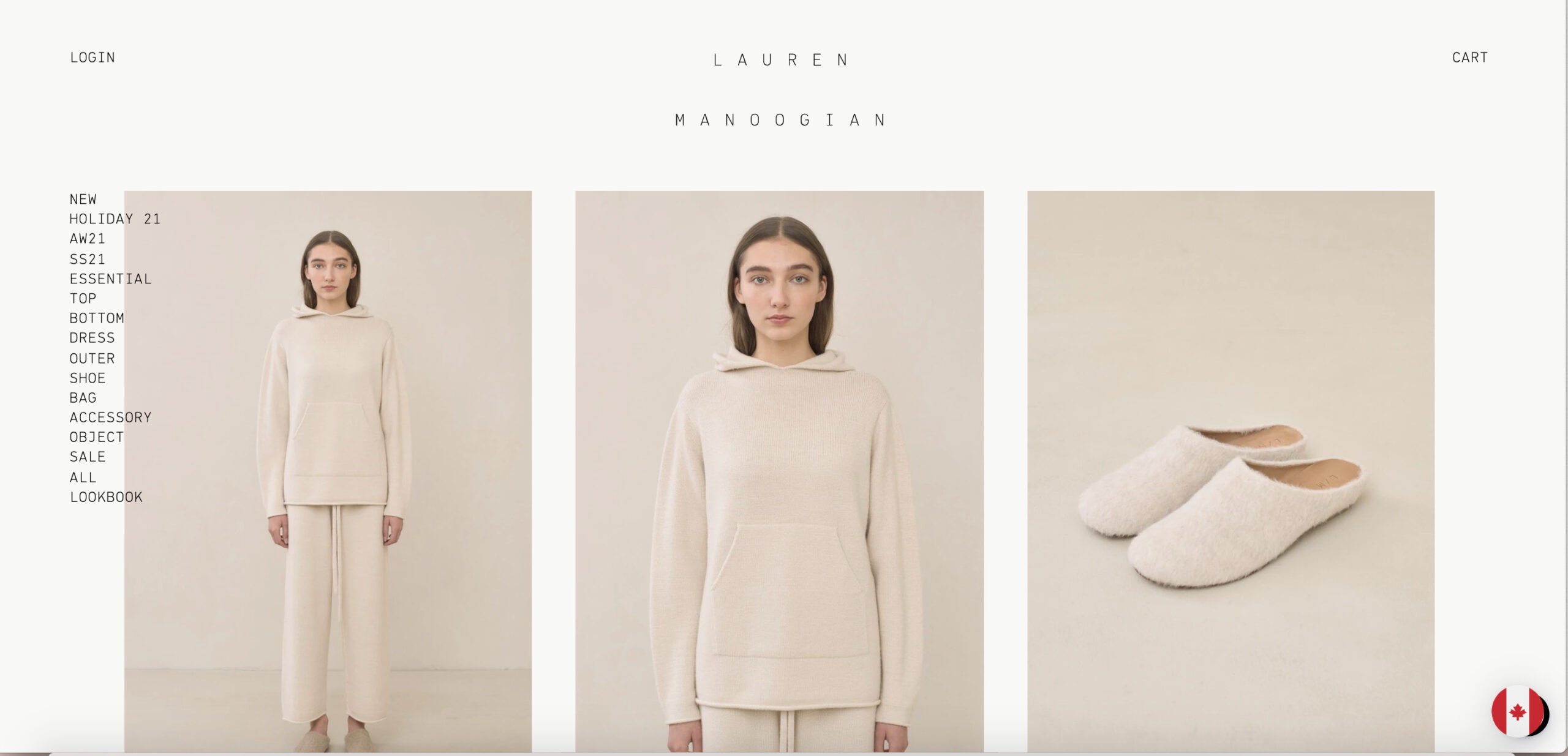 The traits of bare-bones brutalism include default fonts, plain colors, asymmetry, and a lack of order and hierarchy. Fewer hamburger menus, more simple lists — you can see the concept on display in the Lauren Manoogian digital shop.
In 2023, this trend is getting a little kick with pops of modern color and typography or overall interactiveness. Couple brutalism with your brand colors or an image that's synonymous with your company, for example, and you can create a standout, memorable brand identity.
11. Atmospheric scroll
The rabbit-hole scroll is an adventure for the visitor. Think Alice falling down the rabbit hole and all the odd and exciting things that happen to her, and you understand this design trend.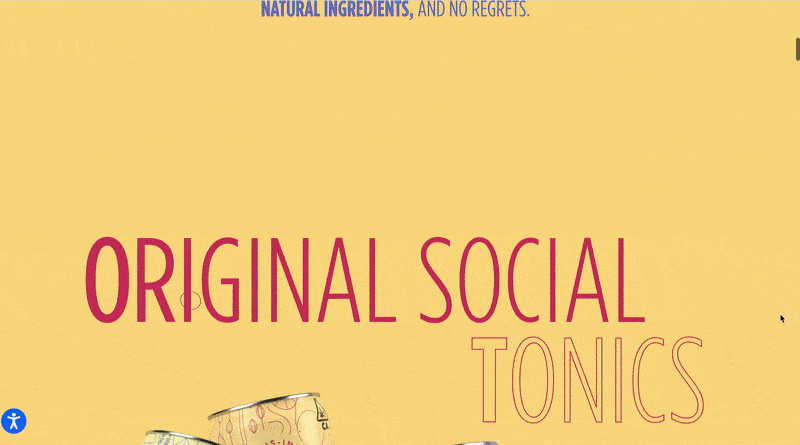 Drink Cann makes use of this trend with elements that move up and over the page as you scroll. The 3D-like images draw the eye to each block and make the entire page visually interesting.
Web designers working on branding that's creative and outside-of-the-box can use this approach, with surprising elements like horizontal and parallax scrolling, to create an experience that feels like an exploration.
12. Multimedia as a focus
Almost 70% of people say they prefer watching short videos to interacting with other forms of content, and more than 80% of marketers feel video keeps people on web pages longer. So, it's no surprise that dynamic video or animations in headers are a design trend in 2023.
Dynamic elements let you incorporate brand personality and grab visitor attention. It helps people get a visual for your brand story and what you're all about in mere seconds.
Create an animated logo or go all-in with short videos incorporated above the fold to test this website trend for your brand.
13. Smooth serif fonts
Sans serif fonts are a traditional go-to for designers due to legibility and flexibility. The minimalist fonts are web-friendly and size up and down on various screens well. But, designers are tired of working with a single font type. In 2023 and beyond, expect serif fonts to stage a major comeback.
Serif fonts add elegance and poise, offer a subtle way to draw attention to headers or content, and enhance the overall design of a page.
14. Illustrations take the lead
Alongside serifs, you may also see a lot of illustrations and patterns. These elements create a more personalized look on pages and add a touch of reality to the digital world. That creates a bridge that helps visitors connect more fully with content.
15. Gaussian blur
The Gaussian blur is a minimalist, slightly psychedelic effect that creates a soothing ambiance. It draws viewer attention and helps bring focus to the right area of your page. This is one of the most popular website design trends because it's easy to implement, adds an artistic flair, reduces visual noise, and creates more depth on the page.
Check out how Goodbooks blends a number of 2023 web design trends including the Gaussian blur, brutalism, and visible grids to create a stunning and easy-to-navigate website.
Upgrade your web design with these 2023 trends!
The best website design starts with the basics, including a strong domain name, a great logo, and a solid brand identity. Get your business online with a website from Looka. With customized copy and tailored images, you can publish your website in under a week!
Create a brand identity now