What to Do with Your Logo Once You Have It
Congratulations on your brand new logo! You're now one step closer to showing off your business to the world.
Now that you have a logo, you might be wondering…what do I do with it? Or, how do I show off my brand in as many places as possible? That's what this guide is all about. Your logo is the most important part of your visual identity, and using it for different branding applications will help you gain recognition and instantly appear more professional and legitimate.
Now, let's get into it!
Save it somewhere safe
Once you've received your logo files, it's important to save it somewhere safe on your computer. If you haven't already done so, create a folder on your computer dedicated to your business.
If you purchased a logo through Looka, you'll first want to make sure your logo was properly extracted. That way you can view and access your brand assets and use them right away.
For more info on how to extract your logo files from the zip file folder, check out our
FAQ's page
.
Another place you'll want to save your logo is on a USB, iCloud or Google Drive just in case something happens to your computer. Your logo is an important part of your brand and you wouldn't want to lose your hard work!
Protect your design
Since you worked so hard on creating and finalizing your logo, it's important to protect your design. The best way to do that is to trademark your design. Trademarks protect words, names, symbols, and colors and distinguish one company's goods and products from another.
Get familiar with you logo
Your logo will be needed for various purposes. When it comes to applying your logo to your brand it's no "one file fits all" scenario. Instead, you'll need to make sure that you have the appropriate file types to use your logo effectively and professionally.
After unzipping your logo folder, you'll see your logo in four different file formats, with multiple versions of each format (e.g. colored, transparent, black, white).
Logo file types
When it comes to logos, having the right file to use for a specific purpose — from a business card to a Facebook cover photo to a T-shirt — is important. The most common logo file formats are:
These file types have different purposes and are not suitable for every application. Some of these files are more suitable for web design and others work best for print.
A file can be identified by its extension: logo.png, logo.eps, and so on.
Add it to your brand guidelines
Think of brand guidelines as a rulebook to build a consistent, authentic identity and avoid common design mistakes as you grow.
Your brand guidelines should include information about your logo elements, primary and secondary color palettes, and typography. More importantly, brand guidelines will help you tell the world what to expect from your branding.
When should you use your brand guidelines?
Designing brand assets (anything covered in this book!)
Working with a designer or someone else building brand assets for you
Sending files to a printer or print shop
Onboarding a new employee
How to use your logo on your website
Your website is your digital storefront, a central place you can control and send people to.
The most common areas to put a logo on your website are:
The Header: The biggest area of impact is the top of your website. Most company logos go in the top left-hand corner because that's where the eye naturally goes (you can also try it centered on the page). Ensure it's big enough to see each element clearly.
Tip: Want your header (and logo) to stay visible even when someone scrolls down your page? Look for a website template with a "sticky" header or ask a designer to create one for you.
The favicon: This is the little symbol that shows up in your address bar next to the URL and browser tabs. Because of a favicon tiny size (16 x 16 pixels or 32 x 32 pixels), we recommend using a symbol-only or monogram version of your logo. To find out how to add a favicon, search for a help article within the website builder you're using.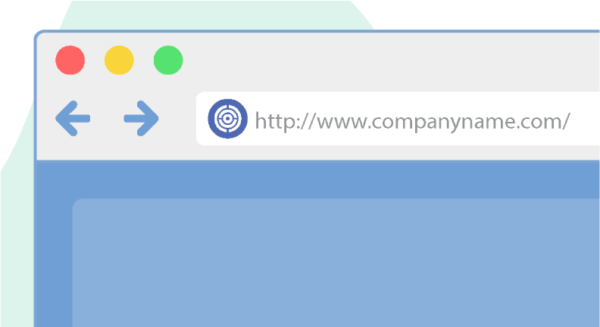 The footer: You can put a smaller version of your logo (or a symbol-only version) in the footer of your website — this often goes beside the copyright callout.
The checkout page: Is your checkout flow text-heavy? Try including an image with your logo on top to add visual interest and branding.
Instructions for adding a logo to your website will depend on the platform you're using to build it — see these how-to articles from Etsy, GoDaddy, Shopify, Squarespace, Weebly, and Wix. If you're using WordPress, your logo placement will depend on the theme you choose.
Reminder: Use a PNG file format when uploading your logo to websites. And use a transparent background version of your logo if it's going on top of an image or colored background.
How to use your logo on social media
One of the best ways to show off your logo is through social media. Your logo will be the first thing potential customers see when they come across your brand's page.

Use PNG files when uploading your logo to your social channels—they're much easier to resize (unlike JPEGS, which tend to pixelate). For a full step by step guide on how to use your logo on social media click here.
*Note: The Looka Social Media Kit included the appropriate image sizes for all social media channels. This includes profile and banner images.
How to watermark your logo on an image
Incorporating your logo onto an image is a great way to protect your property while promoting your business. This practice is often referred to as "watermarking". Its purpose is to make it more difficult for the original image to be copied or used without your permission. Watermarking can also legitimize your business and make it appear more professional.
There are various tools out there that you can use to apply your logo to an image. Some of these include Adobe Illustrator, Photoshop, PicMonkey, or Canva. Keep in mind that some of these programs do require an extra fee so be sure to shop around and find a program that falls within your budget.

When applying your logo to an image, we recommend using a transparent PNG version of your design. PNG files are easily scalable and will appear clearly in your image. It's also important to make sure your logo is large enough to be legible but small enough to not draw attention away from the photo.
How to use your logo in emails
An email signature is a no-brainer place to put your logo because it reminds people of your brand whenever you send a message or reach out to someone new. Here are a few tips for creating an attractive sign-off:
Write your email signature text in a clear, easy-to-read typeface. Use different sizes and weights of the typeface to create visual hierarchy in your signature.
Use 1-2 brand colors from your logo in the signature — your name, for example, or the link color on your email and website.
Don't fall into information overload territory. Include only your most important contact details and relevant social channels.
If you have multiple pieces of information on the same line, separate them with "pipe dividers" or bullets
Ensure your logo displays at a clear and legible size, especially when viewed on a mobile device.
For more information on how to apply your logo to your email visit our help center.
How to apply your logo to business cards
One of the most exciting places to see your logo is on a business card! It's a physical representation of your brand that you can share with anyone who's interested in your products or services.
Here are some questions to ask yourself when deciding on a business card design:
Do I prefer a horizontal or vertical layout?
Do I want to include my logo on both sides of the business card? (e.g. A symbol-only version on one side and a full version on the other.)
Do I want a traditional size (3.5" x 2") or something different?
What color cardstock will I be printing on? (This will affect whether you choose your colored logo or a black or white version.)
What do business cards typically look like in my industry? Should I stay on the traditional side or get creative with materials, sizing, and layout?
Get professional business cards here.
How to use your logo on documents and stationary
Putting your logo on letterheads, envelopes, invoices, presentations, and other printed or digital documents makes your business instantly appear more professional and trustworthy.
For more information on adding your logo to documents and stationery, check out these helpful articles
How to use your logo on clothing and swag
Ready to get fancy? You can put your logo on a range of items to show off your brand (and get word-of-mouth advertising in the process). For the best results, send vector logo files when getting clothing and swag made. Here are a few things to keep in mind:
Placement: Think about where you're going to place your logo for the most visibility. Will it be left-justified or centered on the item? At the top or bottom? View samples online or in-person to see what looks best.
Sizing: How big do you want your logo to appear on the item you're printing it on? Legibility is important, so make sure your logo is big enough to easily read your company name — but not so big that it gets warped on the wrap-around section of an item (e.g. a pen, hat, or mug).
Material: When using your logo on clothing or fabrics, you'll need to provide different file types depending on the printing/production route you choose. For silk screen printing, we recommend EPS files. If you're opting for embroidery (or an iron-on patch), you'll need to use a converter like Convertio to get the correct files.
Logo background: For the most part, you'll use a version of your logo with a transparent background when printing it on physical items, as backgrounds may not look crisp on all materials. If you're partnering with a printer that uses high-quality materials, you can try using a colored background version of your logo.
Applying your logo to stickers and stamps
Who doesn't love stickers? Printing your logo on custom stickers, decals, and rubber stamps is an easy (and relatively inexpensive) way to brand packaging, physical spaces, office gear, vehicles, and beyond. For the best results, send vector logo files when getting stickers made.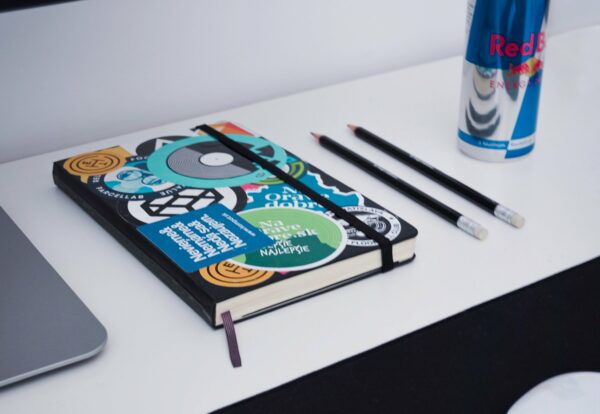 Stickers: Available in circle, square, or die-cut (custom) shapes, stickers can be used on packaging, given out at events, or stuck on laptops, notebooks, and much more. If you're going to be using a high volume of stickers for packaging, it's a good idea to buy them on sheets or in rolls.
Wall decals: These large-scale stick-ons are perfect for putting offices and boardrooms. Look for materials that are easy to apply and remove.
Window decals: Also called front-adhesive stickers, these decals are applied indoors and visible to people walking by on the outside.
Outdoor-use stickers: Look for weatherproof stickers (such as vinyl lettering or bumper stickers) if you want to use your logo on vehicles or outdoor windows — this is ideal if you're a mobile business!
Stamps: Having a stamp of your logo is the ultimate in branding convenience — you can use it on packaging, labels, printouts, receipts, and more! Choose from self-inking stamps (pre-loaded with ink) or a traditional rubber stamp with an ink pad.
How to use your logo on packaging
Do you run an ecommerce or retail business? Then you have a unique opportunity to use your packaging to increase brand recognition every time you send or sell your goods to a customer!
For the best results, send vector logo files when getting packaging made.
Packaging tips:
To save money, start with utility packaging (blank boxes or padded envelopes) that you can customize with stickers, stamps, or packing tape. Decide if you want to upgrade to custom-printed bags or boxes when your business is more established.
Consider what material you're printing on — cardboard looks best with black (or another dark color) printed on it. If in doubt, use stickers or packing tape for a guaranteed contrast.
Be mindful of your logo's sizing — the thinner your font and brand symbol, the harder it will be to see in a smaller format or when printed or stamped on your packaging.
Always request or download a proof (either a digital or printed sample) before ordering brand assets and prints.
Phew! I think we've covered just about every possible place we could think of putting a logo on! We hope you find this guide helpful. If you have any questions feel free to reach out to our customer support team, they're always here to help.