Business Card Maker
Make a business card with Looka
Instantly generate stunning business card designs that you can print and share with anyone. All it takes is a few clicks and five minutes.
Professional-quality templates
Choose from over 80 beautifully designed business card templates. Enter the information you want on your cards and your files will be ready in seconds.
Custom business cards
For a personal touch, customize your cards in Looka's business card editor. Change fonts, colors, and layouts to create one-of-a-kind business cards that make the perfect first impression.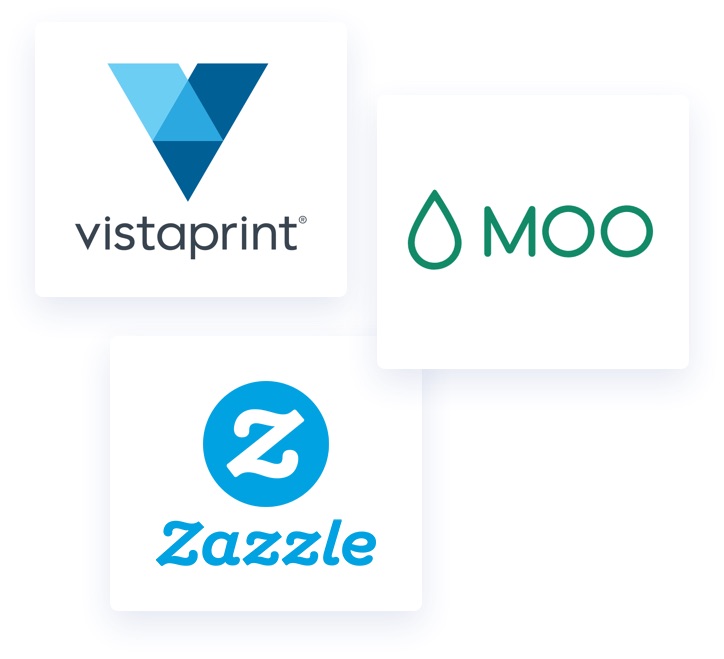 Ready-to-print designs
Once you're happy with your design, order your new cards for printing. Easy peasy!
Business cards made with Looka


Your business card FAQs, answered
How do I purchase business card designs?

Business card designs are available with Brand Kit subscriptions, along with hundreds of other premium-quality marketing materials.

How do I download business card designs?

To access your business cards, go into the Business Cards area of the Brand Kit. Choose any of the available business card templates and either select Export to download the design as-is, or use the editor to customize your designs before exporting. Download as PDF, with the option to include bleed lines for your printer to use.

What files do I get?

Business card designs come in a PDF format, delivered with both front and back in one file. There are over 80 different business card templates you can choose from. Either download these templates as-is or use the business card maker to customize your cards. Edit both the front and back of your design to create the perfect look.

What if I already have a logo?

Now, you can upload your existing logo to our business card creator and create business cards templates with it.

Can I change the layout or fonts?

The Brand Kit's business card editor gives you total control over the look of your cards. Change your business cards' fonts, colors, and layout—or even add elements like images and shapes.

What if I need to change the name or job title on my cards?

With a Brand Kit subscription, you can change the contact information on your business cards at any time, which means you can create cards for others on your team or in your company.

To do so, go to the Business Cards area of the brand kit and press the Edit Company Info button at the top right. This will allow you to change the title, name, phone number, and any other contact information that appears across your business cards. 

Alternatively, you can edit company information directly in the business card editor. Select the text box with the information you need to edit and enter the updated information.

Do you provide printing services?

Looka is integrated with Zazzle. Once you have a design that you're happy with, simply click "Order Prints" and you'll be able taken to Zazzle where you can specify your business card size, quantity, paper quality, etc. for printing.
Trusted by over 20 million entrepreneurs
Get started today!
In the time it took you to read this, you could have designed your own professional business card. See for yourself.